UK GAME EXPO in Birmingham is getting closer and it's high time we share with you all the great content and surprises we have prepared for you!
SUBURBIA – A DETECTIVE EVENT
Our Detective launch events at Gen con 2018 and Essen 2018 were both very successful with more than 20 tables simultaneously playing Detective and trying to solve the Suburbia case!
That is why we decided to bring this amazing event to the UK GAME EXPO and let you learn how to play Detective and solve your very first Case!
The event is aimed at players who want to learn how to play Detective. At the beginning, we will teach you the basic rules of the game and then you will start your first case!
Suburbia is case designed precisely to be played at the conventions, it is shorter and a little bit simpler than the cases from the base game. It takes about 90 minutes to solve it and discover the mystery.
The event is run by the designer of Detective, Ignacy Trzewiczek.
You can sign up here: https://www.ukgamesexpo.co.uk/game.php?id=BOR4472
20 years of Portal Games – SEMINAR
This year Portal Games celebrates 20 years of publishing games. If you are at UK GAME EXPO you can celebrate with us! Ignacy Trzewiczek, the founder of the company has prepared the seminar with anecdotes and funny stories from 20 years of running the company! Learn about our first sports board game we published, about hand made edition of Neuroshima Hex, about meeting a vampire in Poznan and many other crazy stories!
Link: https://www.ukgamesexpo.co.uk/game.php?id=SEM4960
PROMOTIONS AT OUR BOOTH 2-552
As you already know at UK GAME EXPO we are pre-releasing our newest game – Imperial Settlers: Roll and Write! But of course, we have more!
For the first 100 who will come to our booth and buy Imperial Settlers: Roll and Write (or pick up their pre-ordered copy!) we will have a totally unique block with 12 additional sheets designed especially for UK GAME EXPO!
Yes, we are serious! To celebrate pre-release of the game in England we have designed a unique variant for the game and we will offer it for free to the first 100 customers. For all other all around the world – we will post this unique sheet as a free PDF file to print!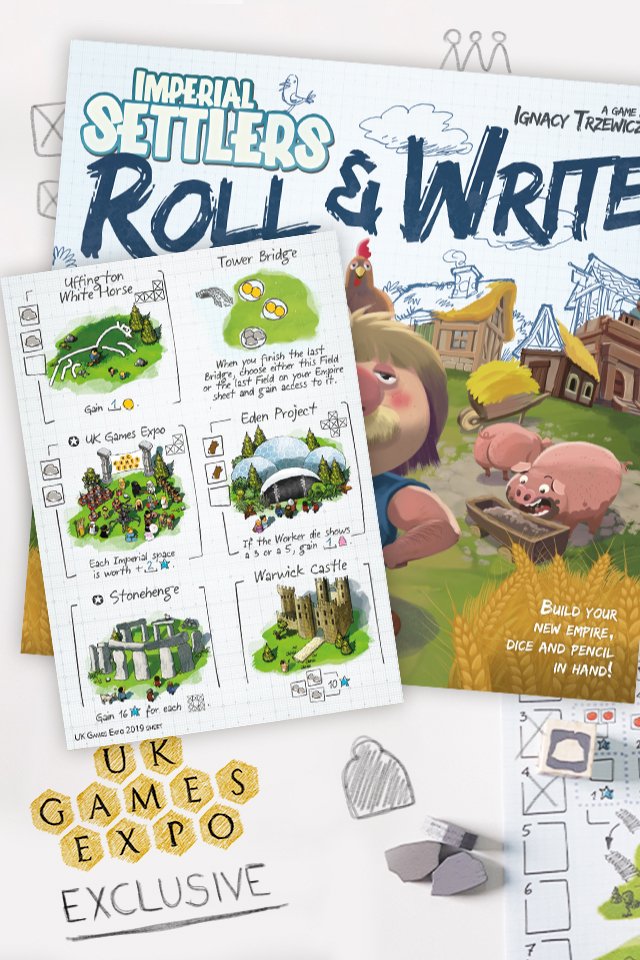 We have pre-release of the game. We have a super special gift for fans. And there will be more. We bring all different promos and merchandise from our webstore, we will have the new expansion for 51st State, along with L.A. Crimes for Detective and Mystery Tales for Robinson Crusoe!
You must visit us at UK Game Expo. We are well prepared to meet you!
Link: https://portalgames.pl/en/pre-order-imperial-settlers-roll-write/