51st State, the legendary strategy card game designed by Ignacy Trzewiczek (Robinson Crusoe: Adventures on the Cursed Island, Detective: A Modern Crime Game, Imperial Settlers) set in the post-apocalyptic world, is coming with the special Ultimate Edition.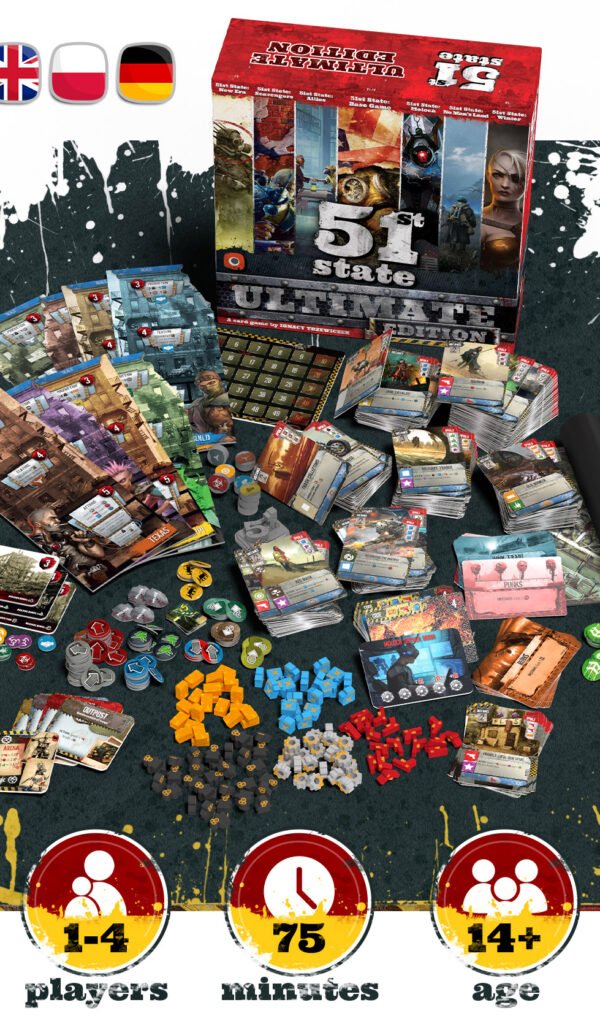 51st State is a popular competitive strategy card game for 1 to 4 players in which your goal is to develop a new State in the post-apocalyptic world. You will use your resources to build new Locations, make Deals to increase production, and attack the infrastructure of your Opponents for only one State can win over in this hostile universe.
The game was first created in 2010, gaining big popularity and attracting fans worldwide ever since.
The Gamefound campaign launched in February 2022
brings in the Ultimate Edition of the game as well as the new expansion, No Man's Land, introducing area control.
With the choice of over 8 Factions and 400 cards, you will enjoy remarkable replayability. No gameplay of 51st State will ever be the same. 
See what reviewers have to say about 51st State: Master Set:

Watch multiplayer and solo playthroughs of 51st State: Master Set:
In February 2022 a crowdfunding campaign was launched on Gamefound in bringing 51st State: Ultimate Edition. 
The project was successfully funded, gathering over 464 thousand euros thanks to 6041 backers around the world.
Pledge Manager is open from May 5th to June 30th, 2022.
You can Late Pledge 51st State: Ultimate Edition by visiting the Gamefound page.