Detectives, we have 3 new cases that require your expertise—gather your friends, prepare your notebooks, pencils, coffee, doughnuts, and get to work! In order to solve the cases, you'll need to write down your clues, connect the facts, and avoid the pitfalls of false leads. Stay focused, and don't let the murderers slip away. Don't play a Detective. Be one!

Detective: Season One is a stand-alone game based on the bestselling and award-winning Detective: A Modern Crime Board Game. It's a new set of 3 unique cases with varying styles and locations—they're like no Detective case you've solved before. It's a fully cooperative game for 1-5 players that will transform your game nights into fascinating investigative experiences.
The cases you'll find include an investigation into the murder of a dactyloscopy specialist, scrutinizing the motives of an English family for the murder of a wealthy patron, and a dark exploration of the mafia underground… Enjoy a new engaging form of gameplay, updated changes to Antares, and a lighter and wittier style full of humor and depth for new and old Detective fans.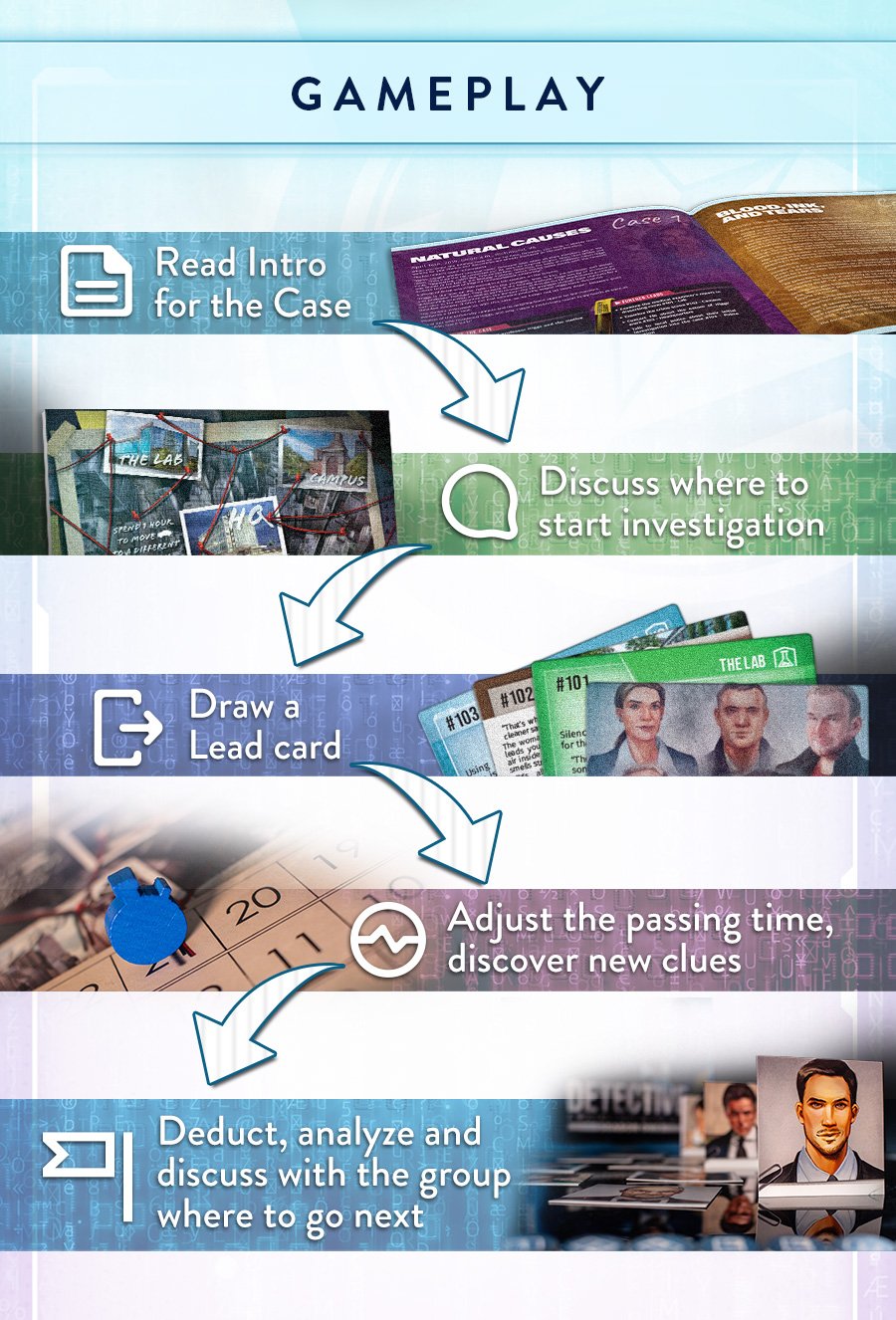 In the box you'll find 3 stand-alone cases, each comprising a 24 card deck. There are new investigators boards specifying what work they have to do. We've also added 24 portraits of suspects that you can pin to your corkboard, connect with red yarn, and uncover a network of criminal connections.
Don't let the stories end: Season One is fully capable of online play via Zoom, Discord or Skype—true to our dedication that Portal Games are games that tell stories.
Thanks to a separate game board, markers, and tokens, Detective: Season One is a fully stand-alone game that you can play without needing our best-selling Detective: A Modern Crime Board Game.
We started working on Detective: A Modern Crime Board Game in early 2016. After two years of development and playtesting, the game was released and became a worldwide phenomenon.

Detective: Season One is being released four years later, and what's more important, eleven Cases later. Our development team has learned a lot about the system, players' expectations, has read feedback from all over the world and became much better prepared to design each new Case for the game.

Cases are shorter, and yet as much engaging as the longer ones. The text on the cards is shorter, and yet, provides as much information and clues as in the original game. Over these four years, we have learned more about every part of the game, and we have improved it. Detective: Season One presents one of the best Cases designed for Detective yet. They are sharp, witty, engaging. And we cannot wait for your feedback and keep improving!
Detective: A Modern Crime Board Game is a 5 scenarios long campaign game. Detective: Season One includes 3 stand-alone Cases that can be played with different groups and have no overarching story,

Each Case in Detective: A Modern Crime Board Game has 36 cards and takes about 3 hours to solve. Cases in Detective: Season One have 24 cards each and take about 2 hours to solve,

Detective: A Modern Crime Board Game is more of a gamer's game with special rules for Skills, Authority, and Stress, while Detective: Season One is designed for a wider audience and focused more on a story and deduction, than on rules and gamification. It has no rules for Stress, Authority and the rules for Skills got simplified.

Cases have vivid, distinctive themes. One will take you to the campus, other to the Italian district of Boston, and the last one to an old mansion in England! The game is full of theme!

Each case can be solved in several ways, so later on you can discuss with other players who also played the game and see how they managed to solve the crime! You can also try to play it again by yourself and see what other leads and clues you missed previously!

The game comes with a set of portraits for each case, so you can build a mind map and feel like a real detective connecting suspects and witnesses. These decks with portraits of each character increase immersion and engagement for all players.
You can find the rulebook below. And don't worry, we cut out any spoilers.