Thick fog covers the whole island as if to diminish all hope. The only sounds are soft slices of a shovel digging into sandy ground. The dimmed glow of a lantern stands next to a hole, about a meter deep, lighting the outline of a muscular man in a shirt with the sleeves rolled way up.

Raindrops begin to fall, which is of little matter to the digger, who continues his task until the satisfying clang of shovel against metal. As the tool meets resistance, the seeker's pupils widen. He drops to his knees and rushes to dig with his bare hands. He found it! The treasure chest—long missing for decades—unveils its heavy, decayed lid…
Since the release of Robinson Crusoe, one of our bestsellers and evergreens, in response to popular demand every year we have been adding more promos to the game. Seeing the continuous demand and having now an immense number of promos we decided that it is time to create one box that would contain all these treasures–a Treasure Chest for Robinson Crusoe.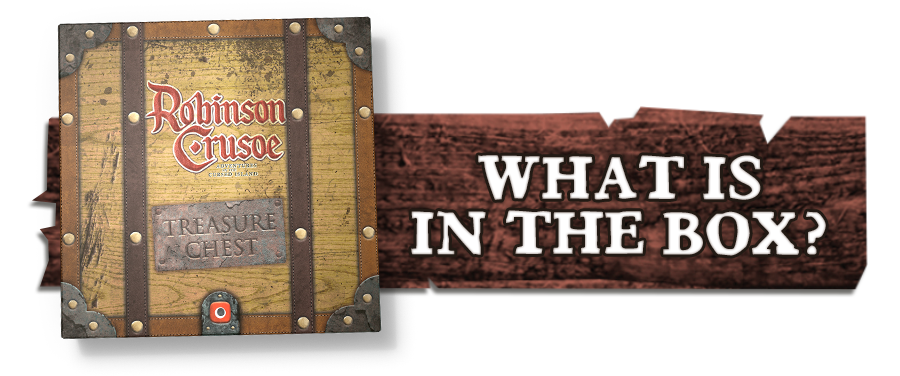 Only the most persistent of seekers reach the Treasure Chest, and you are one of them! Meet new Characters and Crewmen! Gain additional food, acquire bonus upgrades, Feature, Secret, and Event cards! In the Treasure Chest you will find 5 fan-made and author created Scenarios never before available! You'll face the cruel poachers, follow Dr. Livingstone, travel in the Time Machine, experience adventure in Neverland, and set off on a quest to Treasure Island. The last two of these scenarios are pure carefree fun, designed especially for families and children.
Robinson Crusoe: Treasure Chest is the complete collection of every promo released thus far—created both by the Portal Games team, and creative fans from around the world. Here you will find new Scenarios that present completely new adventures: encountering cruel poachers, following the footsteps of Doctor Livingstone, boarding the Time Machine, experiencing an adventure in Neverland, and setting out for a quest on Treasure Island. The Treasure Chest also grants access to new Characters and Crewmen as well as ways to diversify your gameplay with Searching the Beach cards. For the players who need a few new surprises, we have added new cards to shuffle into existing decks—bonus Shelter Upgrades, as well as Feature, Mystery, and Event cards. All of this, and more, awaits you inside the Treasure Chest. 
Components:
7 Beast cards

14 Hunting Adventure cards

9 Glass cards

6 Crewman cards

9 Design Your Expansion cards

7 Event cards

12 Mystery cards

9 Searching the Beach cards

9 Secret Traits cards

10 Trait cards

1 Hunting dog card

Custom wooden markers: fish and parrots

Gamer character (board and pawns and stickers)

Sailor character (board and pawns and stickers)

Tracing Doctor Livingstone Scenario with a newspaper

Time Travel Scenario

Treasure Island Scenario with additional letters

Adventure in Neverland Scenario

Poachers Scenario

3 Spyglass tiles

13 Discovery tokens

1 Cloth bag

1 Herb Garden tile

1 Pen tile

1 Volcano tile

4 Shelter upgrade tiles

1 rulebook
In the pre-orders you earn unique resin markers that can replace wooden food, wood, camp, leather and  wound markers. Those special and colorful 3D components present extraordinary on your table. You can order them only in our Portal Games online stores. 
Gamer character with pawns and stickers

Sailor character with pawns and stickers

6 Crewman cards – they are special Characters who are not considered players but can be used to reduce the difficulty of a scenario.

Hunting dog card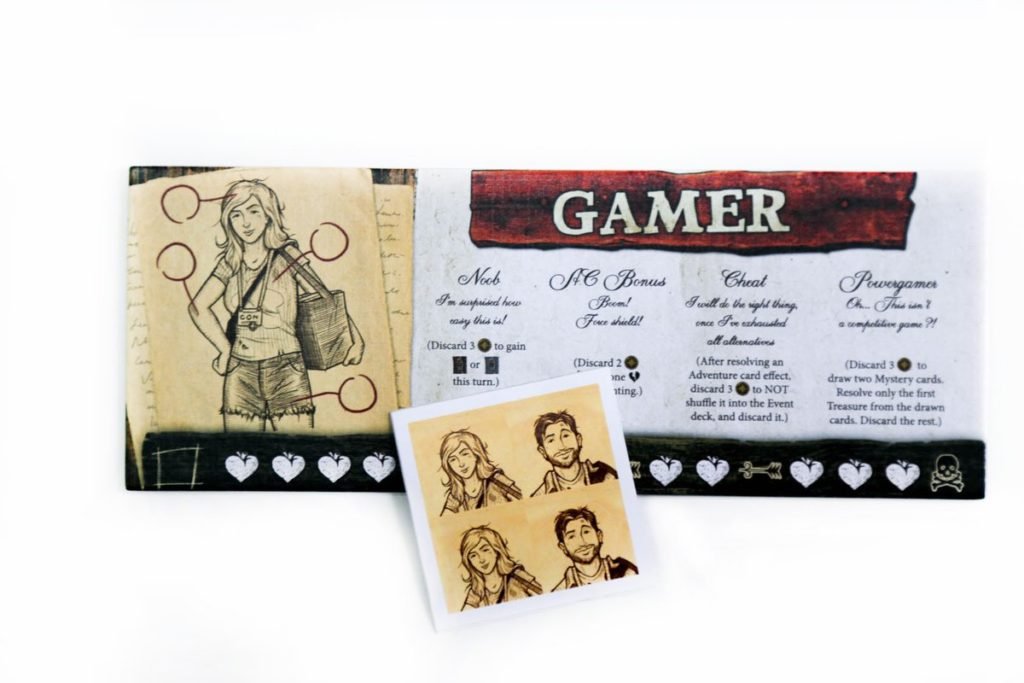 5 Trait Cards (Set 1) for each player to choose from at the beginning of the game. Every card has positive and negative effects adding flavor and another level of complexity to the game.

5 Trait Cards (Set 2) giving players even broader choice at the beginning of the game. Every card has positive and negative effects adding flavor and another level of complexity to the game.

Secret Trait cards intended to make the game a little harder. Before the game, each player receives a random Secret Trait card, which he must obey but cannot reveal it until the condition on their card is met.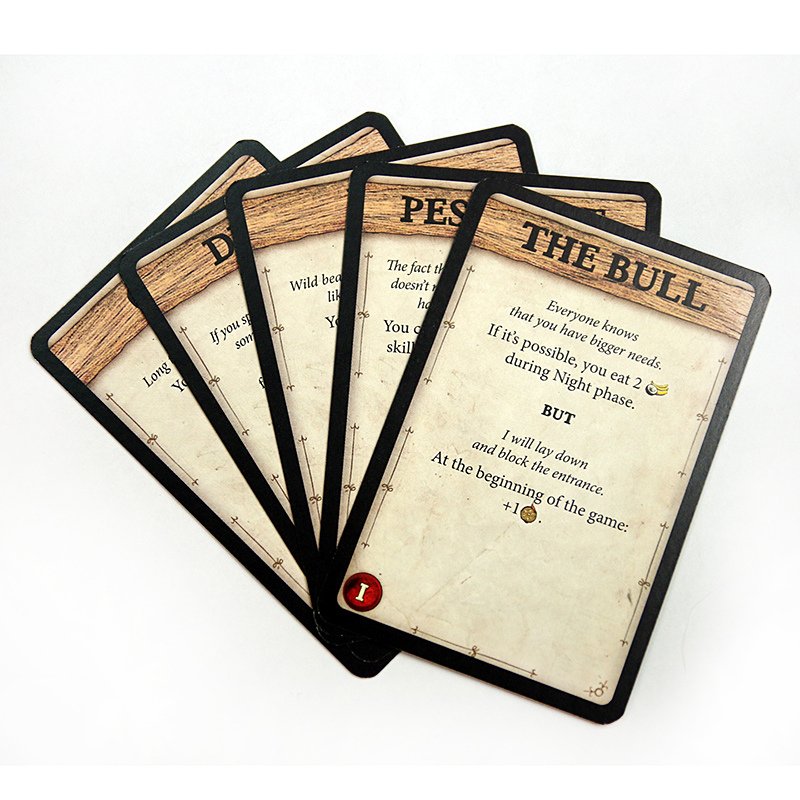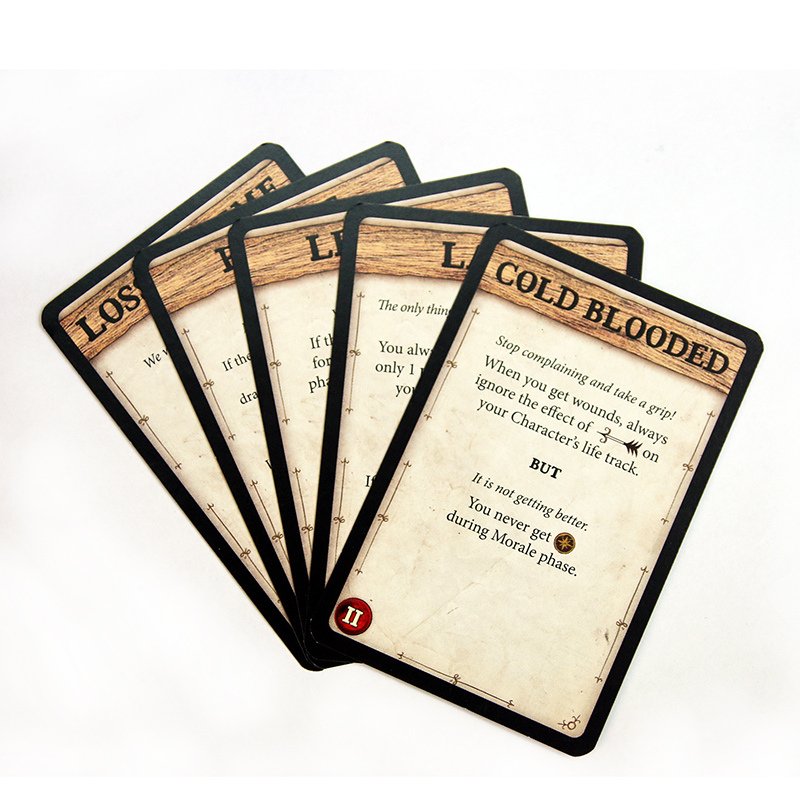 12 Mystery cards to be shuffled into the Mystery deck. There are 4 trap cards (including sticky, disgusting Black Slime…), 4 creatures cards (such as a vicious, crazy Monkey stealing your stuff), and 4 treasure cards (among which you will find an old, reliable Machete).

7 Events cards with new dangerous and exciting events.

Discovery tokens set 1 with cloth bag – Tired of finding the same items over and over again? We've got new 7 tokens for you and a handy bag to keep them in one place!

Discovery tokens set 2 – Hungry for more? This new set of Discovery tokens will bring an extra thrill to your adventures!

9 Searching the Beach cards making the starting Beach tile more interesting. Search for remnants of shipwrecks!

Design your own expansion cards

Volcano tile

Spyglass to boost your morale when you need it the most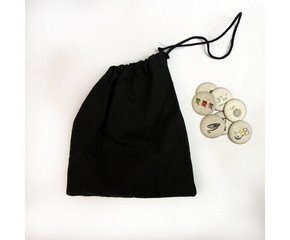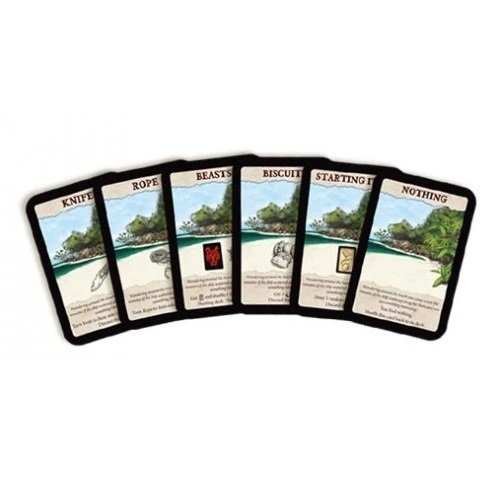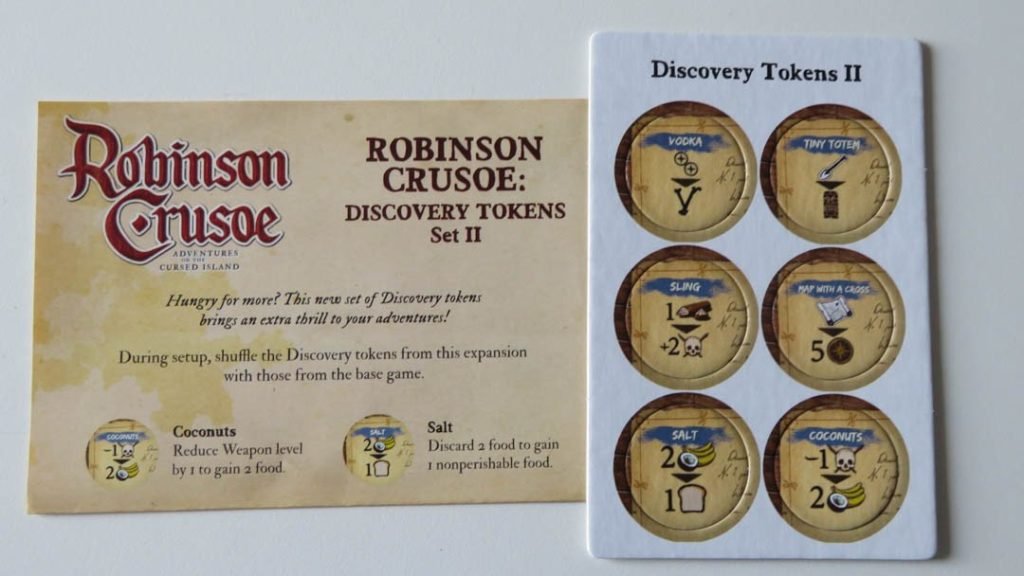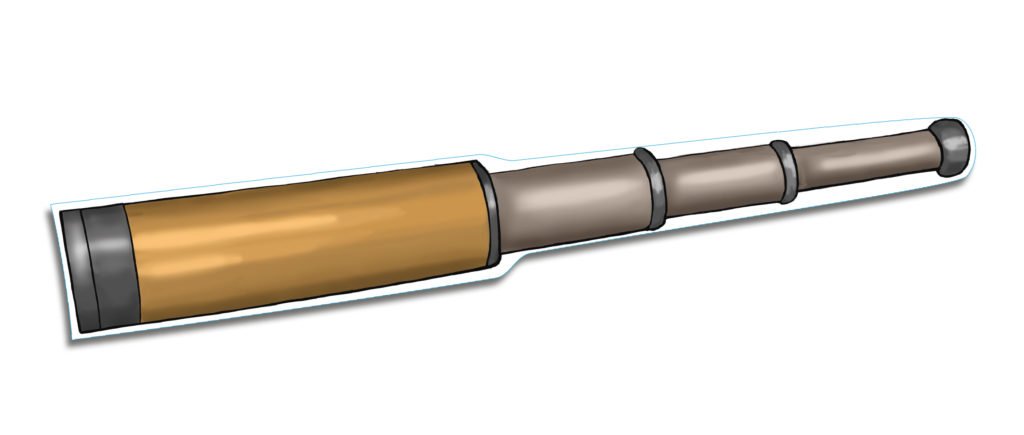 7 additional Beast Cards for your Robinson Crusoe game.

14 Hunting adventure cards to be shuffled into the Beasts deck and make hunting even more unpredictable. You will still encounter beasts but the circumstances may vary.
4 Shelter upgrades will allow you to add more flavor and special features for your Robinson Crusoe shelter! Your temporary home is about to get a lot nicer!

Garden & Pen tiles – The Herb Garden allows you to grow your herbs and track it in each production phase. As the herbs are ready they allow you to heal wounds. The Pen lets you breed animals after you put 2 of them in and produces food each round till the end of the game.

Tracing Dr. Livingstone Scenario consisting of two sheets – a traditional scenario and a printed newspaper from the late XIX century (A3 format) with a new mechanic based on branching-plot novels! An entirely new experience for Robinson Crusoe fans!

Treasure Island scenario – find the letter of an old pirate and leave the island paying the boatman 20 Gold for safe passage. This scenario introduces 'Search for a treasure chest' action, a special Beast rule making you fight beasts during the Event phase, as well as Seven Letters of an old pirate.

The Poachers scenario lets you save rare, captured animals during very nasty rainy season.

Build cages to evacuate wounded animals and save them from those nasty poachers!

Adventure in Neverland scenario for those who live their dreams

Time Travel scenario created by Themistoklis Dakanalis, the 2017 contest winner. Time Travel will take you back in time, to an era of dangerous beasts and rare healing plants. Your goal is to save your own life in the race against time itself!