Spring 1977. A murder takes place in Arlington near Boston. The victim was a town selectman with a promising career, Peter Colvin, age 32. He was found dead near his car in the parking lot behind Town Hall. You have only 4 days to solve the mystery who killed him and why.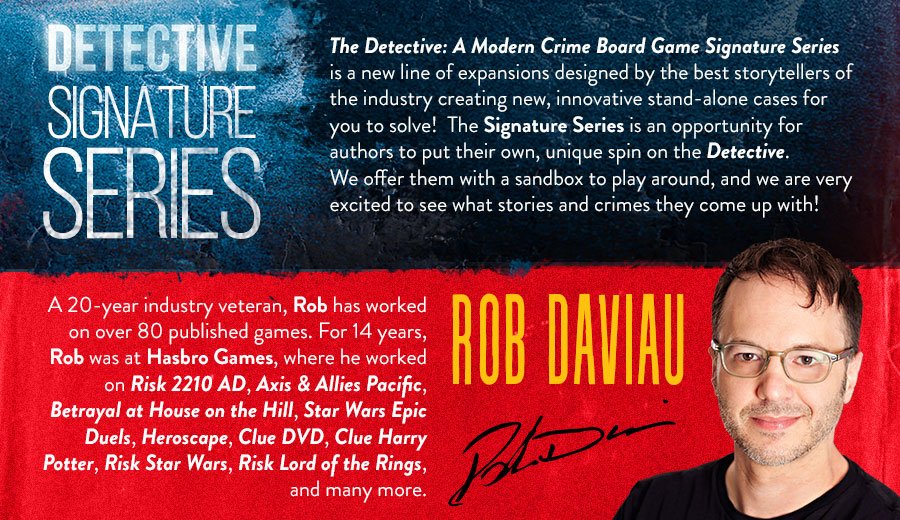 Dig Deeper is a standalone expansion to Detective: A Modern Crime Board Game.  It is the first take in a fascinating adventure for a Detective line – Signaure Series, where best storytellers in the industry taking the Detective engine and are using it to tell their stories. Rob is a industry veteran (Pandemic Legacy, Cthulhu: Death May Die, Downforce). He creates amazing setting in '70s. For those of us who remember crime TV shows like Starsky & Hutch it's time to turn good music on and let the sentiment and memories take us for the ride to the past. 
Rob Daviau's Case opens the series, and he takes us all by surprise, getting us to Boston suburbs in '70s. This city has seen better days. Lots of protests. Civil unrest, tensions. It's a brooding city struggling to find its footing. Some days it's simmering. Other days it's cooking. What a time to fight crime!
Since the case takes place in the past, new mechanics have been added to the game. Investigators can seek information with the help of Librarians and actively interview the witnesses.
Dig Deeper takes action to Boston, 1977. All components, including Antares website reflect the new setting.

Expansion comes with 5 new characters to play and a few new mechanisms including a new Questioning mechanism.

Dig Deeper releases in 6 different languages including English, German, French, Spanish, Italian, Russian and Polish!

Ask your FLGS for a copy, invite your friends and have a great murder mystery night



Detective: A Modern Crime Board Game is a fully co-operative, immersive, detective experience. This is a game of wits and deduction, a full game night experience – a single game session can last up to 3 or more hours. It is also rules-light, meaning, that the most powerful tool at your disposal is your team, your imagination, and your own mind.

In this challenging, story-driven game for 1-5 players, you will play as group of Antares National Investigation Agency members. You are going to tackle five different cases and solve them in order. Each of them affecting the next. Together they will form a campaign that will put your skills to the test.

If you are looking for a modern detective simulator, this is the game for you.