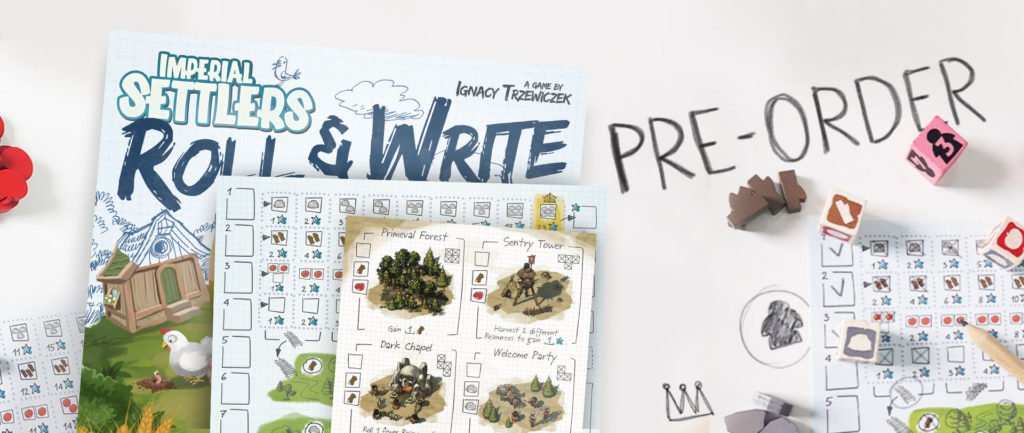 With the great empires warring with each other, some settlers decide to move out in search of more peaceful lands. They know that this time they will have to work together to prosper in these new regions, or should at least try to…
IMPERIAL SETTLERS: ROLL & WRITE is a quick engine-building game with roll and write mechanics. Each player tries to be as efficient as possible with the given resources and available workers. In the game players construct new buildings to gain abilities, build bridges to reach new lands and different constructions to gain victory points.
The player who built the biggest Empire and gained the most Victory Points at the end of the 10th round wins the game.
IMPERIAL SETTLERS: ROLL & WRITE comes with three modes you can choose from:
basic mode – easy to learn, perfect for playing with your family and to discover the basics of the game, it offers 5 unique buildings to build
advanced more – perfect for gamers to seek for many paths to victory and different scoring options, it offers 6 buildings and the special rule of creating settlements,
adventure mode – design for playing solo this mode offers 48 unique sheets with different buildings, so each time you play, you are challanged with different abilities!
In the box players will find 3 blocks with total number of 192 sheets!

Pre-order Imperial Settlers: Roll & Write and get additional set of Village Sheets for the ADVENTURE MODE (and the second set of the Empire Sheets along with it)!
Adventure mode is meant to be played as a solo variant, but having two copies of Village sheet allows you to play it with your friend in an exciting 2 player mode!
With this pre-order offer, you get a total of 288 sheets!
Disclaimer: additional Adventure and Empire sheets are going to be available later in Portal Games Online Store.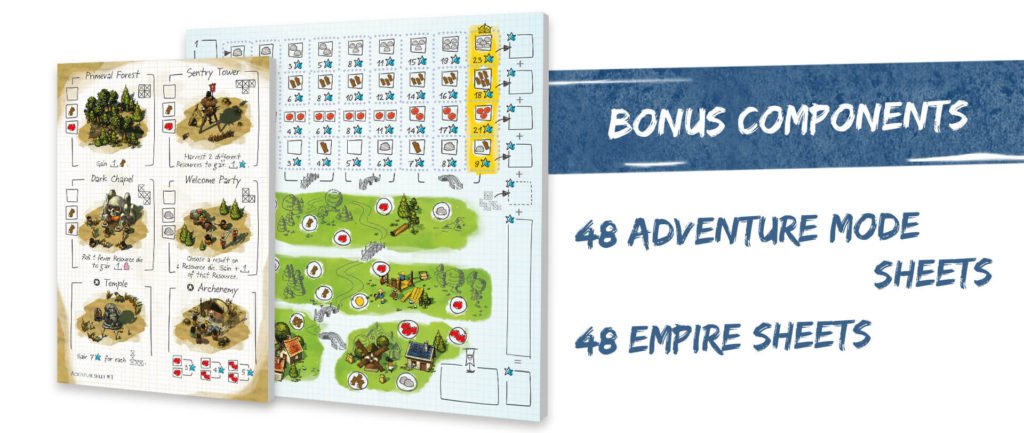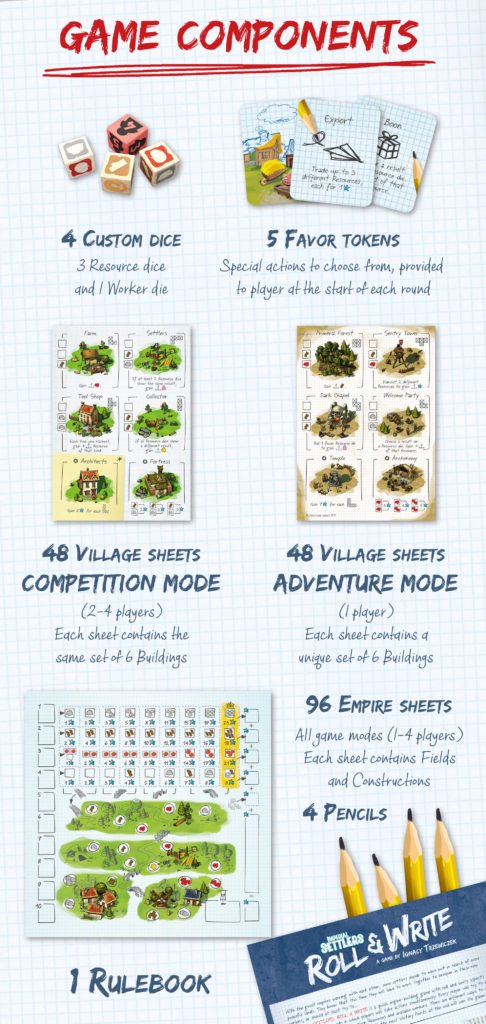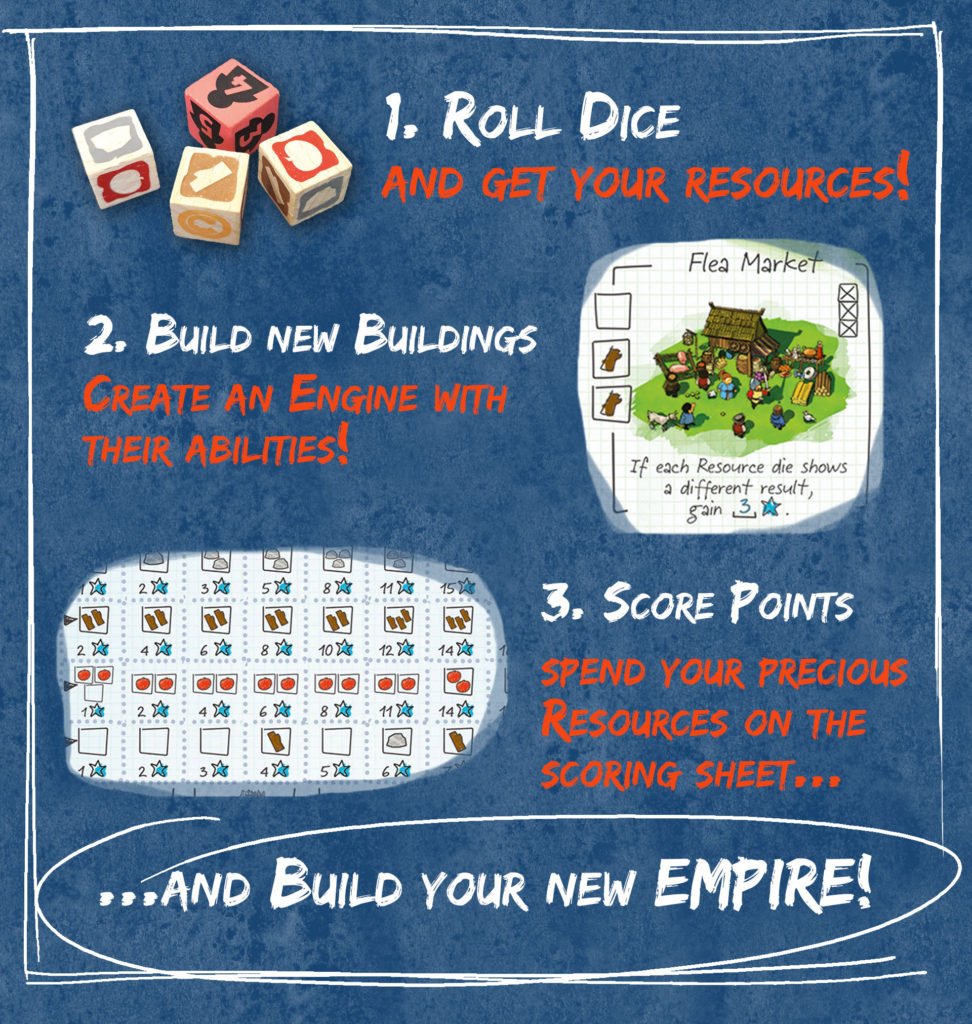 The game lasts 10 rounds. In each round player rolls 3 resource dice and a worker die, to form a shared resource and worker pool. Then each player chooses a favor token which grants their Empire a special boon. Next they expand their Empire by harvesting fields to get more resources, building buildings to gain new abilities, and creating various constructions to gain victory points. At the end of 10th round players count up all of Victory Points to determine the winner!
There are two game modes in Imperial Settlers: Roll & Write – Competition mode (for 2 to 4 players), and Adventure mode for a single player.
In Competition mode, all of the players get the same Village Sheet and compete against each other to see, who is able to score most Victory Points.
Adventure mode is designed for solo play and uses the advanced rules. Every Adventure sheet is unique and different, so players will need to adjust their strategy during each game while trying to beat their high score.
If you fell in love with Imperial Settlers: Roll & Write, played it dozen of times and run out with sheets, you can always download a files from us, print, laminate and have infinite fun with the game! Thanks for playing!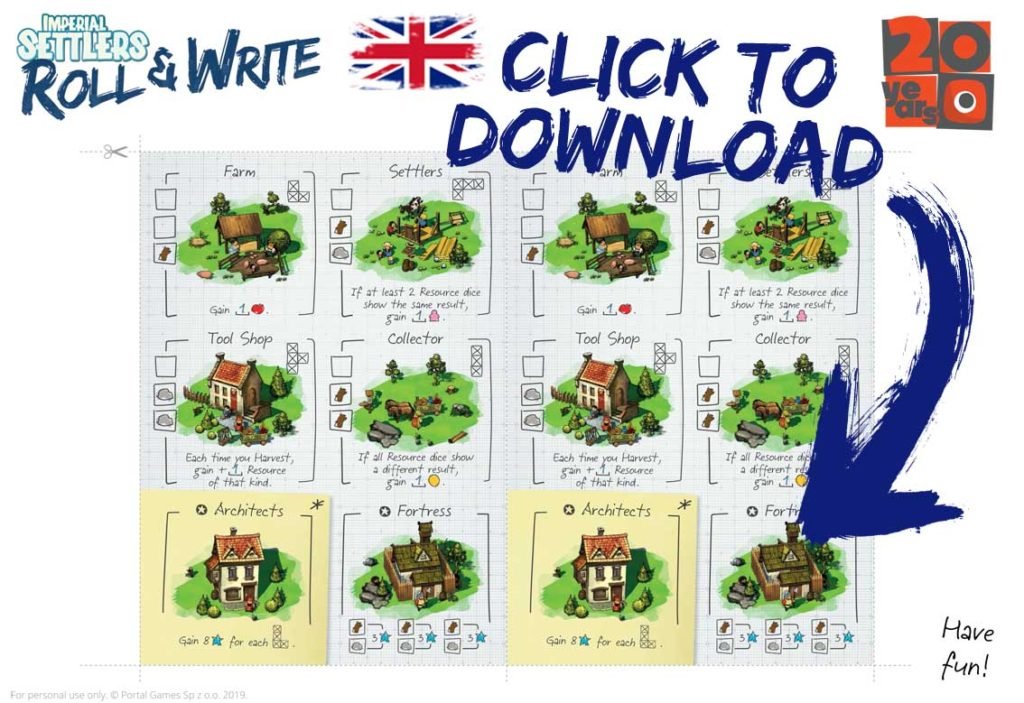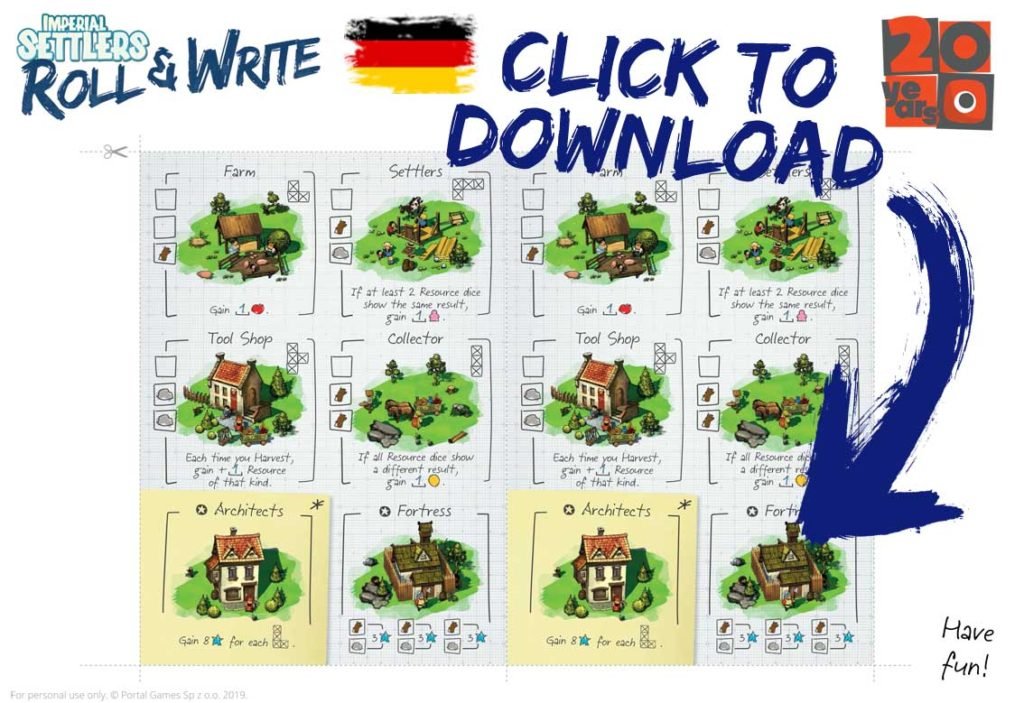 The game will debut on UK Game Expo on May 31 (pre-release).
The official street date is June 19, 2019 for the English and Polish version).


Imperial Settlers: Roll & Write is set in the same universe, as Imperial Settlers, and Imperial Settlers: Empires of the North. Join your favorite factions and revisit funny and beautifully illustrated locations, such as Atlantean Beardy's Manufacturing, Roman Guarded Woodshed, and The Aztec Calendar!

Full name: IMPERIAL SETTLERS: ROLL & WRITE
Author: Ignacy Trzewiczek
Illustrations: Roman Kucharski, Tomasz Jedruszek, Grzegorz Bobrowski, Denis Martynets, Maria Pekina
Number of players: 1 – 4
Time of play: 30 min.
Age: 10+
MSRP: 27 EUR | 30 USD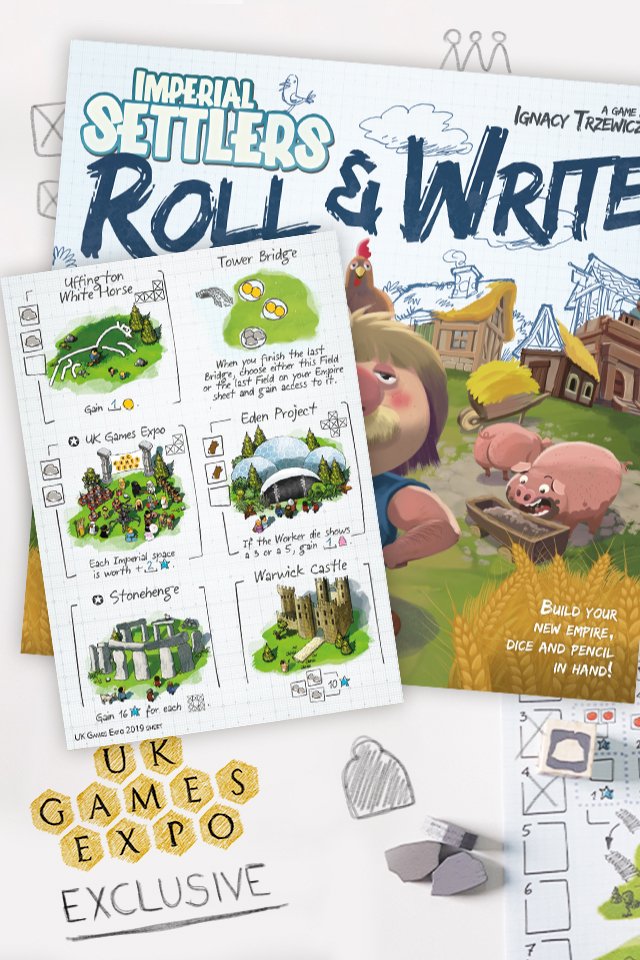 We have a small surprise for all of you who go to UK Game Expo! As Imperial Settlers: Roll and Write will debut at this convention we decided to celebrate the pre-release with special, unique Village sheet dedicated to UK!
For the first 100 who will come to our booth and buy Imperial Settlers: Roll and Write (or pick up their pre-ordered copy!) we will have a totally unique block with 12 additional sheets designed especially for UK GAME EXPO!
Yes, we are serious! To celebrate pre-release of the game in England we have designed a unique variant for the game and we will offer it for free to the first 100 customers. For all other all around the world – we will post this unique sheet as a free PDF file to print!