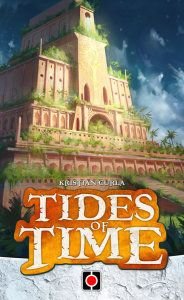 Contact: Ignacy Trzewiczek
Portal Games
portal@portalgames.pl
Tel: +48 601 49 68 48
 FOR IMMEDIATE RELEASE
Portal Games announces Tides of Time card game
The first micro game from Portal and new designer Kristian Čurla
Gliwice, Poland – April 13th, 2015. Today, Portal Games announced Tides of Time, a new micro card game set in the ancient world of man as kingdoms rise and fall.
Tides of Time combines the ease of play of a micro game with the strategic depth of set collection and drafting for a unique two player experience. The players are dealt a hand of 5 cards and draft one card at a time, passing their hands between them after each selection. Each card has a suit as well as a unique scoring rule that may score the player points based on the suits of cards drafted. At the end of each round, the players select one card to keep in their kingdom for future rounds as a Relic of the Past and one card to remove from the game. After three rounds, the most prosperous Kingdom is declared the victor.
This is Portal Game's first micro game and first two player only game in the English market. "Kristian approached me at Essen Spiel with a prototype and when we played it, I knew immediately that it was a perfect fit for Portal Games," said Portal CEO Ignacy Trzewiczek. The play is more streamlined than our usual games, but each decision is rich and difficult. Each choice, you must choose between building your Kingdom or sabotaging your opponents plans… and sometimes, you can do both with a single action!
Tides of Times is for 2 players, ages 8 and older, and takes approximately 10-20 minutes to play. It includes 18 large-format cards (80mm x 120mm), Relic tokens, score pad, pencil, and a rules sheet. Tides of Time will be released in July at Gen Con 2015 and will be in retail distribution worldwide in August. MSRP will be $12.00 USD. For more information you can visit the Tides of Time website at https://portalgames.pl/en/all-game-list/tides-of-time/
About Portal Games
Portal Games is a publisher of award-winning games such as Imperial Settlers, Stronghold, Pret-A-Porter, Legacy, and Neuroshima Hex. Founded in Poland in 1999, Portal Games has developed into one of the most renowned European game publishers and design teams. Their commitment is to produce only the highest quality Board Games That Tell Stories.