Hello, hello,
And here we are, the last week of the campaign, the last seven days. Most of the Daily Unlocks revealed a ton of promised additional value-added to your copy of the game.
But hey! There is more!

Player cards generator
Portal Games has been known for years for encouraging players to create content for their games. Right after we released Neuroshima Hex in 2005, we armed players with templates and files to create their own armies. Right after we released Robinson Crusoe in 2012, we offered open templates to create fan-based scenarios.
These games are our long-time bestsellers not only because they are freakin' awesome. They are our long-time bestsellers because of you, fans, who keep the title alive with more and more fan-based content.
You know where it all leads, huh?
We have a small surprise for you. Our team is working on a small web-based solution allowing you to design your own cards for Eleven. Yes, that new player could even have your name! Or you can make players from your local club. Or your friends. Or whatever you want.
This is your game. I said it on day 1. And I keep my promise.
Coach corner – Ronald Koeman
"Barca didn't have players for tiki-taka game," said Koeman after the Granada draw. Looking on the pitch and seeing dudes like Couthino, Frenkie de Jong, or Memphis Depay, I am shocked by the statement. But what is essential for us here is the fact that we prepared for you stunning football manager game. Look at what is already unlocked!

We need your help. We give our best here, and now we need you telling board game fans that this is the last moment to jump in and get a great football manager with insane additional value that will never happen again.
I appreciate every one of you, every one backer, who clicks the SHARE button on the campaign page and lets their friends know about it. Thank you.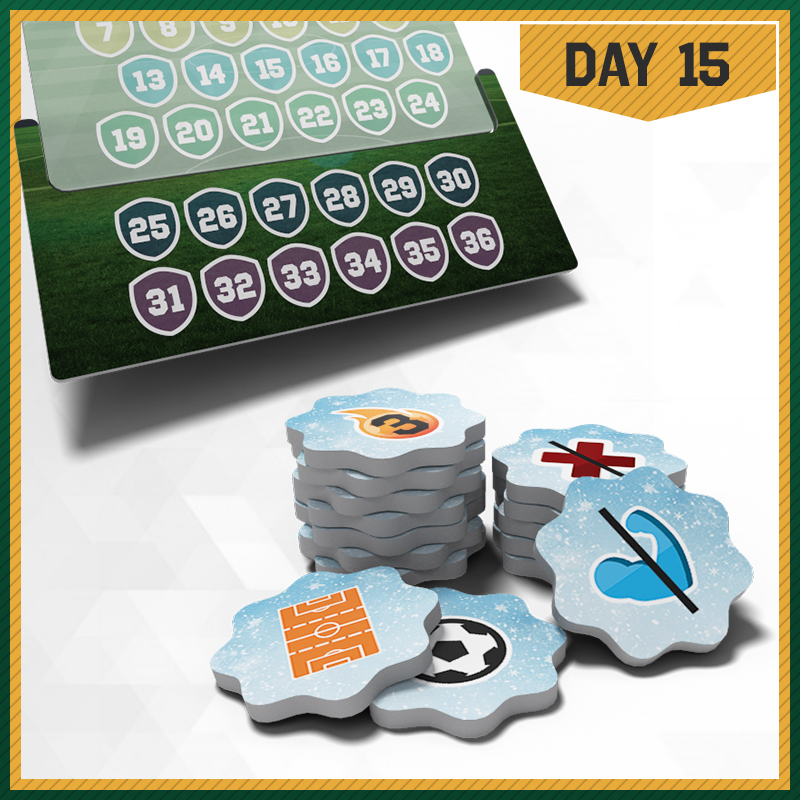 Today's Stretch Goal is Epic League mode.
Play a bigger game! Instead of the regular 8 rounds, you'll play 12 rounds with an additional phase between the 6th and 7th Week—a winter break. During the Break, your Players rest and gain additional abilities thanks to the experience gathered in the Autumn Matches. There are 16 Winter Break tokens with different abilities to give your strategy another layer. The variant comes with an additional board extension for the League Table allowing for a higher scoring due to longer gameplay.
This gameplay bonus is a Gamefound Exclusive Stretch Goal for Eleven. It won't be a part of the retail version of the game. All Stretch Goals will fit into the box.

Match consequences
A game of football takes only 90 minutes. But so much can happen in this time. Goals will be scored, hard tackles are made, superb dribbles, fouls, mistakes, yellow cards, red cards, etc. It all has consequences.
First off, playing those 90 minutes takes a lot of energy. To select players you need to put a fitness resource token on each player to select them. After the match, you will discard these tokens. During the upcoming match you need to make sure they get their energy back and are ready for the next match. You need to do this every single week.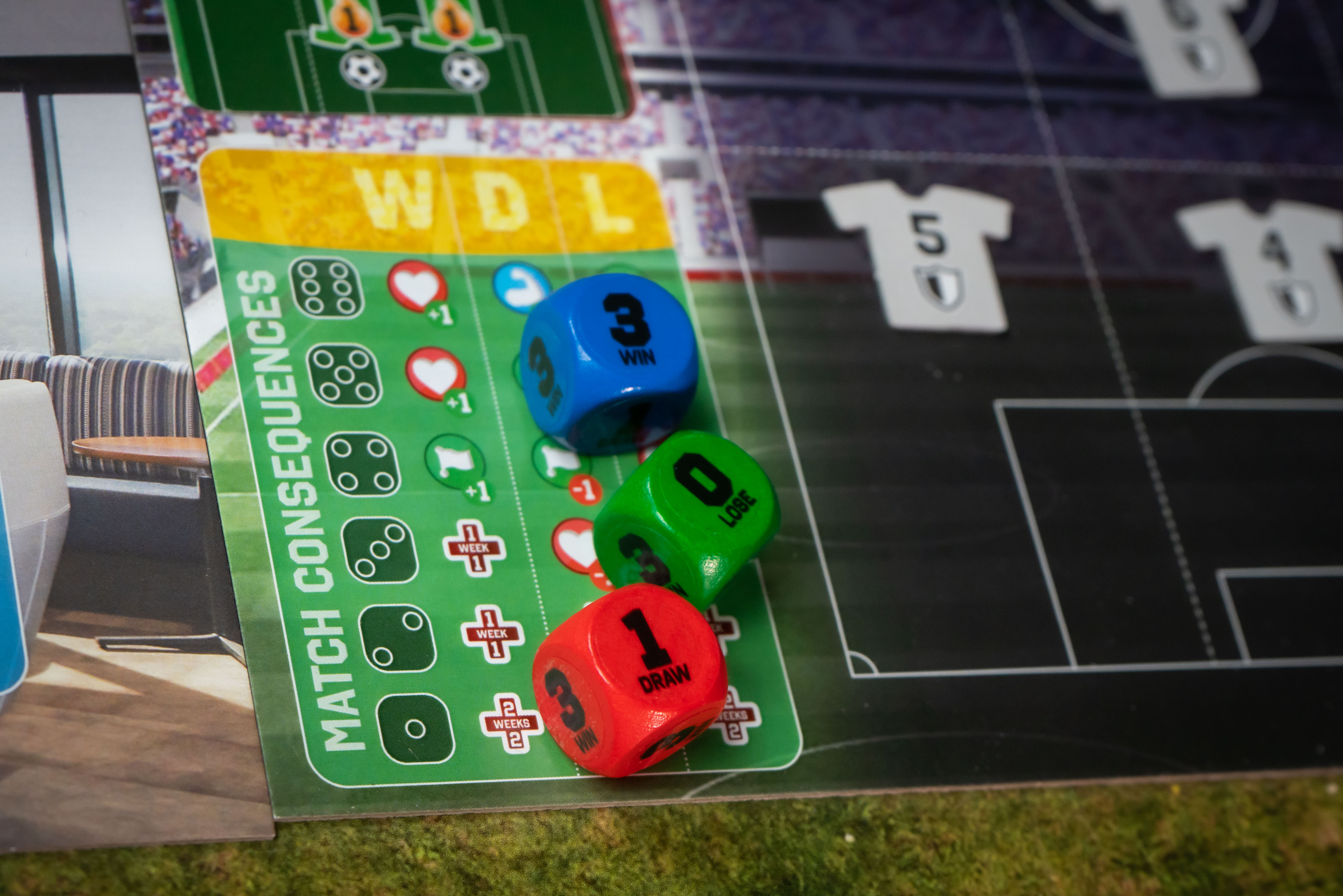 Then there are some occasional events to deal with. After the match, you roll on the match consequences table to see what's happened. Roll a d6. It depends on whether you won, lost or drew which table you need to look at.
There are many different possibilities. You may roll an injury. One of your players will be out for 1 or 2 weeks. Or your fitness track may decrease. It must have been a tough match. If you played well, there's a chance your fan base increases. A lot of different things can happen during the match consequences phase.
Again you are allowed to reroll using your fan resources.
As described above, a lot depends on the result of the match. For example, If you lost the game, there is quite a big chance you won't have as many fans to place in your stadium as you had today. But if you keep on winning, you are more likely to sell out your stadium in the upcoming matches. This is balanced by the fact that winning matches increases the chance of getting injuries.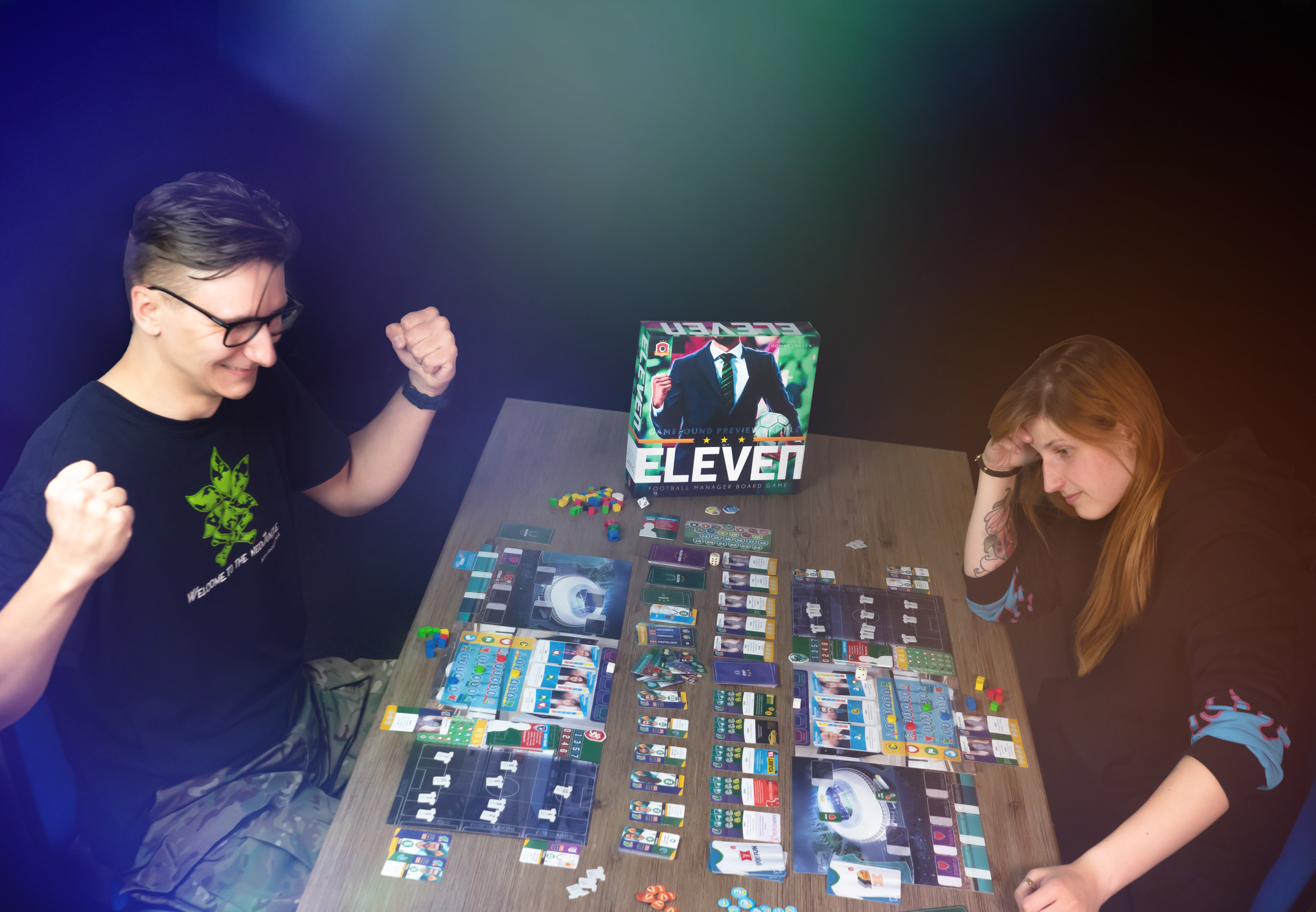 After the match consequences, another week begins. No time to rest. You need to get your team ready again. Deal with all the problems you face and get back even stronger than your last appearance. Do you still want to be a football manager? It's not an easy job.