Removable tray – is that possible?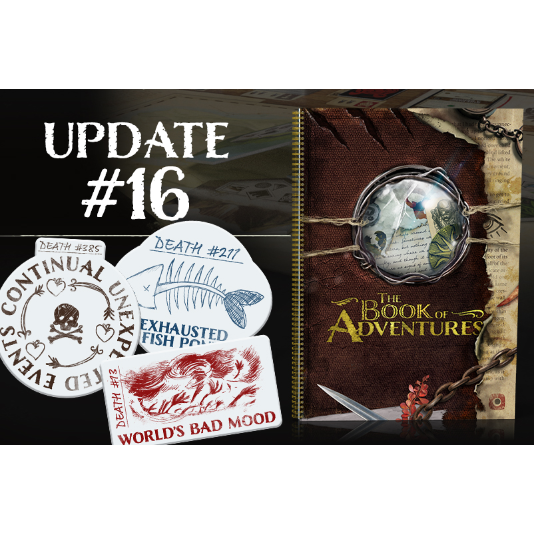 Update #16
Hello, hello!
How are you, folks! Are you ready for another update about the campaign?

Removable tray
Many of you asked if the plastic insert will have a removable tray for pieces to help you with the game setup. We discussed this with the production team, and we have confirmation that it is possible and the insert will have a removable tray for you to make set up easier. Removable tray rhymes with Yay!
We don't make it stretch goal, we don't call it daily unlock, we just deliver it – whatever is possible to make this edition awesome. Thanks for your support and positive energy!
Add-on for 330 cards
We added to the add-ons sleeves – a set of 330 clear card sleeves for all the cards in the Companion App Packs Bundle. It is convenient for all of you who want to have these physical cards.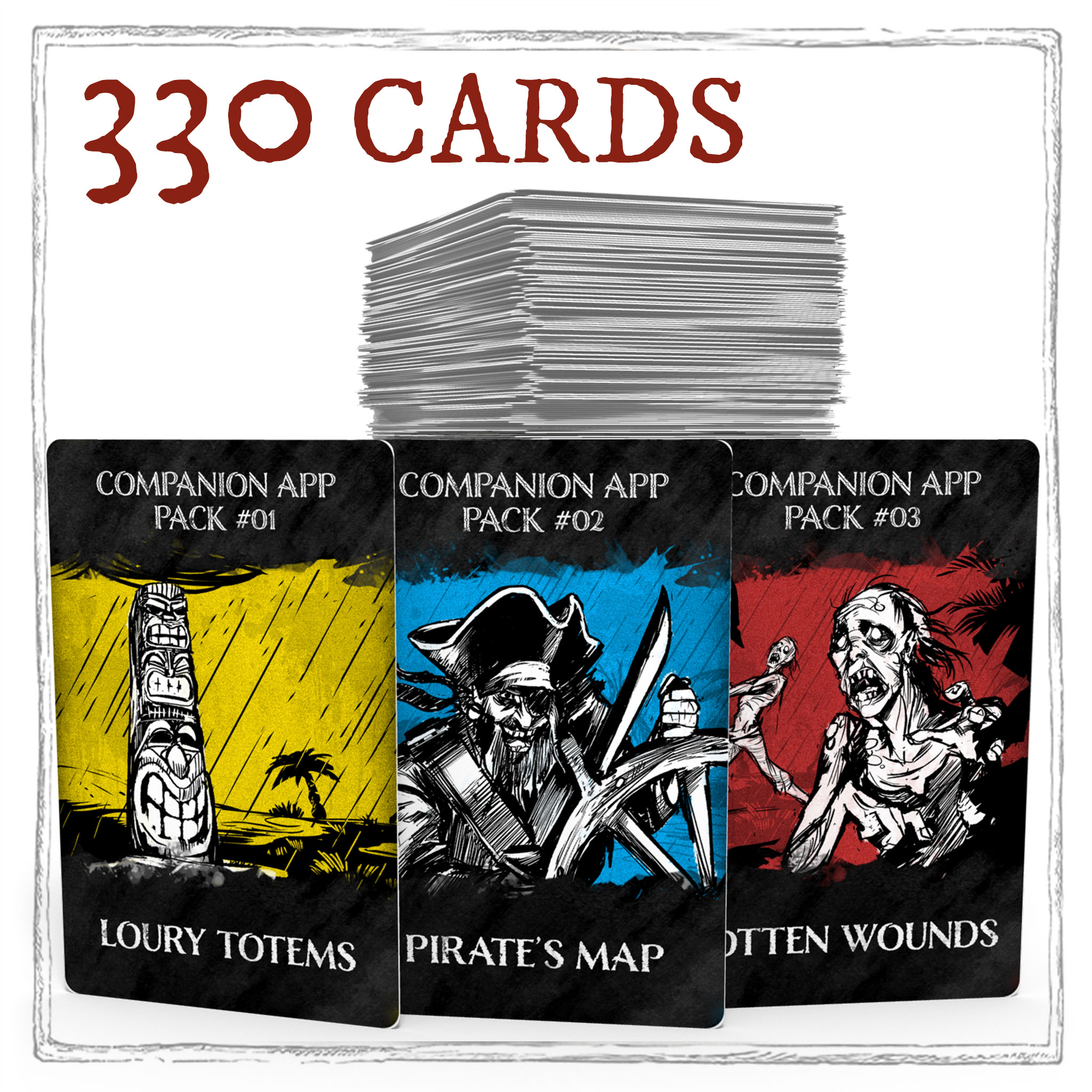 Poll question
Some of you asked why we added On and On Westward to the Poll. I want to ask – how could we not add it? Should we censor the list of scenarios? The stretch goal was about fans voting for the best scenario. How could we add to the poll all scenarios except one? I can only imagine what would happen in the comments section when we ask you for voting for a list without some of the scenarios. On and On Westward is not the only fan scenario that uses additional pieces and components. Should we remove them all?
Richard Shmith did an amazing job designing these scenarios, and he fully deserves to be in the contest for the best fan-created scenario. He fully deserves your votes, and maybe – votes will show – he deserves to make it to the Book of Aventures, an epic collection of scenarios to the game. To play his scenario, you would need to add some work and print some additional pieces. Yes, but in the end, you get an amazing game night. As Portal Games offered, we will make an additional effort – if it wins, we will translate this scenario into English, we will edit it by a professional editor, and we will do professional art design for the scenario.
In response, we faced uproar and anger. That was a sad surprise. Nevertheless, we send out positive energy, and please, consider being more on the positive side of life too! This is you, community, voting for the best community-created scenarios to give a shout-out to designers and make them proud to be part of this official product. This is a community-driven stretch goal to share positive energy and appreciation for your talent and effort. Vote for the best scenarios and let their creators be part of this adventure.

We are slowly getting to the end of the campaign, and we decided to respond to fans' feedback that was very vocal in the forums for all those years since the game was released. The feedback we heard was always hilarious – OMG, the goat killed me. Oh, no, I was killed while gathering bananas. You must be kidding me, I got killed by exploring the river!
We hear you. We know you need some way to express your thoughts and comment on all these 10 million ways you can die on the Island. Today we have you covered! We are unlocking the sticker sheet with funny doodles that show how you died on the Island. You will use them and stick the sticker to a particular scenario to mark how it ended! Funny memories and doodles! That's awesome, right? There will also be a dedicated page in the book where you can note down all your deaths, with the date, scenario title, and the cause of death!
IMPORTANT: Please, use hashtag #sticker to give us ideas for stickers you want to find in the set!
IMPORTANT: These doodle stickers won't be part of the retail version of the book.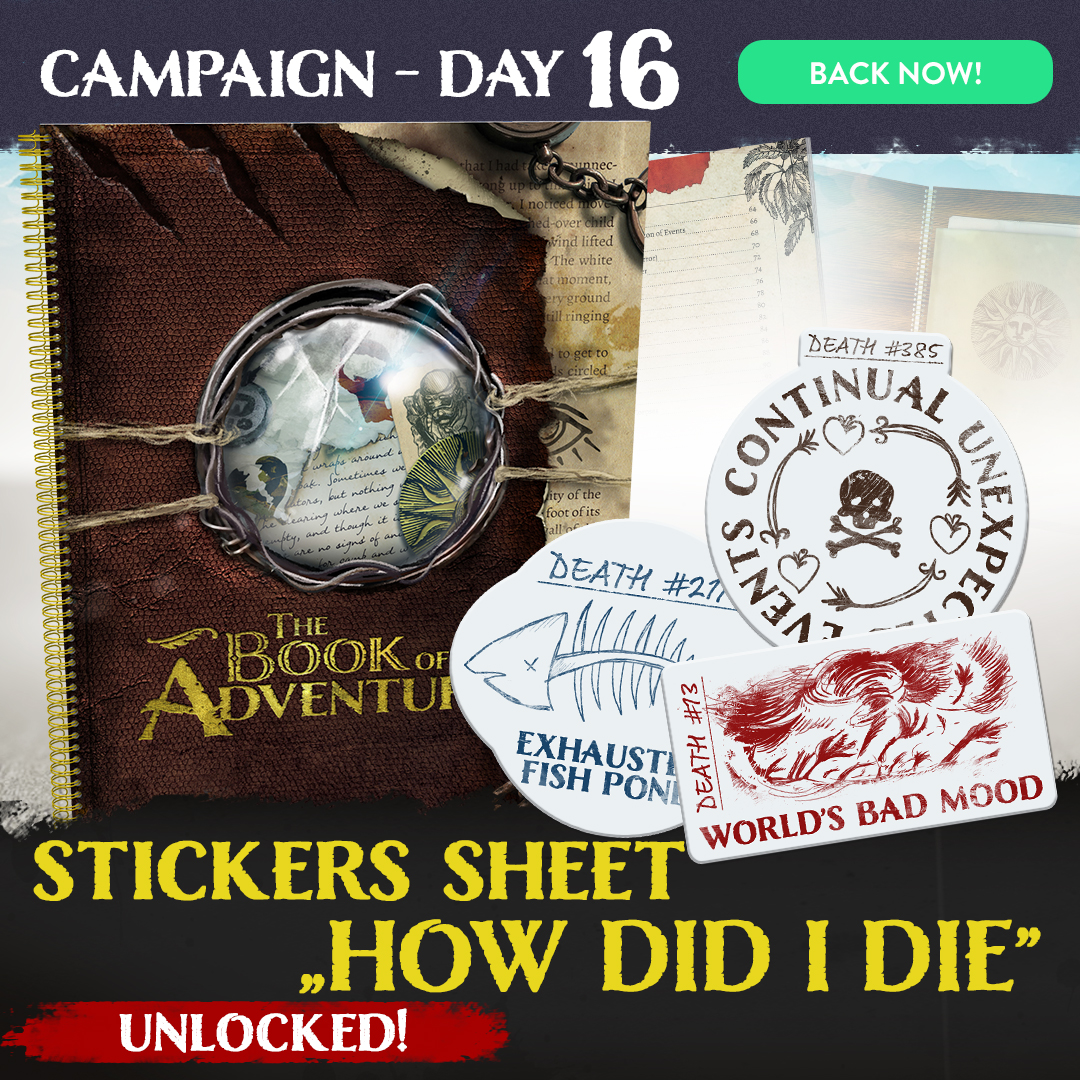 In today's Beginner's Corner, I will… talk to Veterans! 🙂 Many of you asked in the comments about variants of scenarios we will publish in the book. You asked what variant means and how much it changes the gameplay.
In Book of Adventures, besides many brand new scenarios, you will also find various already well-known scenarios, now with altered rules making them easier or more challenging to win! First of all, already existing effects will have changed statistics, you will have to spend another amount of Resources. Also, Weather will not be as it used to. Make sure you spot these nasty dice on the boxes of the upcoming days! Besides changing already existing rules, they will sometimes introduce whole new sections with either new special rules or change the special Item you have to build. Overall, Goals will be the same, but in order to achieve it, you will either increase the level of challenge or let yourself have a chill playthrough with lower requirements. Here is an example:
Jenny needs help! She is traumatized!
In the more difficult version of the scenario, you will start rolling the red die already in round 4! There is an additional special rule – Jenny is Traumatised; each time level of the Palisade will be lowered, each Character has to spend 1 Determination Token to support her, or she will get additional wounds! Additionally, Totems of the Island became even nastier: you will need a shovel on the cemetery; otherwise, Beast will get even more powerful – rolls of the Red die will now have strength five instead of 3! If you thought it's already a lot, well, it's Robinson game– after discovering the remains of Mast, you will be required to build a Dam; otherwise, an empty face of the die will also decrease the level of your Palisade! I hope you will overcome the Trauma on the Island along with Jenny…
***
Thank you for today!
And as always – we have another presentation of two new scenarios in the Book of Adventures!