Portal Games shares details for the future of Imperial Settlers: Empires of the North
A new game joins the Imperial Settlers family of games from Portal Games.
Gliwice, Poland – July 29th, 2019. Today, Portal Games released more details of the upcoming Imperial Settlers: Empires of the North, a new card game set in the Imperial Settlers universe from designer Ignacy Trzewiczek. Inspired by Imperial Settlers, Empires of the North draws familiar mechanics from its predecessor and introduces new concepts that make this game stand out. This is the third game in the Imperial Settlers line following Imperial Settlers: Roll & Write which released in the second quarter of 2019.
Empires of the North expands the world of Imperial Settlers into the northern seas with six Nordic clans from three unique factions. Players familiar with Imperial Settlers will recognize the resources and building mechanics but will face new challenges with resource management, and raids. The clans of the Nordic seas have decided to set sail for distant lands to conquer and pillage. Resource management plays a crucial role in Empires of the North and players will face a whole new set of challenges in trying to find new resources, and keep them for themselves!
"Over the past 5 years, Imperial Settlers became a worldwide phenomenon with 13 localized editions and 6 expansions, and we knew we wanted to expand on this world" said Ignacy Trzewiczek, designer and CEO of Portal Games. "This year, with the release of Imperial Settlers: Roll and Write, and Empires of the North, we want to offer players more unique games and experiences in the Imperial Settlers universe."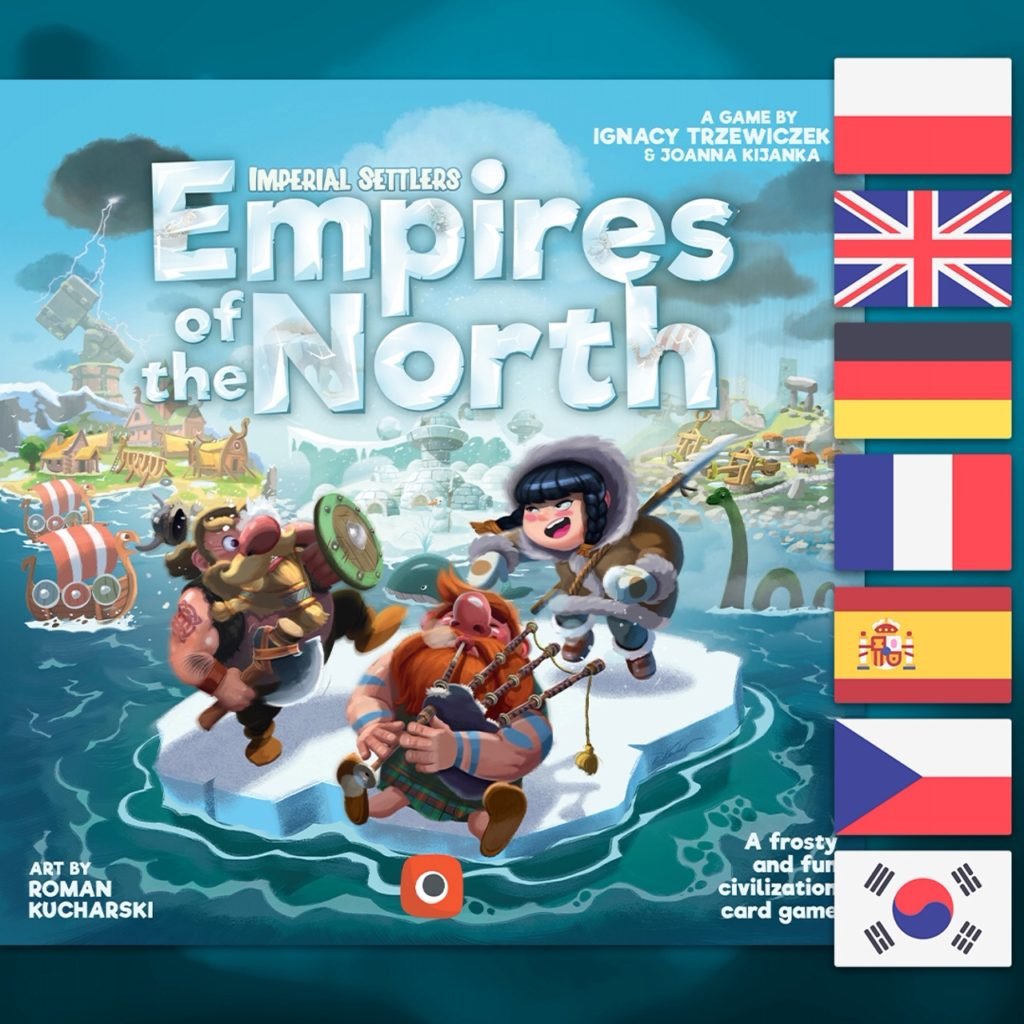 Imperial Settlers: Empires of the North will be available as a pre-release at Gen Con 2019 with a world-wide release on August 22nd, 2019. Portal Games is proud to announce that along with the English edition, 6 local-language editions will also be released this year including: Polish, English, Spanish, French, Korean, German, and Czech. More editions are planned for release in 2020.
A new expansion!
In addition to the base game offered at Gen Con, Portal Games is excited to announce the first expansion for Empires of the North, Japanese Islands. This expansion, which debuts at Essen Spiel 2019, includes two brand new decks and additional island cards. "The Japanese faction connects the world of Empires of the North and the base Imperial Settlers," says CEO Ignacy Trzewiczek. Details and pricing information will be announced at a later date.
About
Portal Games
Portal Games is a publisher of award-winning games such as Imperial Settlers, Tides of Time, Robinson Crusoe: Adventures on the Cursed Island, Neuroshima Hex, and Detective: a Modern Crime Board Game. Founded in Poland in 1999, Portal Games has developed into one of the most renowned European game publishers and design teams. Their commitment is to produce only the highest quality Board Games That Tell Stories.
Europe
Contact: Ignacy Trzewiczek
Portal
Games
portal@portalgames.pl
Tel:
+48 32 334 85 38
North
America Contact: Luke Otfinowski
Portal
Games
luke@portalgames.pl
Tel:
+1 654 249 5928