Gliwice, Poland – March 2nd, 2020. Portal Games is proud to announce content for Season One, the highly anticipated follow up game to the award winning Detective: A Modern Crime Board Game. In this brand new game players will find 3 very different cases.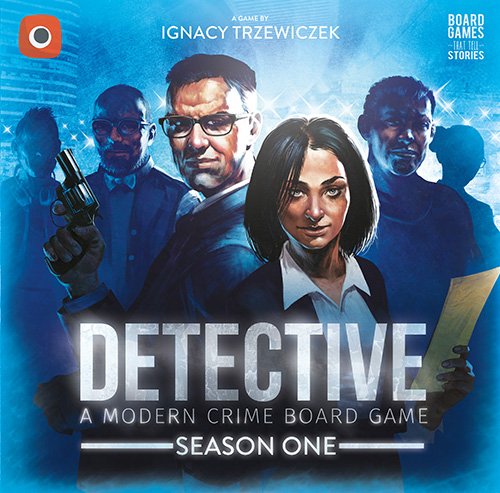 Blood, Ink, and Tears moves action to Great Britain, where players visit an old mansion and discover family secrets from the past that lead them to clues behind the mysterious death of the family patron. Fans of Agatha Christie's novels will find themselves at home in this rather funny case!
Solid Alibi throws players in the middle of a bloody conflict between gangs and criminals in the Italian district. Players will have to not only solve the crime and discover who killed Robert Parkson, but also witness growing tension in the district and find out who to trust in the spiral of violence and mutual accusations!
Natural Causes takes players to a university campus in the US. Professor Calvin Higgs is found dead in his lab at the Biology Institute of Virginia University. Players need to find out if his death is from natural causes, or perhaps there's someone in his surroundings responsible for this horrible crime. But what could be the motive?
Natural Causes was previously published as a demo case for the game Detective: A Modern Crime Board on Portal Games website. The case, thanks to its shorter playtime, proved to be perfect for introducing new players to the game. Portal Games intends to continue its support to popularizing the game, so it is publishing another case as a free demo to replace Natural Causes on its website.
The new free case called Suburbia starts with a mysterious death – a young woman is found dead in an abandoned house ruins. Players need to investigate the case to solve the mystery hidden behind it. Suburbia, similarly as Natural Causes, is a stand-alone shorter case with a playtime of around 90 minutes. It provides a perfect opportunity for those who would like to try out the game for the first time as well as those who already played the base game and are looking for a quick case to introduce new players to the game and invite friends to the hobby. The website includes the rulebook and files to print with all game materials necessary to play the case, even for those who don't own the base game.
In addition to the news, Portal Games would like to thank all the players who tried Natural Causes, when it was published as a demo case, and award them with a small surprise, that will be announced during the pre-orders campaign for Detective: Season One.
Detective: A Modern Crime Board Game is a fully cooperative, deeply immersive, detective experience in which 1 to 5 players take on the roles of investigators trying to solve a crime. It is a story driven game, oozing with theme. It provides an unforgettable game experience having at the same time very straightforward rules.
The game has won Portal Games many prominent awards and nominations including Dice Tower Best Theming Award 2018, As d'Or Expert Game of the Year Award 2019, nomination for Kennerspiel des Jahres 2019, nominations for Golden Geek Best Game of the Year 2019, Golden Geek Best Cooperative, Best Innovative and Best Thematic Game of the Year 2019. It has been published in a dozen languages worldwide.