Hello, hello
Another day, the team is back, and there are some important changes in the campaign. Let me brief you!

Group pledge
As you guys requested, we prepared the group pledge for you. It is a super good idea for a bunch of friends to order the game, especially if you are from countries with high shipping rates and that one package will help with the costs!
Updated shipping table
Our logistic gave us data on shipping, so we updated that as well – you can check how much the whole bundle cost with the shipping cost added.
Community content
Thank you for all your ideas to our previous Stretch goal – community-driven ideas for Staff cards. The dev team browses through all your comments and building their Top8 ideas. The competition is fierce, as there is a ton of posts and potential cards!
Expansions
This week Thomas will start the Game Designer Journal series about each of the expansions, so you will get perfect information about which expansion you like and need the most!
And now let's discuss today's stretch goal. It is EPIC. When my production team showed me samples, I could not believe it is possible. Look at these 4 awesome boards!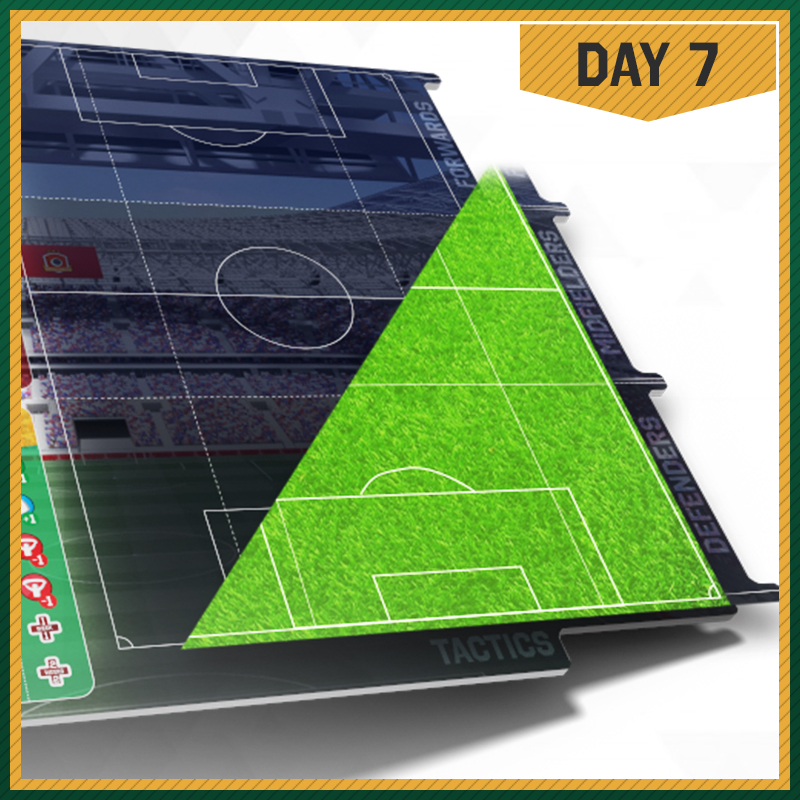 Team boards with a grass-like finish!
These 4 Team boards (one for each player) have a felt cloth finish resembling grass to transform your experience. This unique surface is new to board games and will surely make your Gamefound copy of Eleven stand out.
This component upgrade is a Gamefound Exclusive Stretch Goal for Eleven. It won't be a part of the retail version of the game. All Stretch Goals will fit into the box.
And now, time for Thomas!

Club Stories vs Eleven
What's the difference between Club Stories and Eleven?
I got that question quite often recently. Well, let's focus on the main difference today. The thing that changed most.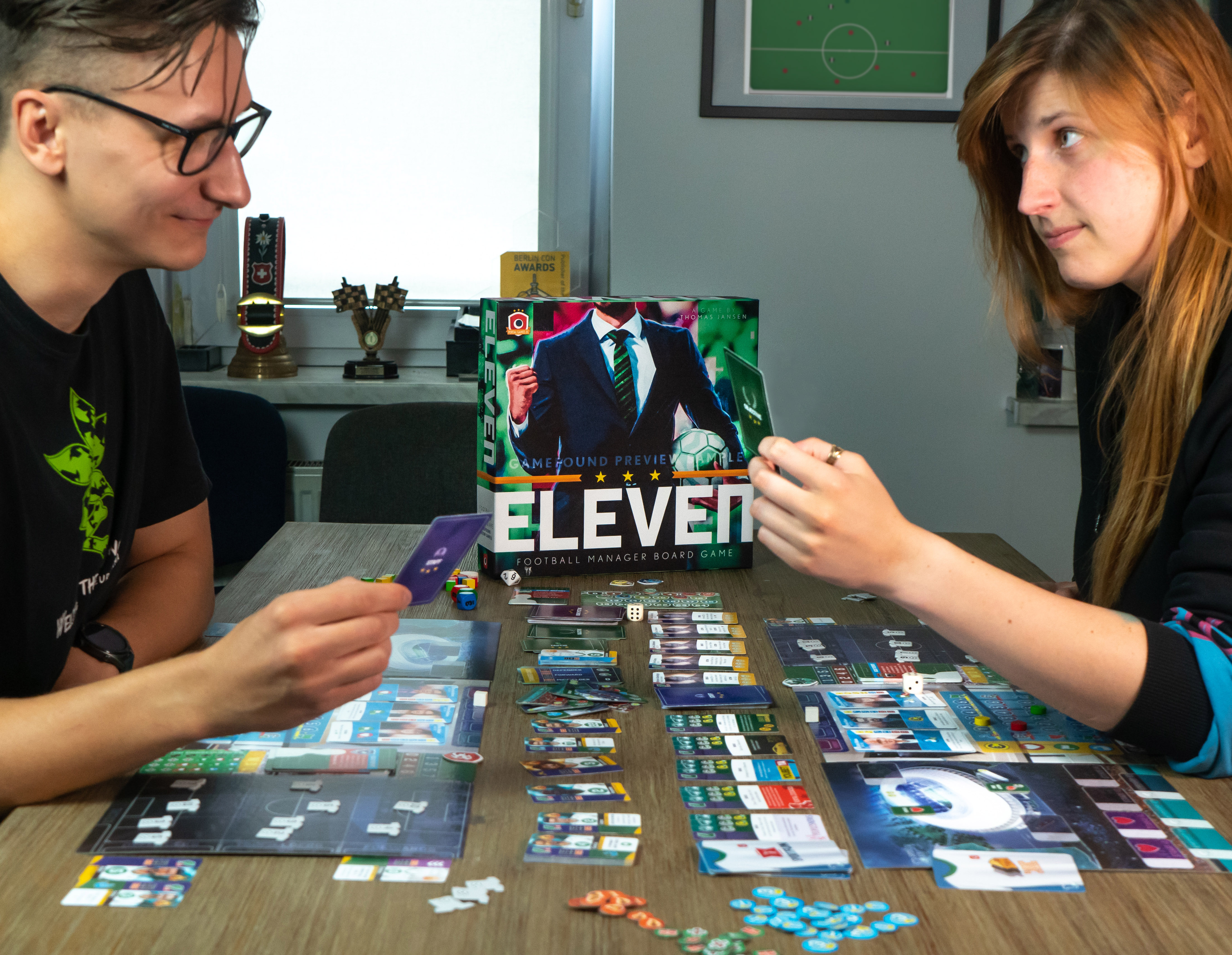 Let's take a look at Club Stories first. It is a solo game that can be played as a 2 player co-op as well. It has a push-your-luck dice system. You have a red die which you use for the board meeting event and a green die for the match consequences. Additionally, you get 4 white dice. You could add those to your red or green dice to increase chances. If you do, you have fewer dice left for actions during the week. Last but not least, if you really want to be sure to succeed, you can pay 3 dice instead of rolling.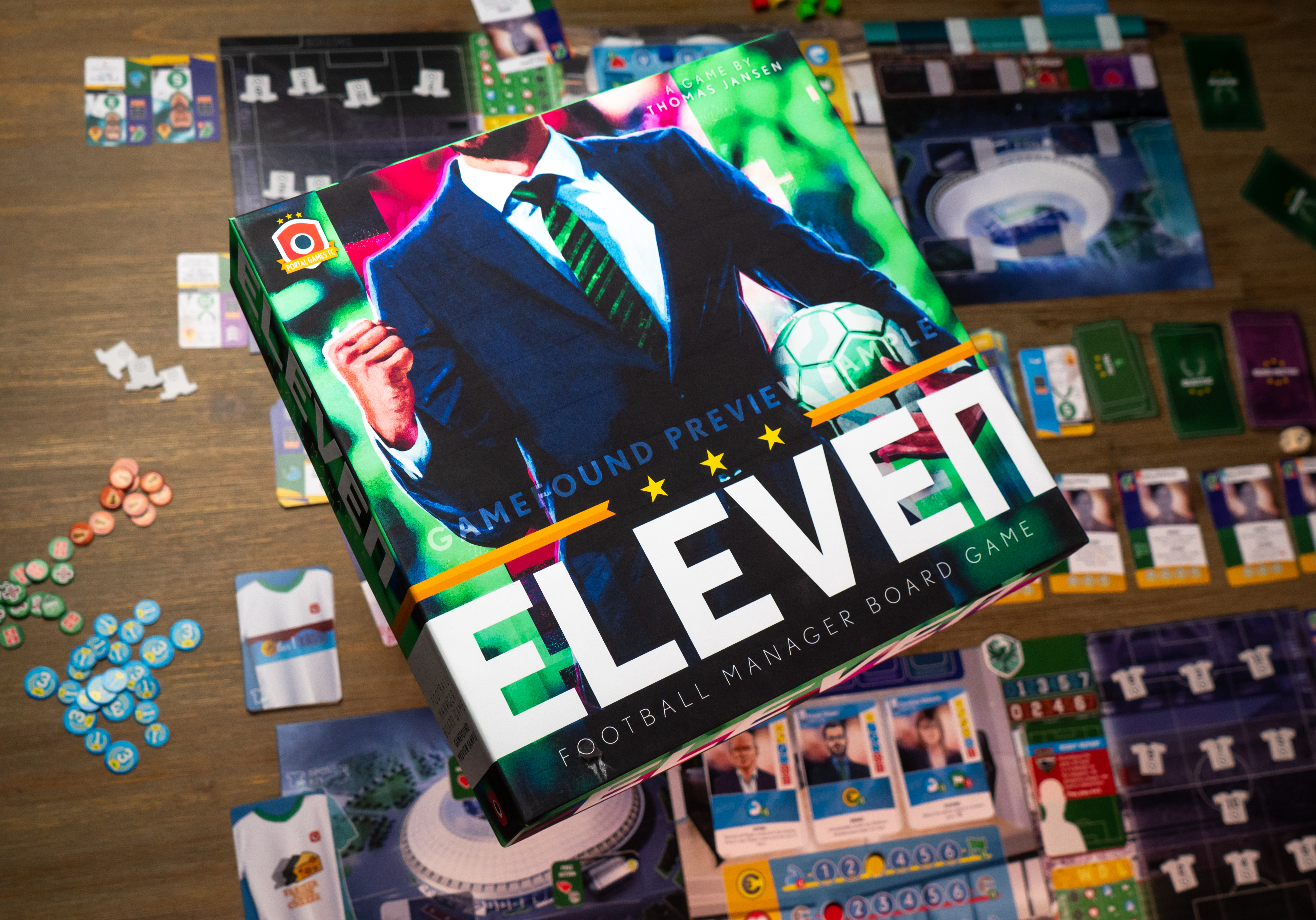 This system works quite well in a solo gameplay. It is very thematic and adds to your story, your adventure. Of course, you won't succeed at getting Messi to your club every time you try.
But we soon found out this system isn't perfect when playing multiplayer competitively. It can be quite frustrating when you don't succeed at an important action and your opponent does, just because of the result of a die roll.
This is why Ignacy introduced a big change.
Club Stories has 4 tracks. The budget track produces cash. The other tracks (fitness, morale, fans) don't. For example, they are used during certain tests. Low fitness means an increased chance of injuries, low morale will cause suspensions, etc.
Ignacy kept the idea of the cash-producing budget track. He introduced the same system to the other tracks. From now on every track produced its own resources, which you can pay to do certain actions. You need fitness tokens to activate your players, fans to fill up the stands, operations (previously morale) to give you additional actions.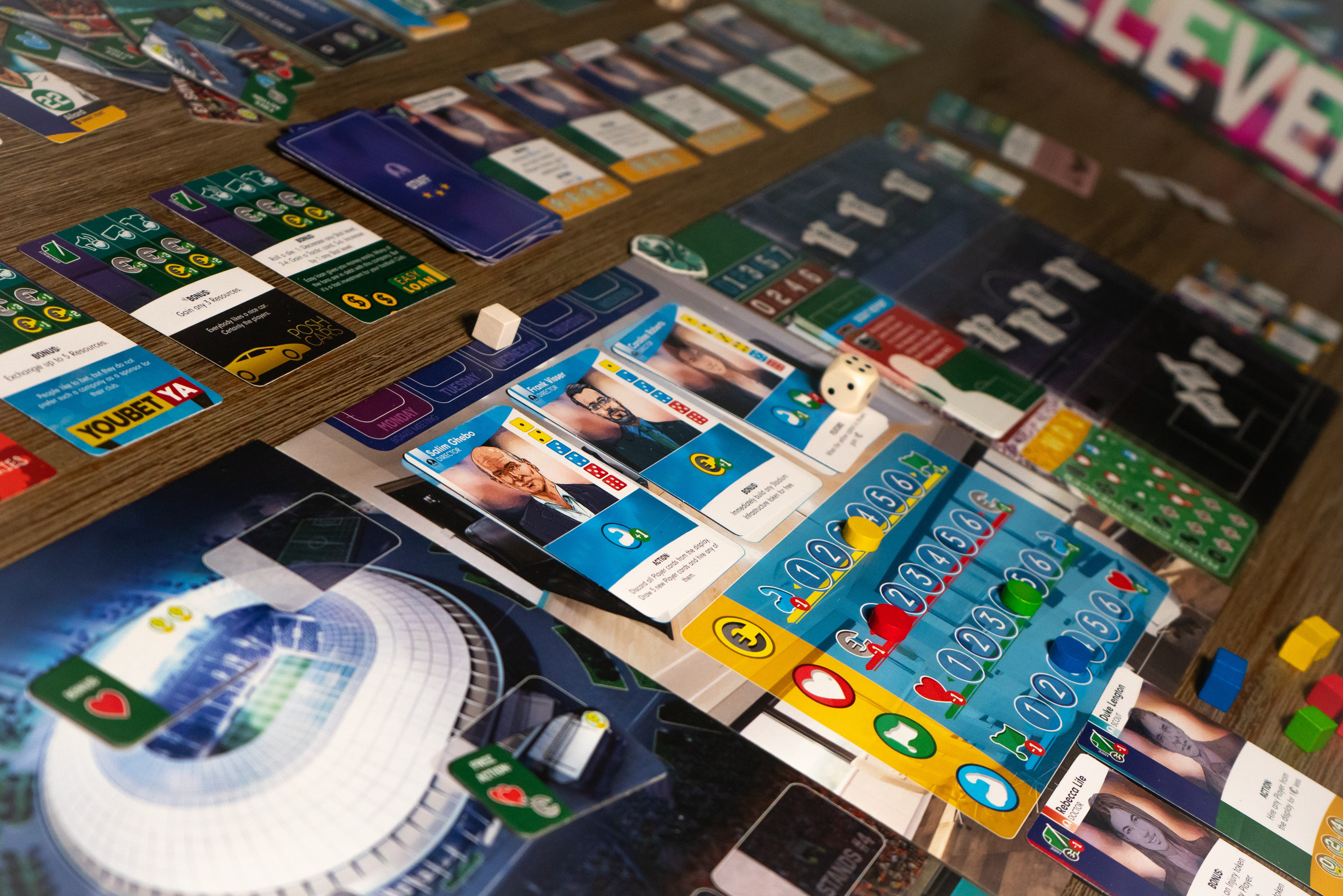 It reduces the important dice rolling moments to a minimum.
You still roll dice at the board meeting and match consequences. But you are allowed to reroll as many times you want if you have enough fan resources to do it.
And sometimes… you are just unlucky. It happens. A one, three times in a row. A two weeks injury… What do you say when Barcelona's manager blames the loss on the number of injured players?
Welcome to the world of football.

Name: Janek
Favourite club: Ryś Laski
League: None
More about it: Janek works at Portal Games in the Development department. He reads all your comments to find the best ideas and use them on different cards in Eleven. Janek use to play in Ryś Laski – a tiny club from his hometown. He rarely watches matches but loves everything that happens around them – especially histories that determine famous clubs. He loves to read about different historical players, legendary matches, mascots, stadiums, and all the simple histories of fans. This is his favorite way to feel and enjoy those football emotions.