Hello there!
Today we're shining more light on the Unexpected Events expansion. Plus some quick updates.

Thank you for your ideas!
We are mindblown by your ideas for the Business Meeting cards that you wrote us yesterday. It's very comforting to see how Eleven is becoming a game for everyone and by everyone. Getting ideas from the hive mind is absolutely priceless! Our development team will analyze them thoroughly and list the winning concepts by the end of the project.
Second expansion explained
Today we're publishing designer's journal covering the second expansion for Eleven. Expect to read about the other 3 expansions in the days to come.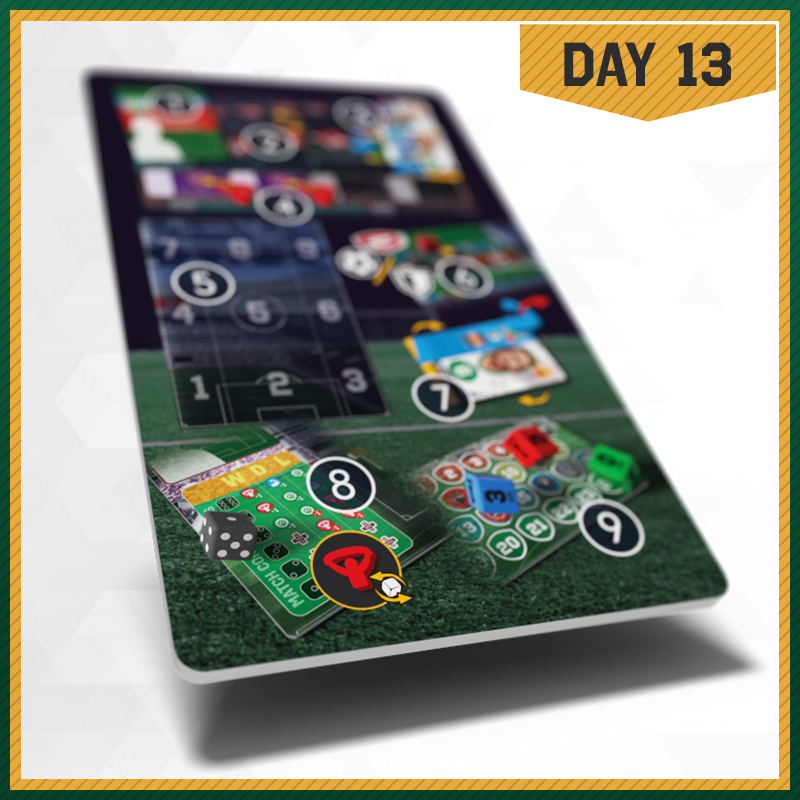 Today's Daily Unlock is Double-sided player aid with a round structure.
No more asking, what comes next? No more searching through the rulebook. These 4 player aids (one per player) with a helpful recap of the round structure, has all the answers! Everything you need to know is presented clearly and eases the understanding of the game for new players.
This component bonus is a Gamefound Exclusive Stretch Goal for Eleven. It won't be a part of the retail version of the game. All Stretch Goals will fit into the box.
Now, let's learn more about the Unexpected Events expansion from the designer Thomas Jansen:

Unexpected Events expansion
Back in 2016, I decided to design a football manager board game. I was on a holiday. I sat down at the table with this empty paper in front of me and started writing and drawing my first ideas. To me, the most important thing was the theme. It had to be a real experience. With lots of events and decision-making to give the player the feeling of being a real club manager.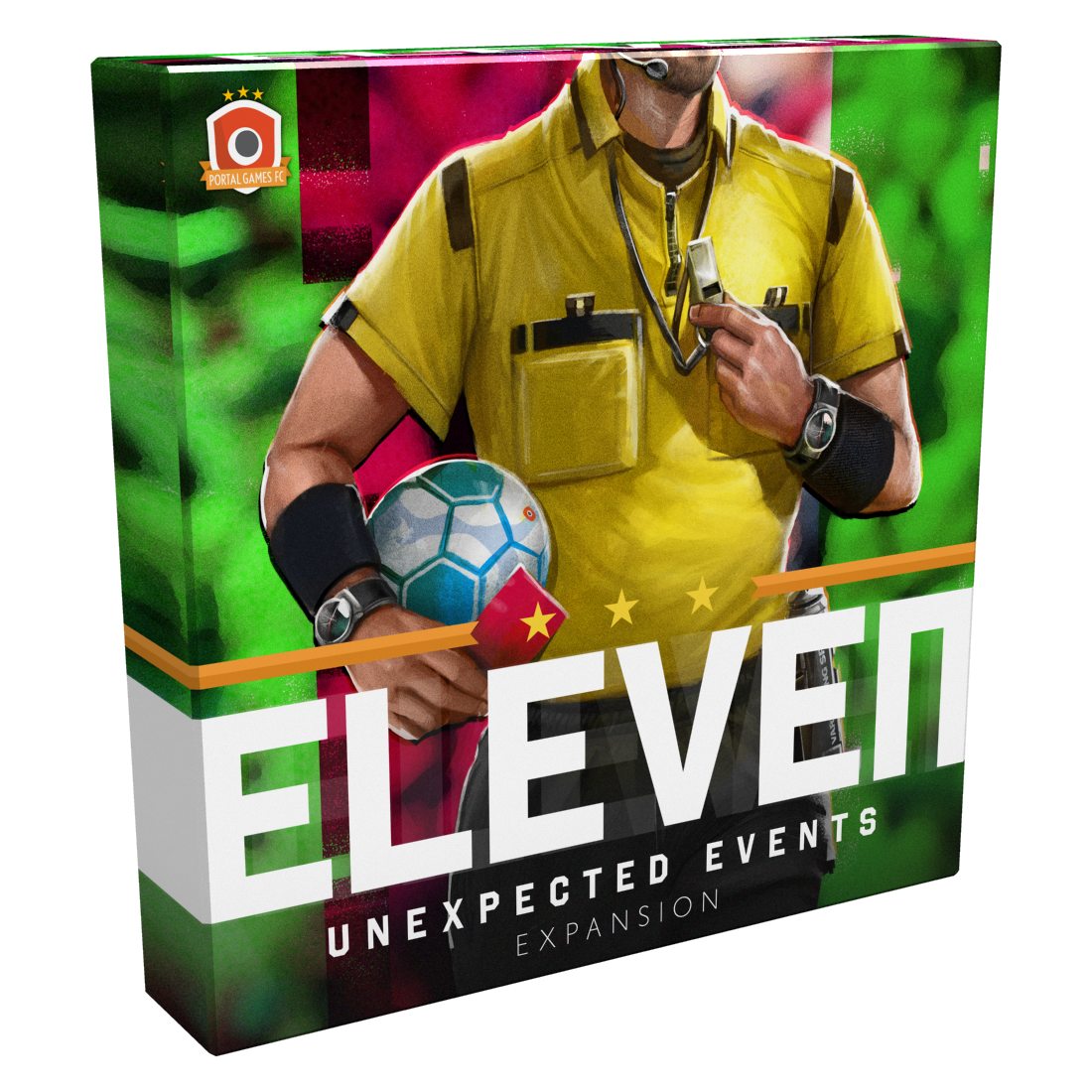 This expansion brings your game to another thematic level and affects your decision-making in a great way.
You may have noticed that a lot of player cards have keywords on them, directly below the player name. The base game doesn't make use of those keywords. But this expansion does and adds more character to the players.
There are negative and positive effects to keywords. So, if you are interested in buying a player who has the keyword 'glass knees', you know the player might get injured faster. On the other hand, a player with a 'strong shot' might come in handy, maybe when your team can't get through the strong defense of the opponent. But remember, every downside has its benefits. A 'hard tackle' may lead to a suspension, but a perfectly timed 'hard tackle' can be a lifesaver.

How does it work? Right before a match, you draw a special event card. See if any of your Players' keywords are mentioned. This may trigger an unexpected consequence for your game with your match ending differently than you expected! The 'international players' expansion will use these keywords as well.
It could be a rainy day that influences the playing style, a banner in the crowd, a controversial interview right before the start of the game, you name it. Anything can happen. Are you prepared for the unexpected?
There are also 14 new board meeting cards, which you mix into the deck.
Then there is the new reputation track. Depending on your reputation level, your club will gain benefits or penalties in the upcoming Matches.
You can earn your reputation in many different ways. But it's all about the decisions you and your club will take. So make sure your board of directors doesn't do stupid things and ruin the respect you earned among the other clubs in the league. Imagine they decide to start a Super League…

Retailers contacting us in order to secure Eleven for their stores are very likely to have talked to Sławek. He is a big football fan and here's more info about him:
Name: Sławek
Favourite club: Górnik Zabrze
League: Ekstraklasa, Bundesliga
More about it: Sławek negotiates deals with retailers. His favourite club is Górnik Zabrze – one of the most titled clubs in Poland. In its best years Górnik won matches against clubs such as AS Roma or Manchester City. One of the fan's song says: "Play, Play like in the old years". The current season started with a big transfer – LUKAS PODOLSKI has joined the team. He is a loyal fan of the club. Sławek keeps his fingers crossed that the great Górnik returns.
—-
Enjoy your Sunday!
Joanna Wareluk from the Portal Games team