Happy Friday!
We are midtime through the campaign and today we're announcing what many of you have been waiting for – advanced rules for Eleven.

Community-based ideas
You've probably noticed that we love interacting with the fans during this campaign. We've received many awesome ideas from you, that are being thoroughly checked by our development team, so keep them coming!
Where's goalie?
Today we revealed Advanced Rules for Eleven that include some of the mechanics that you specifically asked for – namely player vs player matches and transferring players across the table. If you're wondering, where goalie is, we have some good news. The mechanics for goalie are under development and will appear by the end of the campaign.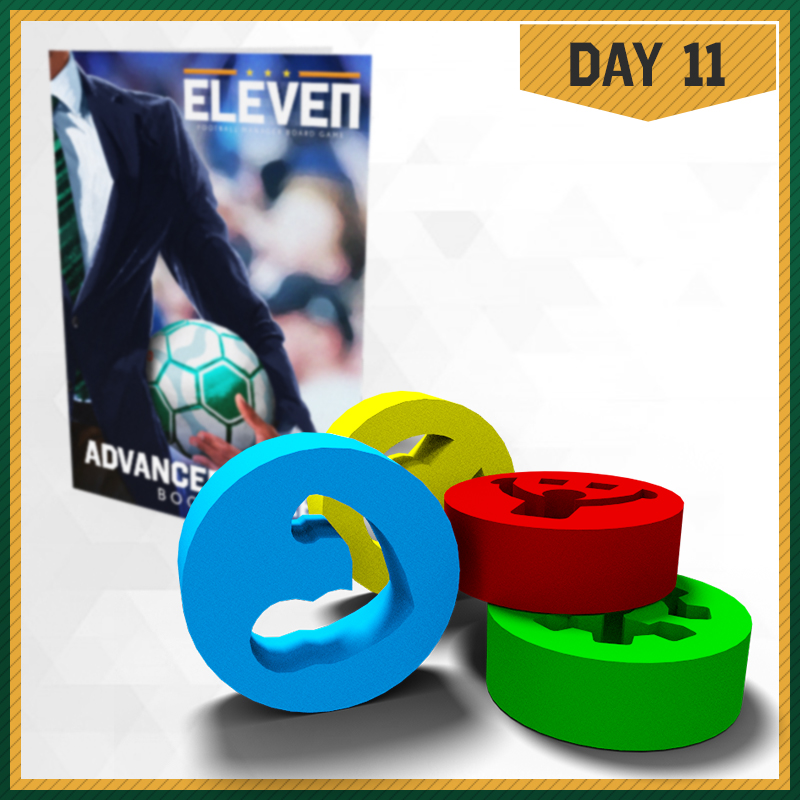 Today we're unlocking two cool features: advanced rules including matches against other players and enhanced transfer system, and custom wooden tokens for Stat markers.
Advanced Rules booklet
We're sure the new rules will be something of particular interest for heavier gamers. The rules are broken down into several modules, that you may mix and match as you wish.
Advanced rules contain optional thematic features, including:
rules for playing matches against other players,
new rules for transferring Players with the other players,
referee rules, and many more.
Feel free to choose which modules you want to include in each of your games. Most of those modules are based on ideas provided by the fans during this campaign.
The booklet for Advanced rules is a Gamefound Exclusive Stretch Goal for Eleven. The print and play file of the Advanced rules will be available online for owners of the retail version of the game. All Stretch Goals will fit into the box.
Custom shaped Stat levels markers
16 custom looking tokens to track all the Stat levels will make your copy of Eleven stand out. They replace plain disks and add a nice thematic touch.
This component upgrade is a Gamefound Exclusive Stretch Goal for Eleven. It won't be a part of the retail version of the game. All Stretch Goals will fit into the box.
Now, let's learn more about the Stadium Expansion for Eleven from the designer himself, Thomas Jansen:

Stadium expansion
You think your club got too big for Eleven? You really think that much of yourself? Then maybe it's time for a bigger stadium. Let's take a look at the stadium expansion.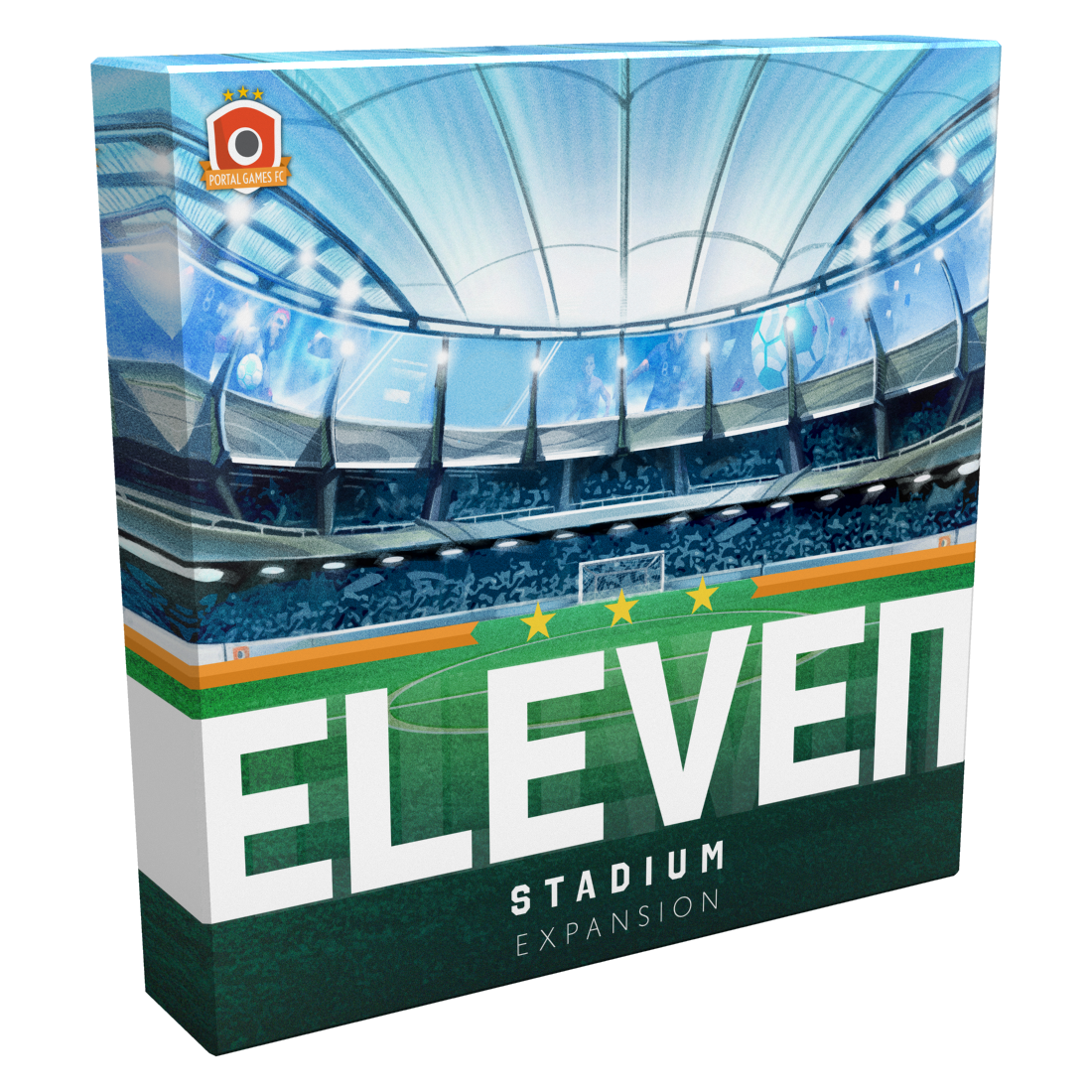 It is a great feeling to see your favorite club grow. It reminds me of Swansea FC. They played in the 4th division in the early 2000s. They had an old stadium, called Vetch Field. The famous 'gate 2' was one of the entrances to the stadium. It was literally built between 2 homes. You should Google it! It's pure football nostalgia. The old lady who lived in one of the houses, could enter the ground from her backyard.
But Swansea FC was sold to new owners who had great plans. In a couple of years, the club was promoted up to the premier league. It got too big for the old Vetch and moved into a beautiful new home: The Liberty Stadium. It has everything and is twice as big. But the romance disappeared.
But of course, you don't care about nostalgia. You want your club to grow as well. With this new expansion, you can. There are many new stadium infrastructure tokens to build. Of course, you can increase your capacity even further and dwarf those tiny stadiums of your friends.

The expansion has an easy-to-grasp rule set, which gives a nice twist to the game. It comes with new board meeting cards that unlock staff members to use. These brand new staff members are a special kind of staff and belong to the new set. They are put in a separate deck. Make sure your board makes the right choice here!
The new sponsors are interesting as well. They give you access to some new stadium infrastructure. You didn't think you could build them yourself, did you?
This expansion gives you the sensation of being a real big club.
You can combine this expansion with any other expansion of Eleven.
What's in the box:
5 Objective cards
10 Staff cards
10 Sponsor cards
25 Board Meeting cards
24 Stadium Infrastructure tokens
Rulebook

If you've seen an ad for Eleven, most likely that's thanks to Karol, who handles our ads. Let's take a look at his favourite club:
Name: Karol
Favourite club: AC Milan
League: Serie A
More about it: Karol takes care of advertising and analysis. He's been a fan of AC Milan and Kaká since 2004. Besides that, he also likes Real Madrid and Manchester United. Karol says that back in the days, he was the best FIFA player in his neighborhood. For the last few years, he's not that much committed to football as he used to, but he claims that there's always a special spot in his heart for it.
—-
Have a great day!
Joanna Wareluk from the Portal Games team