We revealed the first Stretch Goal – your own stadium!
Hi there,
We Are Funded! Thank you! That was the insane beginning of the campaign and the second-fastest result in our history – you helped us made it in 31 minutes!
Wow!
Congratz to Thomas, the designer of the game, and the whole team behind the campaign!
Time for the first briefing!

In this section, I always put the most crucial info in bullet form:
this campaign will last 21 days,
we have 20 daily unlocks prepared for you,
we will post an update every day during the campaign with answers to your questions and comments,
every update will have Game Designer Journal from designer of the game Thomas Jensen, he will talk about game and also all presented expansions,
today we revealed all planned expansions for the game, no other gameplay content add-ons are planned unless you as a community come with something awesome,
you don't need a solo expansion to play this game solo, it comes with 6 scenarios already. This solo expansion adds campaign and additional cards to enhance the replayability and fun,
every day our team runs a meeting dedicated to your comments, analyze your feedback and then we respond in the update to the most crucial topics. Don't hesitate to comment!

This epic stadium dice tray is the perfect place to resolve dice rolls during the game. Use it to check how your Directors voted at Board Meetings, face the additional consequences of your victories (or failures) on the pitch, and check how well the other league teams performed in their matches. Also, after the game, you can use the dice tray to store game components.
Because a game about managing a football team should have a stadium in the center of the table with shouting managers sitting around it, right?
This bonus feature is a Gamefound Exclusive Stretch Goal for Eleven. It won't be a part of the retail version of the game. All Stretch Goals will fit into the box.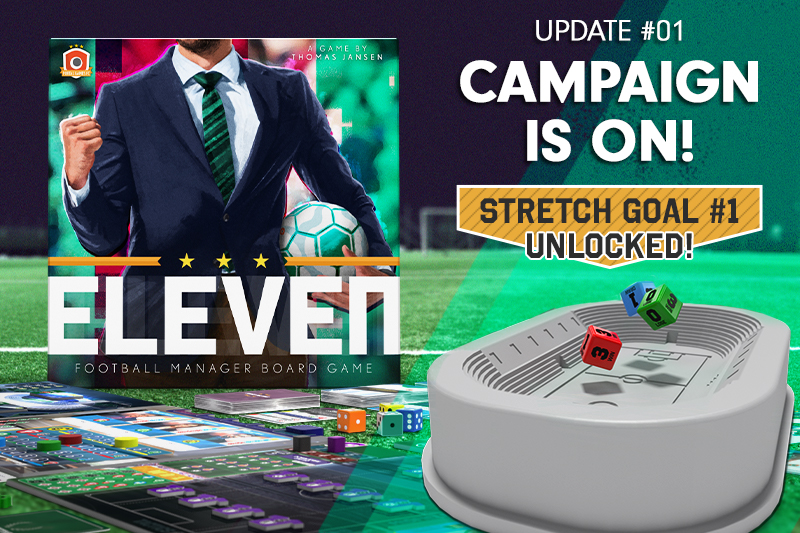 Hi! My name is Thomas Jansen, designer of Eleven. Together with Ignacy Trzewiczek and his development team, we are working on Eleven every day to make it an even better game than we already think it is.
We want to share with you what the game is about. In the first updates I want to give an overview of the game, so we can fill in all the details in the upcoming updates.
Well, where to start? First of all, we enjoy the game of football a lot. Some of us even support our clubs in their stadiums on a weekly basis. To us, it's not only about the football itself. It's everything around it. The experience. The stadium, the crowd, the atmosphere, the emotions.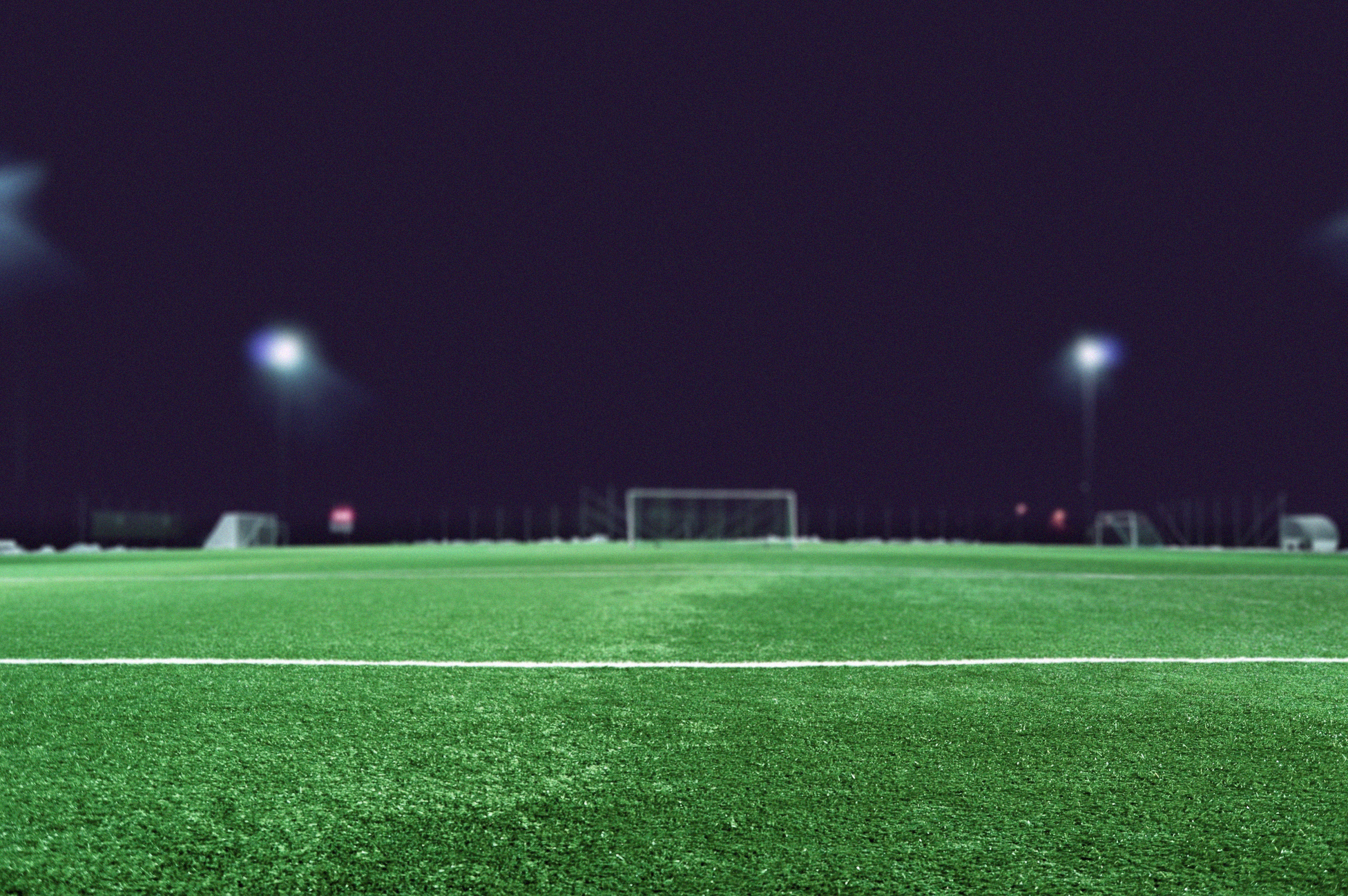 We all know better than the manager. We discuss tactics and the different qualities of the players. We like to complain about our striker, and a few moments later exploding in joy, when he scores. And of Course we are extremely nervous when we play against our local rivals…
We love playing football manager games on the pc. And we really think it is time to bring a board game which gives that kind of sensation.
But I think Eleven is more than a dry football manager. It's an experience. After a game of Eleven, you will be able to tell the story of your season, as if it happened for real.
So what can you expect?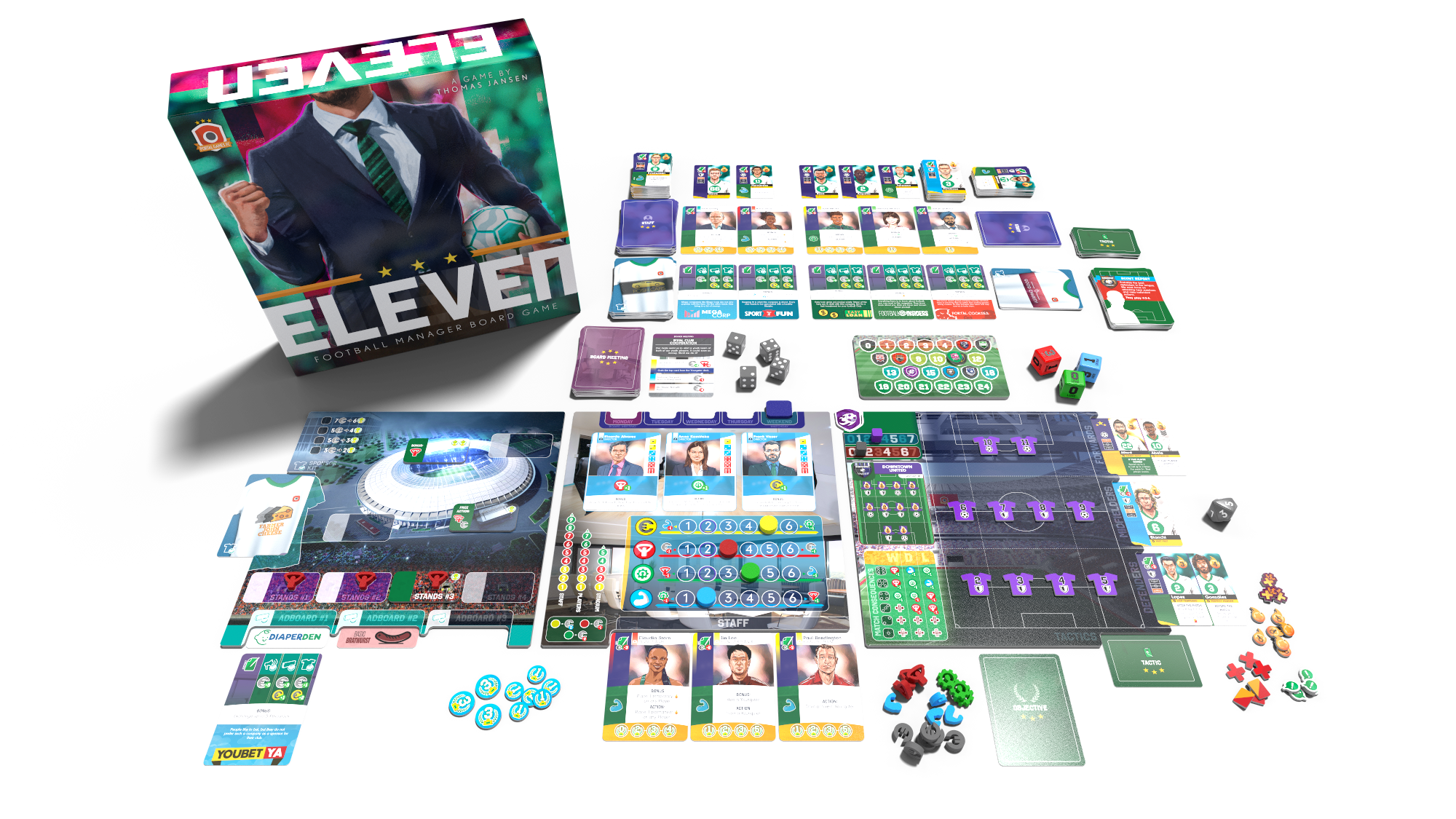 Eleven is a competitive strategy game for 1 to 4 players set in the world of football.There is a solo mode as well, in which you play against different scenarios.
Your task is to manage and grow your own football club over the course of a season and outperform other teams. It's always good to end up higher in the league than your opponents. But don't forget there is more to it. Don't forget you are not playing Fifa 22. You're a manager; There are different strategies to become the best one. So don't be surprised when your friends' club ends up in mid-table and wins the game, while you took the title.
Welcome at your new club. Today we start with a tour.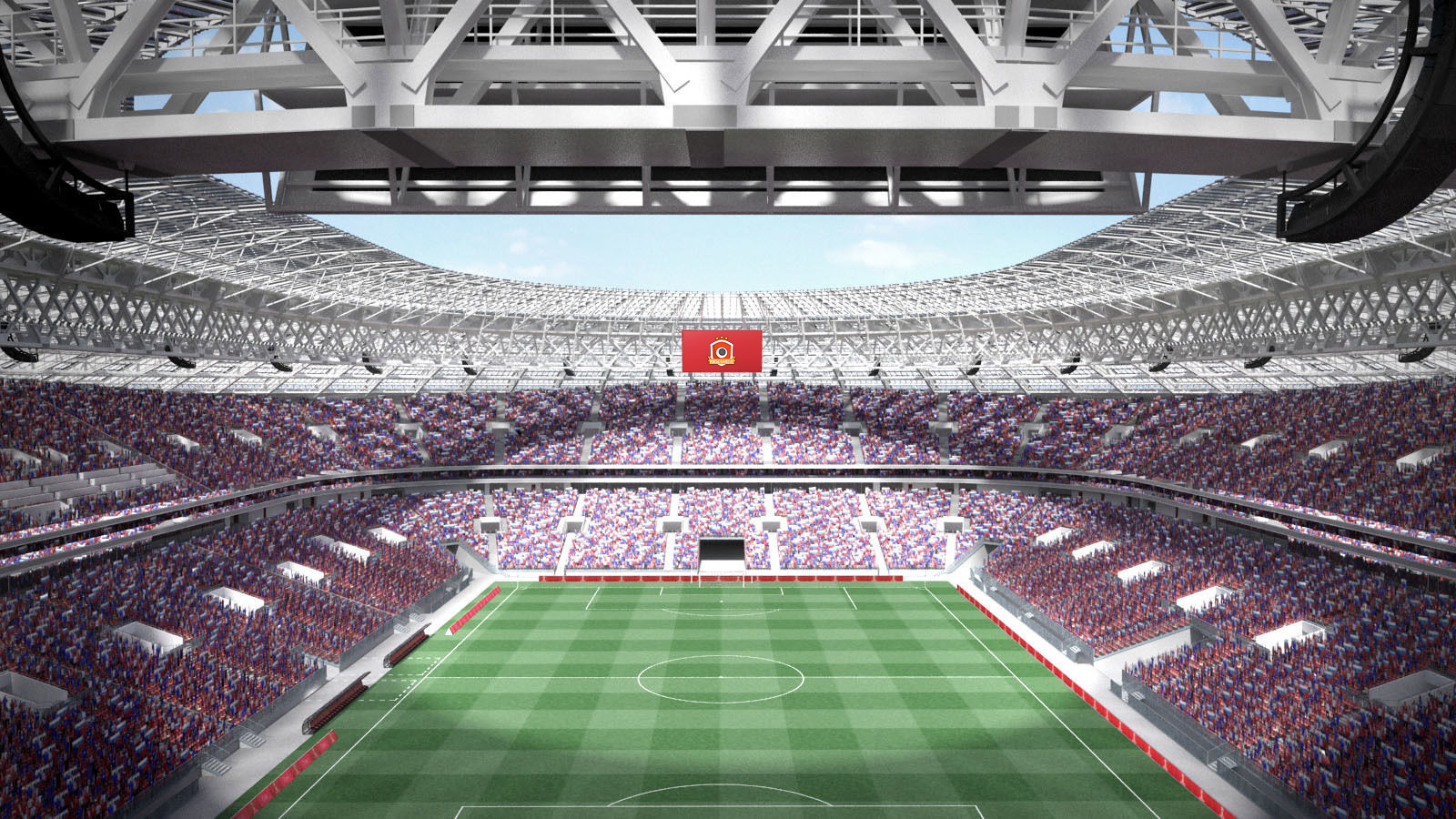 Every player has 3 boards in front of him, which represent the stadium, the boardroom, and the pitch:
Stadium
This is where the magic happens. What a view, right? Here's where you put your fans. If you have enough of them, you may sell out the stadium. You can use sponsor cards to fill up the adboards for extra income, or make them become your kit sponsor. There's also room to expand the stadium. If you think your club is way to big for your stadium, why don't you expand it with a couple of stands? More fans will bring you more money each round. Or build a new training grounds for a better performance and fitness of the team. Just a couple of examples.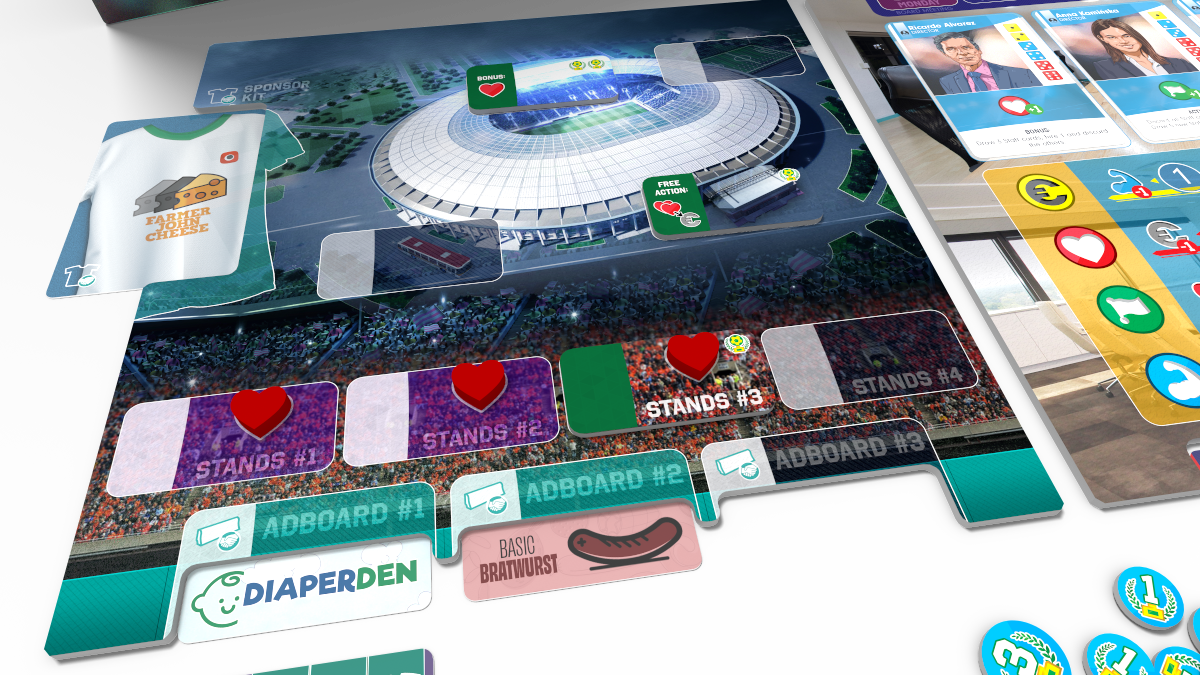 Boardroom
Welcome to the boardroom. See those empty chairs? There is room for 3 directors. They will make important decisions for your club. Yes, they do. Not you. But there are ways to influence them. Below it are 4 tracks. Here's where you keep track of your popularity, operations, fitness and finances.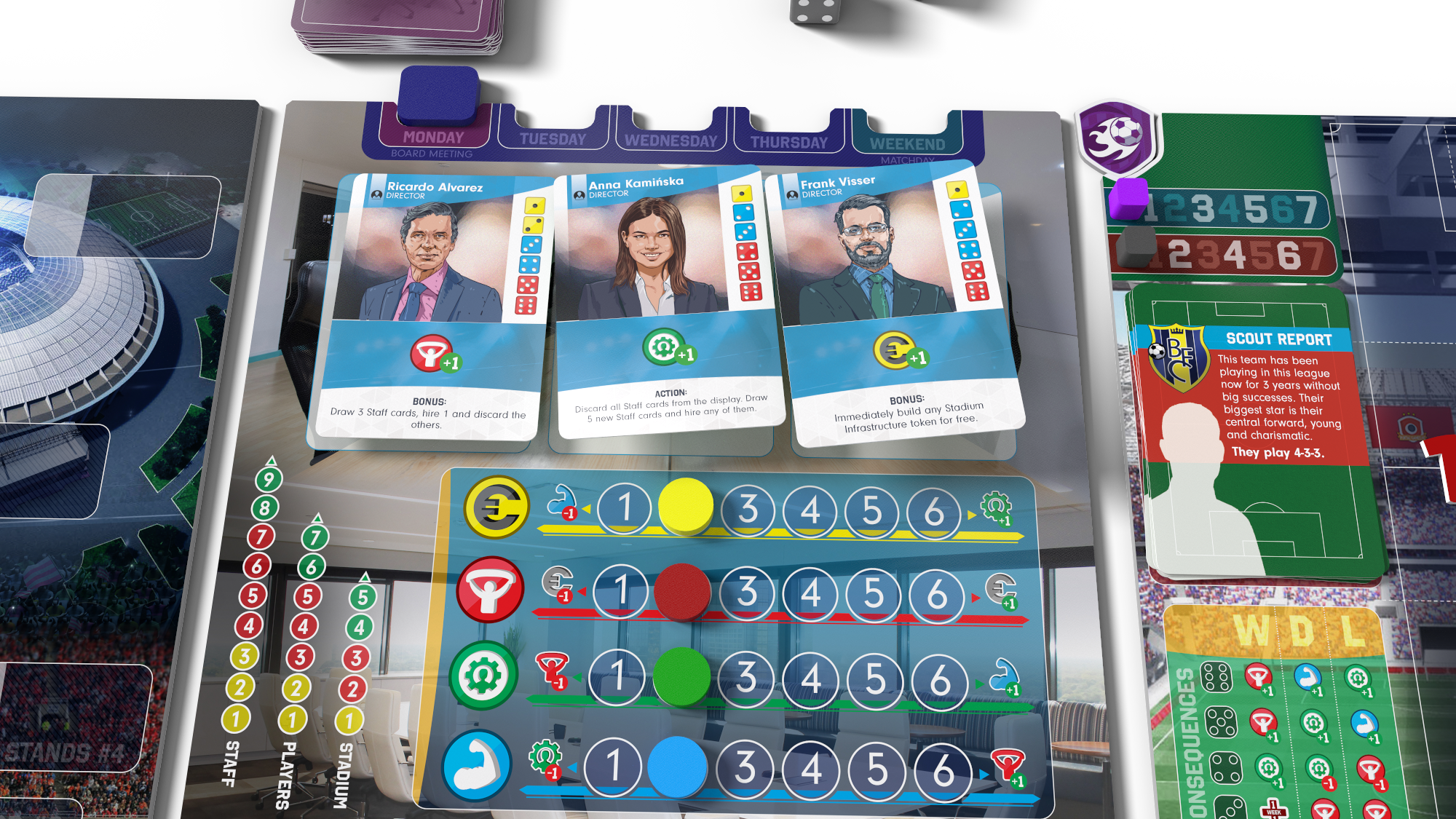 Pitch board
Let's go outside. Mmm… rain. On the pitch board you create your lineup with the jersey tokens. Move them across the board until you are satisfied. I can tell you, you will feel like a real coach when moving these pieces. There is also room for the current opponent card. You are working at a professional club. Scouts provide you with information about the upcoming opponent. Based on this, you can select tactics and choose a lineup. On this board, you also find the match score and the match consequences table, which you use after a match. It's basically used to see how the players got through the match. Injuries may happen, stats may change.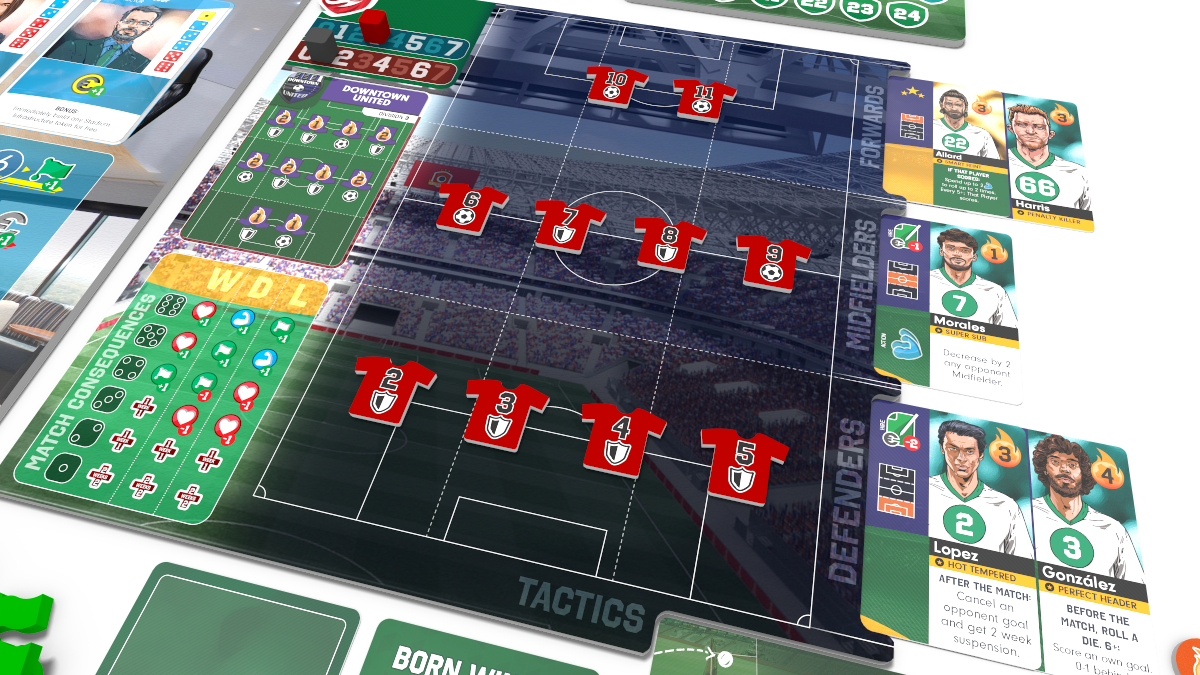 Transfer area
In the middle of the table is the transfer area, available to all players.Here you can hire staff, buy players, contract new sponsors and learn new tactics.
League table
On a smaller board you keep track of the league table. There are 8 AI clubs in the game. You play against them, but they play their own marches too. Some are top clubs, some average and some are fighting against relegation.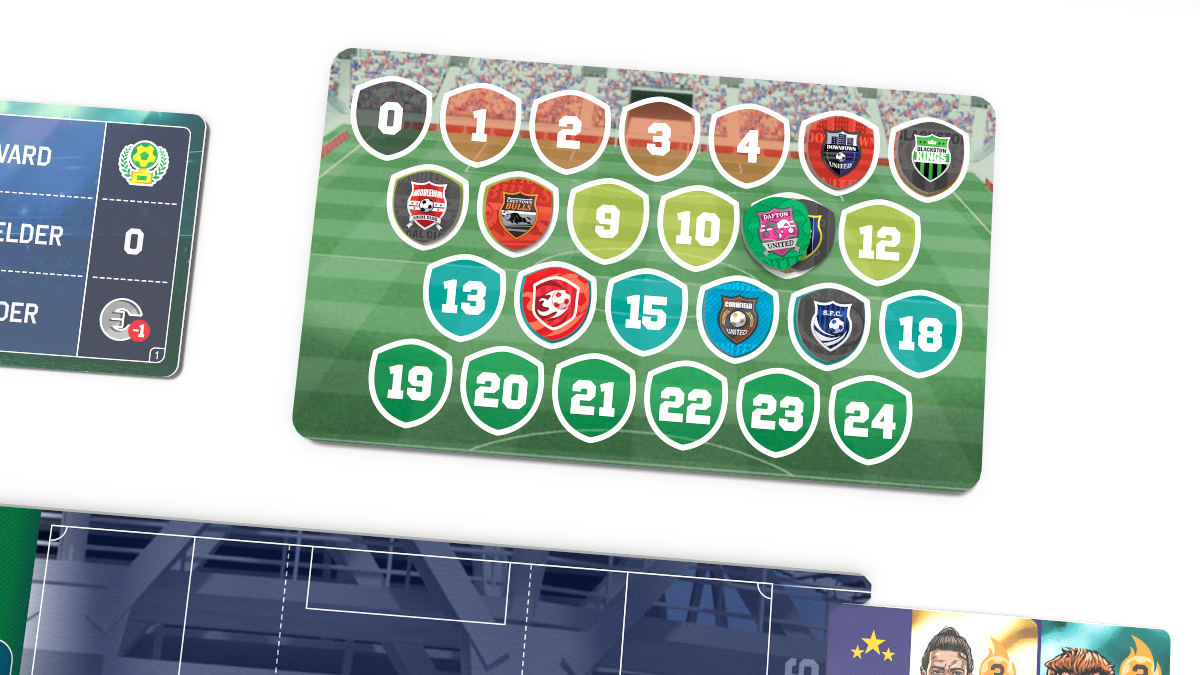 So in a 4 player game there are no less than 13 boards on the table!
Every round is called a week. From Monday to Thursday events may happen and actions can be taken. On the weekends a match is played.
Why don't you join in on a week at the club? Meet me again tomorrow. Same time, same place.

Besides game designers and boardgamers, we are football fans too! To give you a little insight, we will tell you about our favourite teams with every new update.
Name: Thomas Jansen
Favourite club: De Graafschap
League: division 2, Netherlands
What I like most about Eleven: The story and experience you create yourself and your friends. Looking back at a game of Eleven is like looking back at a season at your favorite club, full of exciting moments. But this time you were in charge.
I can see the floodlights of the stadium from my garden. It's always tense. Whether we play for the championship or against relegation. We never end up midtable.