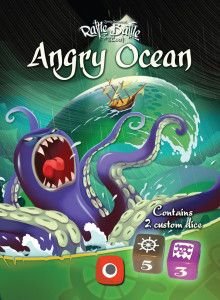 Portal Games announces Angry Ocean
The first expansion for Rattle, Battle, Grab the Loot adds new adventures, and two new non-player, character dice.
Gliwice, Poland – July 1, 2016. Today, Portal Games announced Angry Ocean, the first expansion for Rattle, Battle, Grab the Loot. Angry Ocean adds two new scenario packs as well as two custom dice with a character card for each.
Angry Ocean includes two new scenarios. The first, Angry Ocean, the ocean fights back with krakens, rocks, wrecks, and whirlpools. In the second scenario, Old Dogs, players are veteran pirates, near retirement that are out for one last adventure. Your galleons begin the game fully equipped and cannot be modified after adventures. The Old Dogs just want treasure!
This expansion also includes 2 new custom dice and a character card associated with each. When used in a scenario, these non-player dice offer unique surprises and strong strength values for the players to contend with.
Rattle, Battle, Grab the Loot is for 2 to 5 players, ages 8 and older, and takes approximately 45 to 90 minutes to play. Angry Ocean is an expansion for Rattle, Battle, Grab the Loot and requires the base set to play. The expansion contains 30 cards, 2 unique dice, and a rules sheet. Angry Ocean will be released at Gen Con 2016 in August and will be available worldwide later that month. MSRP will be announced at later date. For more information, you can visit the Rattle, Battle, Grab the Loot page on our website at https://portalgames.pl/en/all-game-list/rattle-battle-grab-the-loot/
About Portal Games
Portal Games is a publisher of award-winning games such as Imperial Settlers,
Stronghold, Tides of Time, Legacy, and Neuroshima Hex. Founded in Poland in 1999, Portal Games has developed into one of the most renowned European game publishers and design teams. Their commitment is to produce only the highest quality Board Games That Tell Stories.
Europe Contact: Ignacy Trzewiczek
Portal Games
portal@portalgames.pl
Tel: +48 32 334 85 38
North America Contact: Chevee Dodd
Portal Games
chevee@portalgames.pl
Tel: +1 304 657 8930