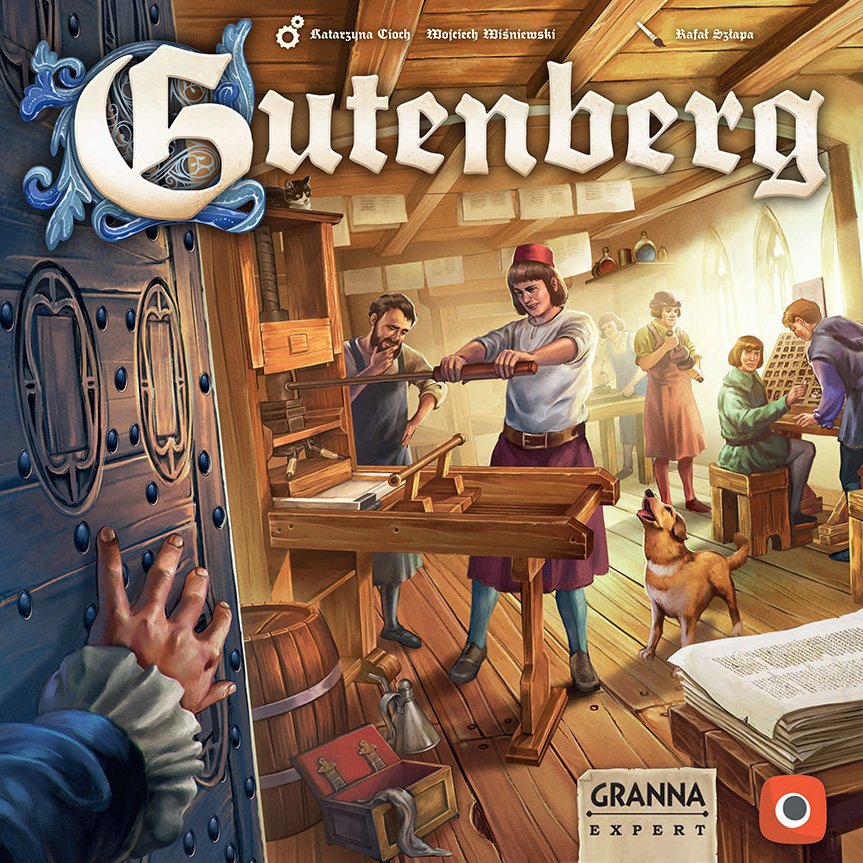 Portal Games to co-publish the English edition of Gutenberg
Portal Games is proud to announce that the hit game, Gutenberg, published by Granna, will be co-published by Portal Games, enabling gamers in North America, Australia and New Zealand access to this great game from the friendly local and online stores in these markets. Gutenberg, after its release at Essen Spiel 2021, is one of the most anticipated euro games coming to retail.
Gutenberg is a mid-weight strategy game taking place in Europe in the 15th century. Each player takes the role of the printing pioneer trying to build their wealth and fame by developing their production capacity and gaining the support of patrons. Through bidding for specific actions the players develop their printing workshops, acquire new fonts, inks and decorations. The unique system of rotating gears allows players to combine bonuses and earn large amounts of points. The game lasts six rounds and the player with the most points at the end wins.
Portal Games will publish Gutenberg alongside the set of promotional tiles, which were offered during the European premiere of the game at Spiel in Essen, Germany in October 2021. The promotional tiles will be available with preorders at the Portal Games North America store.  
Portal Games is printing Gutenberg at the Granna factory in Warsaw, Poland, where the first release of the game was printed, ensuring the same excellent quality of components, including the unique 3d wooden letter blocks. The MSRP of Gutenberg is $70. Portal Games' preorders open on January 10 and North American preorder fulfillments will be done in March 2022.  
Co-publishing Gutenberg with Granna starts a new chapter in the growth of Portal Games, which expands its operations from developing and marketing its own titles to distributing the products from the other European publishers to North America and other regions worldwide.
"We will continue to deliver outstanding strategy games to our fans around the world, as well as support our existing product lines", said Ignacy Trzewiczek, President of Portal Games. "We are happy to be working on this project with the wonderful European board game company, Granna, and are excited about the new opportunities this cooperation brings."