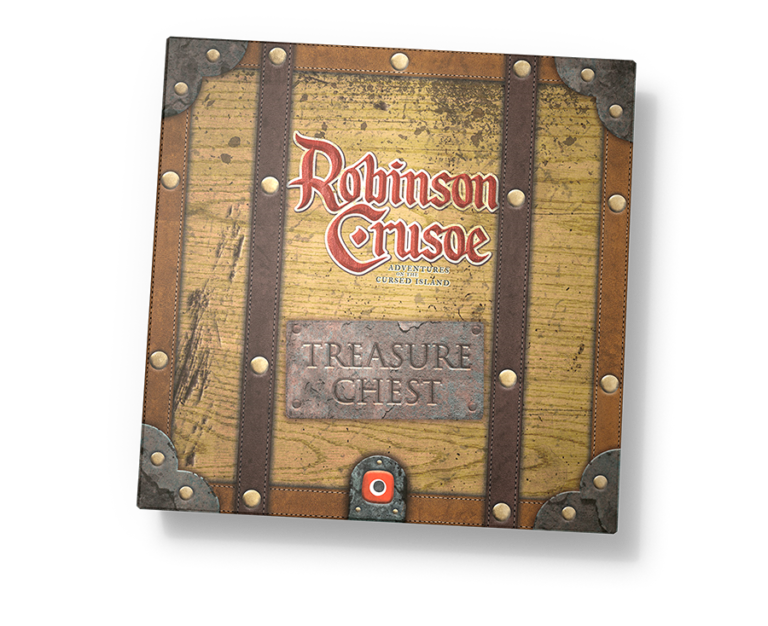 Gliwice, Poland – March 11th, 2020. Portal Games is proud to announce a special expansion to Robinson Crusoe: Treasure Chest.
Since its release, Robinson Crusoe: Adventures on the Cursed Island has become a classic and one of the bestselling titles in Portal Games portfolio. In response to popular demand, a staggering amount of promos has been added to the game each year. As the popularity of Robinson Crusoe still grows and game fans keep looking for exclusive content, Portal Games decided that it is time to create one box that would contain all the treasures – Treasure Chest for Robinson Crusoe.
Treasure Chest will include a complete set of Robinson Crusoe promos released up to date giving players an enormous amount of content and variability to the game.
Inside the box players will find extra Characters (Gamer and Sailor), a set of Crewmen, Hunting Dog, Character Trait cards, additional Mystery cards, Event cards, Discovery Tokens, Searching the Beach cards, Volcano tile, and even an epic Spyglass. Hunting will also get more exciting with new Beast cards and Hunting Adventures cards. Robinson's shelter will get an option of upgrading and adding a Garden and Pen. Treasure Chest will also include 4 additional scenarios: Tracing Dr. Livingstone, Treasure Island, Poachers, and Time Travel.
Robinson Crusoe Treasure Chest will be released at Essen Spiel 2020.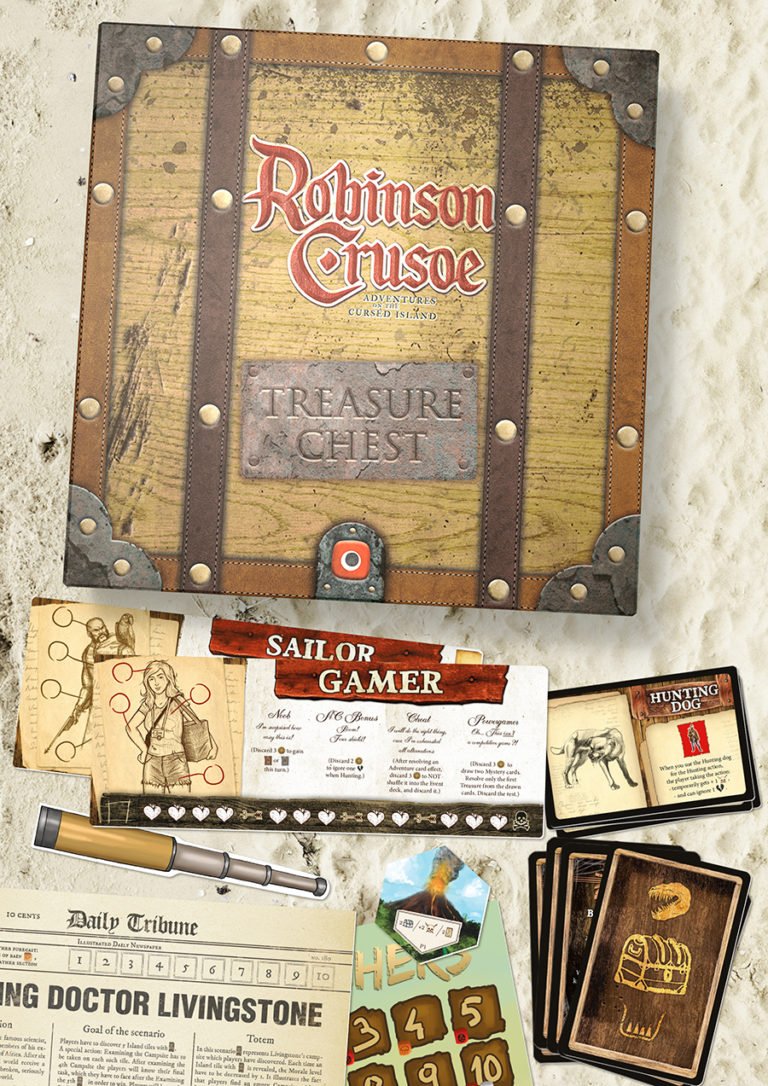 Robinson Crusoe: Adventures on the Cursed Island is a cooperative game for 1 to 4 players in which they take on the roles of shipwreck survivors living on a deserted island. Players are faced with the challenges of building a shelter, finding food, keeping morale high, fighting wild beasts, and protecting themselves from weather changes. The game, designed by Ignacy Trzewiczek and first published by Portal Games in 2012, has already been translated into 12 languages and published worldwide. Robinson Crusoe has won many prominent awards and nominations in the board game industry and is currently listed in Top 50 of Board Game Geek ranking.