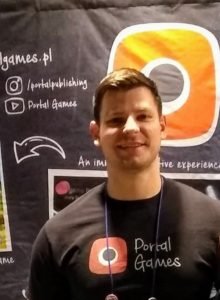 Gliwice, Poland – January 7th, 2019.
Today, Portal Games announced the change to direct sales for the US hobby market. Effective January 1st, 2019 Luke Otfinowski, Portal Games US Representative, has been promoted to Director of US Operations and will assume management of hobby sales and distributor relations for the United States.
All United States sales were previously handled through a partnership with Publisher Services, Inc. and Portal Games is happy to continue their relationship with PSi for mass market sales and international distribution. "We have thrived in the United States under Publisher Services, Inc"; said Portal CEO Ignacy Trzewiczek. "PSi was invaluable to us as we expanded to the US and will continue to serve our growing needs in mass market, Canada, and beyond. I am very excited for our future with both Luke and PSi working hard to promote our products and brand to an ever-expanding audience."
Luke Otfinowski joined Portal Games in August 2018 as the US Representative for Portal Games. With the promotion to Director of US Operations, Luke looks forward to continuing to strengthen relationships with our US distribution partners. "I am very excited for this opportunity," said Luke Otfinowski. "My time with Portal Games has been extremely rewarding and I look forward to the opportunity to continue growing our brand."
About Portal Games
Portal Games is a publisher of award-winning games such as Imperial Settlers, Tides of Time, Robinson Crusoe: Adventures on the Cursed Island, Cry Havoc, Detective: A Modern Crime Board Game and Neuroshima Hex. Founded in Poland in 1999, Portal Games has developed into one of the most renowned European game publishers and design teams. Their commitment is to produce only the highest quality Board Games That Tell Stories.