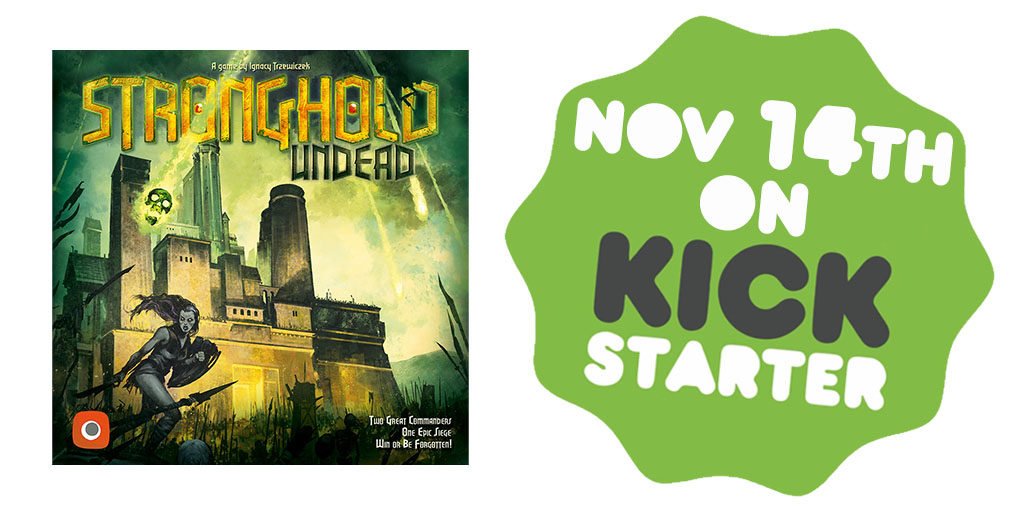 Portal Games is proud to announce the upcoming Kickstarter campaign for the award-winning game, Stronghold Undead. The campaign begins on November 14th this year and is scheduled for 14 days. The game will be available in retail in 2020.
Stronghold Undead is an immersive 2 player game telling the story of an epic siege by the Undead army lead by Necromancer against the Stronghold guarding a powerful artifact. During this game players take the opposing sides of the Undead army and the Stronghold. If the Undead army manages to break into the Stronghold within eight turns, it captures the artifact and becomes victorious. If the Stronghold withstands the attack, the power of Necromancer fades away and the Undead army turns to dust.
The new Kickstarter edition is a stand-alone game based on the Stronghold Undead expansion released in 2010 to the award-winning Stronghold. It will come with new stunning artwork, quality components, and a streamlined rulebook.
Stronghold Undead is a second Kickstarter campaign being launched by Portal Games after its very successful economic board game Pret-a-Porter funded earlier this year.
About Portal Games
Portal Games is a publisher of award-winning games such as Imperial Settlers, Robinson Crusoe: Adventures on the Cursed Island, and Detective: A Modern Crime Board Game. Founded in Poland in 1999, Portal Games has developed into one of the most renowned European game publishers and design teams. Their commitment is to produce only the highest quality Board Games That Tell Stories.