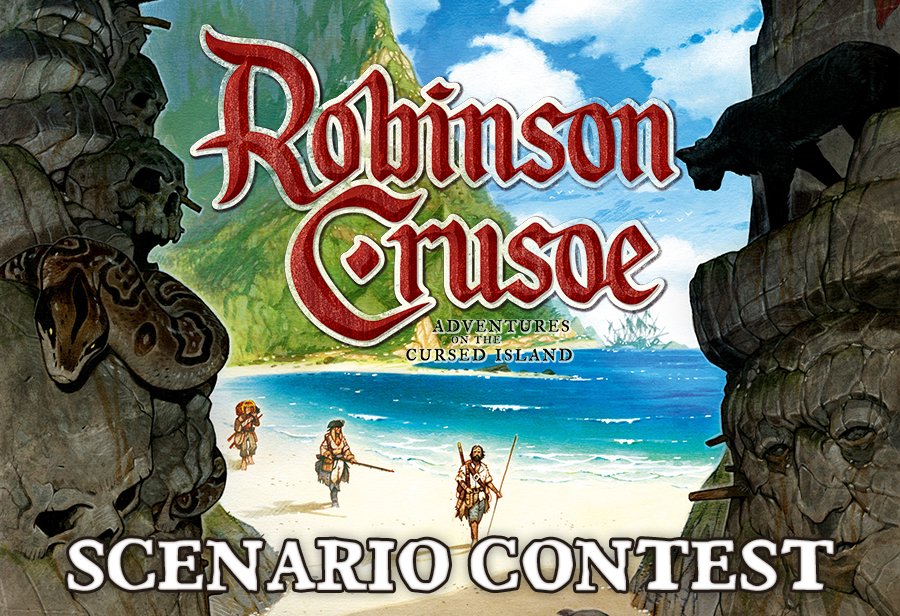 Portal Games is announcing a big contest for the best fan scenario for Robinson Crusoe: Adventures on the Cursed Island!
Ever since the game was published in 2012, Robinson Crusoe has gained a huge amount of fans worldwide and an evergreen status among board games. Robinson Crusoe is all about storytelling and experiencing the thrill of adventures at the game board.
Today Portal Games is turning to the fans of the game to contribute their own ideas for a new scenario. We are looking for exciting new adventures, compelling storylines, and fun new plots – what scenario would YOU like to play?
Please write your scenario in a simple text document or use one of our scenario templates available on the Portal Games website, and send it by e-mail to portal@portalgames.pl by the end of May.
The winner will receive $250 to spend in Portal Games official store as well as recognition by including the scenario in the upcoming expansion Robinson Crusoe: The Book of Adventures coming to Kickstarter in Fall 2020.
This is not the first time Portal Games is making a fan scenario contest for Robinson Crusoe: Adventures on the Cursed Island. The contest in 2017 brought us an amazing fan scenario of Time Travel written by Themistoklis Dakanalis, in which players use a time machine to travel back and forth in time, to search for extinct healing plants while fighting dangerous beasts.
Robinson Crusoe: Adventures on the Cursed Island is a cooperative game for 1 to 4 players in which they take on the roles of shipwreck survivors living on a deserted island. Players are faced with the challenges of building a shelter, finding food, keeping morale high, fighting wild beasts, and protecting themselves from weather changes. The game, designed by Ignacy Trzewiczek and first published by Portal Games in 2012, has already been translated into 12 languages and published worldwide. Robinson Crusoe has won many prominent awards and nominations in the board game industry and is currently listed in Top 50 of Board Game Geek ranking.
2020 will be full of exciting new content for Robinson Crusoe. New expansion, Robinson Crusoe: Treasure Chest containing all previously released promos, will premiere at Essen Spiel 2020. Another expansion, Robinson Crusoe: The Book of Adventures, coming to Kickstarter in Fall 2020, is an almanac of new Robinson Crusoe scenarios ranked by their level of difficulty, complexity, and theme aimed at various audiences, from children and casual players to experienced gamers.
Show off your creative skills and send your own Robinson Crusoe scenario to portal@portalgames.pl