News and changes in the campaign!
Hi, there!
Wow, this escalated quickly! The number of questions, ideas, the amount of feedback we get in this campaign is mind-blowing! And this is not only you. This is also my team bombarding me every few minutes with recent news and updates – new content, new editions, new ideas, the whole company is on fire now, and I mean it in a positive way.
As always, first short brief with updates, then describe the stretch goal and then Beginner's corner with more info about Robinson Crusoe!

A few recent changes in the campaign, updates, and clarifications. Let's go!
German edition
Unfortunate wording from our German partner – Pegasus Spiele caused panic from Munich to Hamburg! 🙂 They said they are not involved in this campaign. What they meant is that me – Ignacy Trzewiczek and Portal Games – is doing all the updates, all the work here. They did not mean they will not be involved in producing this game! There is already
official clarification from Pegasus on BGG
to keep you calm and smiled! No panic, please! 🙂
Italian edition
We are happy to confirm the Italian edition of the game. We are partnering with Pendragon Game Studios, who did amazing work for the Italian market with our other games like Imperial Settlers and Detective! You can pledge both Robinson Crusoe Collector's Edition as well as the Book of Adventures. I'd like to thank all Italian players who were active in the comments section and convince Pendragon that Robinson is essential for Italian players.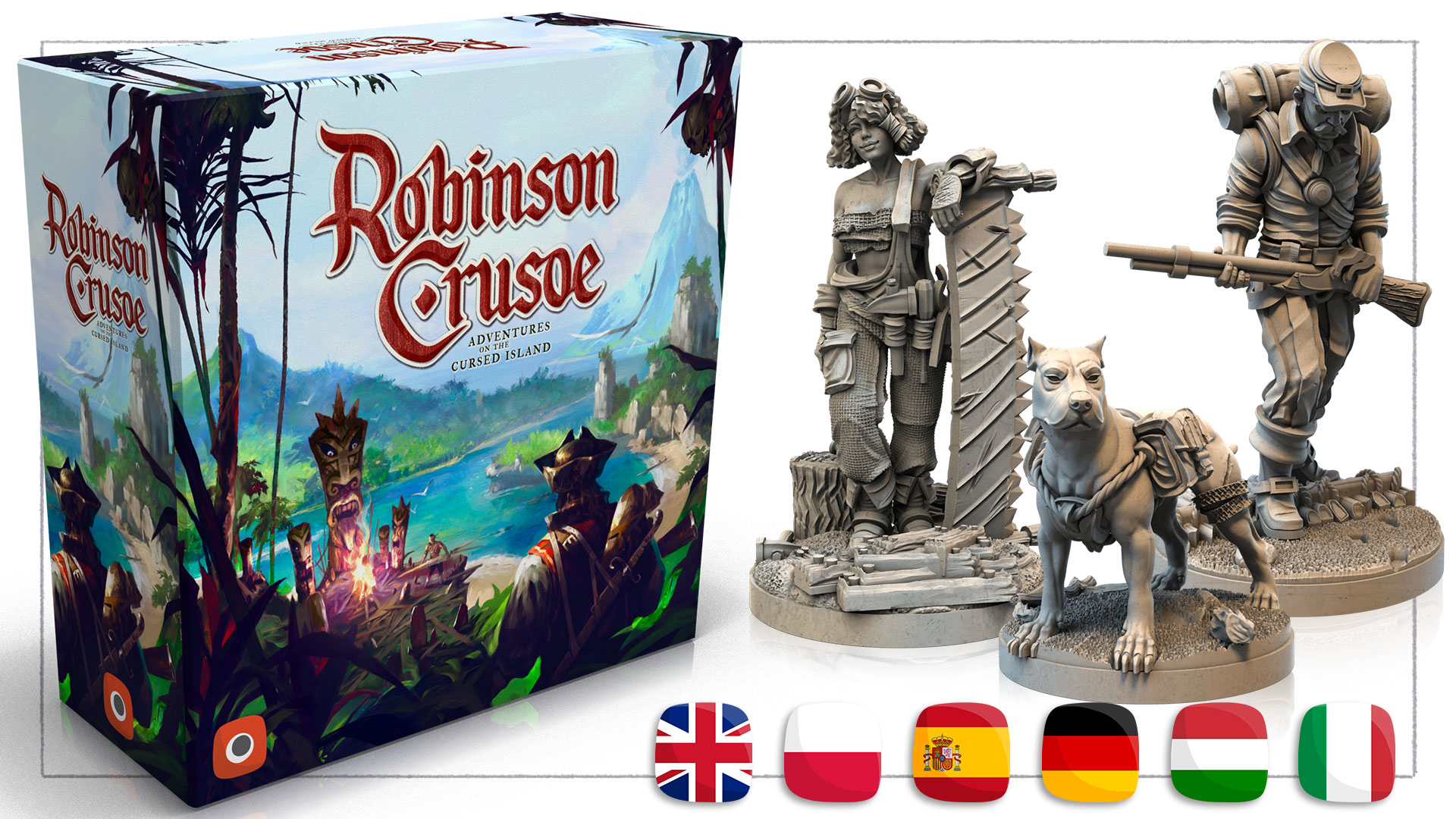 Friday revealed!
Today we revealed the mini for Friday! The mini is part of the set of 18 miniatures you'll find in Robinson Collector's Edition. It looks pretty stunning, and I'd like to once again give a round of applause to the team at Awaken Realms, who is behind these fantastic sculpts.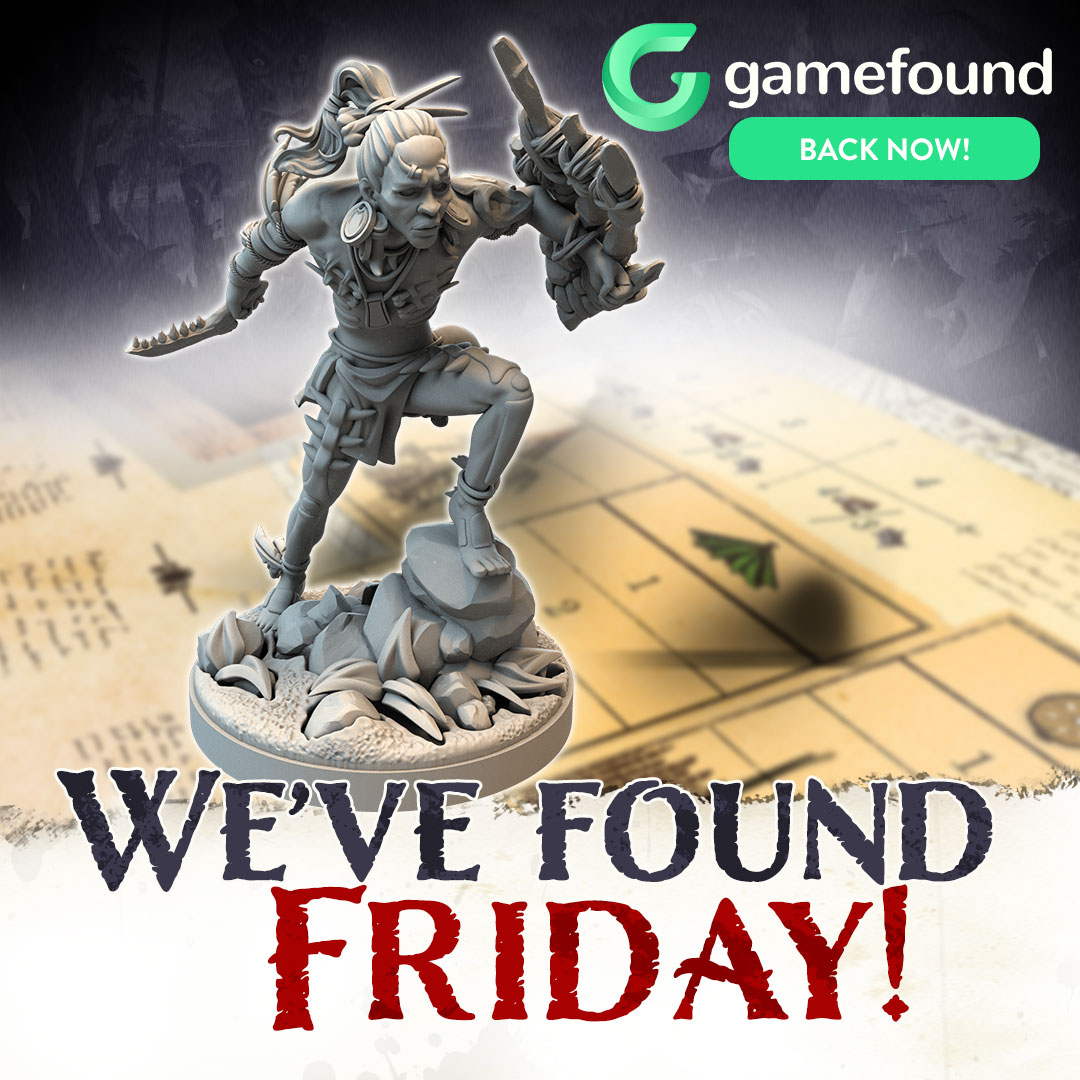 And funny clarification
In yesterday's update I wrote that there is a dozen of stretch goals to unlock. I used the word "dozen" like "a bunch", "a few", "a couple of", not knowing that the word "dozen" means exactly 12. I am deeply sorry for a ton of confusion that it caused. Who watches my vlogs knows, that English is not my strong suit. Anyway, this campaign is 21 days long and we have 20 stretch goals for you. Not dozen. Not few. Not couple. Exactly 20! 🙂

The fourth day, and the fourth Stretch Goal unlocked! Today we have something new for all of the backers who decided to get the Book of Adventures! We are adding a new scenario – Lost Memories.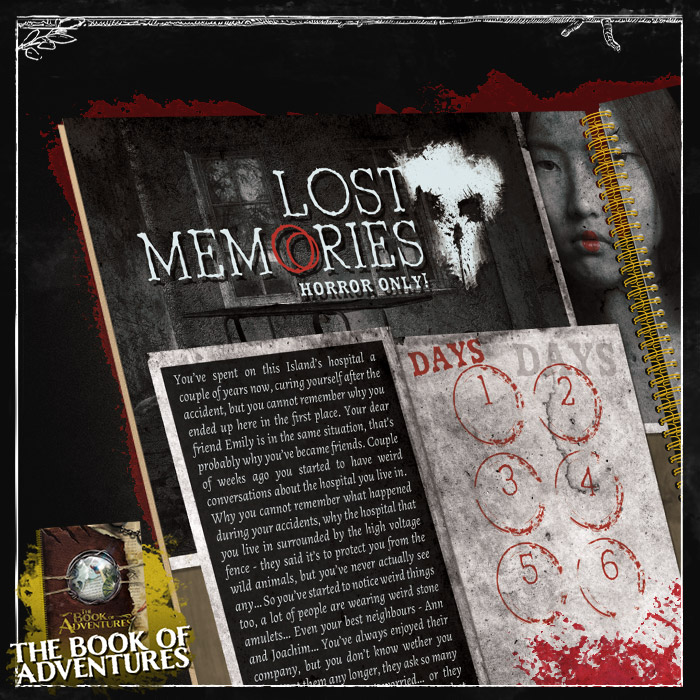 In this scenario, you are the patients of the Mental Hospital located on the mysterious rocky Island. You've lost your memories, but you feel like you've spent a really long time in this place. Finally, you decide to face your Trauma and head out to the island's wildness to try to get your memories back!
This Stretch Goal is our direct response to the feedback you put in the comments when we opened a draft page of the campaign a few weeks ago. There were so many comments about a new horror-style mission! We asked Joanna Kijanka if she can come up with something, and she did. Mental hospitals, patients slash prisoners, traumas, and dark secrets. It's freaking amazing, and all of you who watched the Shutter Island movie will love it.
Joanna is doing it right now – the scenario is in development and playtesting and will be the latest addition to the Book! Thank you once again for your comments, feedback and ideas you put – this give us some guidance where to go with the campaign. And man, if you were one of those fans, who asked for this horror scenario, you owe me Like for this update! 😀
Important: This scenario is a Stretch Goal for the Book of Adventures pledge.
Important: It will not be part of the regular (retail) version of the book.
Important: Mystery Tales expansion is required to play this scenario!

Today we revealed the Friday miniature in the campaign, and I believe it is a perfect moment to invite you all to our Beginner's Corner and explain how I came with this idea and how this miniature works.
The first question is super simple. I stole it from Daniel Defoe. Friday is an essential character in the book, Robinson Crusoe's companion, and of course, I had to have him in the game.
That was fast, right?
So how does he work in the game?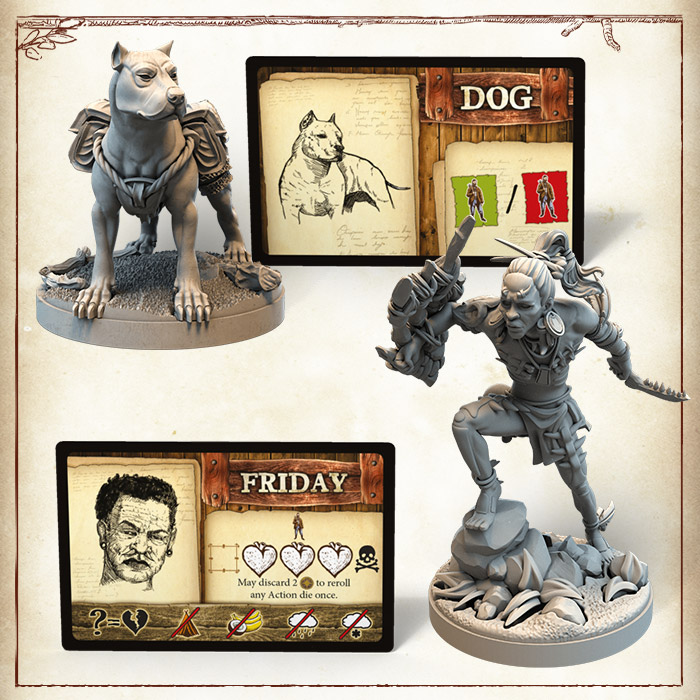 Friday character is used in a solo game, two-player variant. He is also used in other variants (3 pl and 4 pl) on easy mode. Friday is non-player character, a companion that is managed by players together. Unlike player characters, Friday has only one mini.
Friday can support players – you add his mini to player miniature in an action space to have successful action (see yesterday's update). It is simple and thematic. You do work together; it goes nice and smooth.
Friday can also do an action on his own. And that's a tricky part. While playtesting the game, it was really weird when I was rolling for his actions. he had adventures, I read them, and in many cases, flavor text made no sense in a context to Friday character (who is a native on the Island).
And that's when I did a twist – each time you roll for Friday, and you roll Adventure, you don't draw a card, he just gets a wound. Simple. And so thematic. How so? Let me show you the scene:
Diary, day 17,
It is late in the evening. Friday left camp before lunch and was supposed to do some fishing and bring food. He is not back. I worry. I don't know if something happened to him.
Diary, day 18,
Friday showed up in the camp in the night. He was wounded in the leg. I tried to ask him what happened, but he couldn't explain. I need to teach him English for more hours a day. He was pointing at a tree, making some weird noise, and showing his leg covered in blood. I had no clue what he meant. After few minutes of this dreadful mummery and poor acting, I pointed at my head and made an expression I don't understand. He got frustrated and went back to the woods. I need to teach him English. I really do.
So as you can see, in terms of the theme and flavor, Friday has some adventures, but we have no clue what happened to him because he cannot explain. So just a wound and no story! 🙂
The game comes also with a dog character. You also use him as an additional character that can help. The dog though cannot do an action alone. He is a companion character. You see on the card green and red human icons – that means he can be used as a companion character in green and red actions, that is – Exploring the Island and Hunting.
Obvious, right?
I told you, I am not that great designer. I just took the book and made it into the game. It's all super easy to grasp if you understand the theme!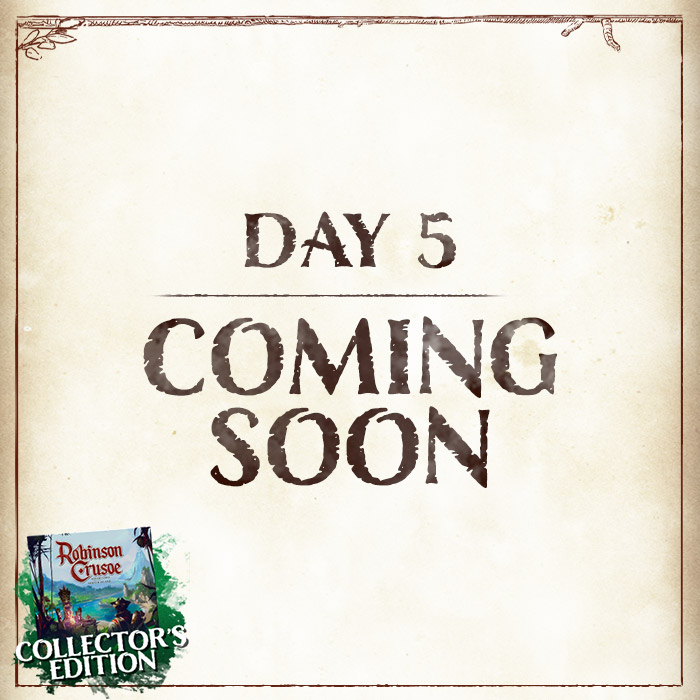 Thank you for being with us today, thank you for your support, and please, I share the news about the campaign. We appreciate it if you can spread the word about it to other players.
I see you tomorrow in another update, and tomorrow we have some new gameplay content for the base game and that's a brand new idea or mini expansion we introduce here – I hope you will love it!
And for a nice closure, I have another video for you with the presentation of two new scenarios from the Book of Adventures!