10.000 backers milestone and final vote on 3 scenarios
Hi there,
Today we have an amazing milestone – we passed 10.000 backers which is something extraordinary. Thank you!
Last day of holiday
Today is the last day of holiday break for us and tomorrow the whole team is back in action. You should expect bigger interaction from us in the comments sections and also our official statement on various topics you discussed in the comments. We will be back to team meetings and discuss what we can do to solve some of your concerns.
Shout out to Chris B and DaMei and more
Thank you all of you who are active in the comment section and help new backers and answer their questions. You are super active and I really appreciate this. It was especially important and helpful during Easter Holiday when our team was with their families. Thank you everyone, whois active and helps answer questions. It means a lot to us.
Ignacy character
I saw in the comments ideas for Ignacy character. Guys, it is not gonna happen. I don't want my miniature to die with you on the deserted Island! 😀
But I really appreciate your ideas for abilities for my character 😀
Final poll
Today we have finals for the Fan scenario. In the Poll you will find 2 scenarios that were missing before (because GameFound Poll had only space for 10 entries in Poll) plus the highest voted scenarios from Poll 1 and Poll2. Now it is the final vote!
After losing another game of Robinson Crusoe, you need to make some notes to remember all the bad decisions you've made! But where to store all these golden thoughts? Worry not, we've got you covered!
We are happy to surprise you today with another significant upgrade for the Book of Adventures! The book will have a folder pocket on the back cover where you can hold all these notes. And on a serious note, you will be able to keep there the Livingstone newspaper (it is a unique handout for one of the scenarios) or any future content we might release as stand-alone ideas!
Important: This upgrade will not be part of the retail version of the book.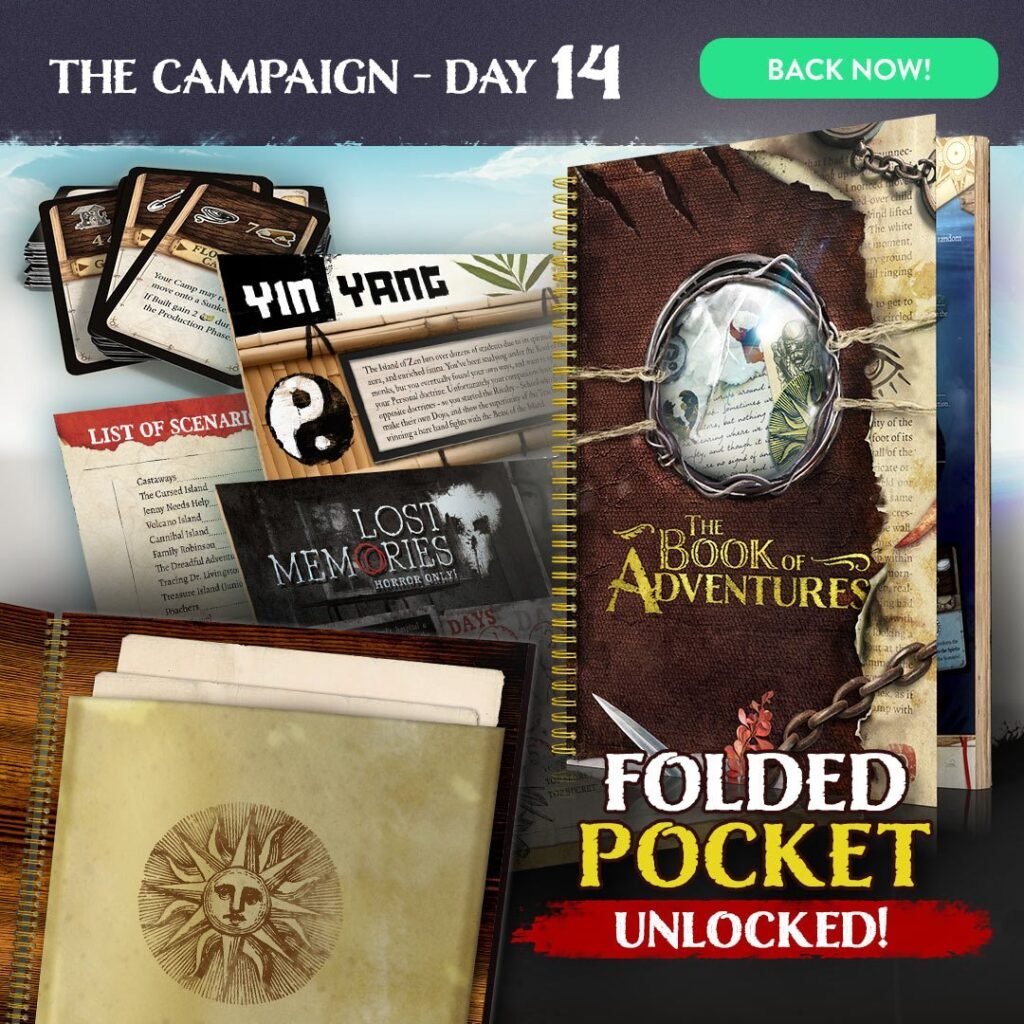 In the beginner's corner I'd like to invite you to watch two videos we have for you! The first is another two presentations of new scenarios in the Book of Adventures. As always Paul does amazing job presenting the theme and mechanism of new ideas you will find in the book. You will find the video here LINK.
The other video I want you to try is my desperate fight with King Kong. It is a game play of King Kong scenario. I heard it is funny to watch designer of the game got kicked by his own design… LINK
Talk to you tomorrow with a ton of updates after break!
P.S. Can you guess what's next? 🙂