Epic add-on you asked for, and more!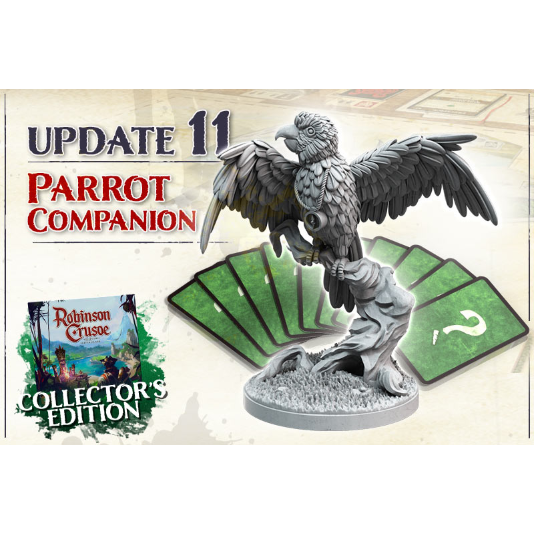 Update #11 is here!
We passed half of the campaign. On the one hand, it's sad news that only a few days left in this adventure, on the other hand, don't worry – we have super exciting things to announce in the upcoming days!

You ask, we react
It took a few days to make sure we can do it, but today we can confirm, we have a green light from the Production team. What exactly can we confirm?
Some of you were saying in the comments that you don't use apps and you prefer to buy all the cards from the app in the physical form of cards. I was explaining that this is a ton of cards, but you insisted, and hashtag #physicalcards was one of the biggest in the comments.
I am happy to confirm that we will print cards from the app and offer it as an add-on as you requested. I want to say super clear and transparent – you don't need to buy these cards to get access to this content, it will be in the app. But if you prefer to have it in the physical form, in the base box, our Production team will make it happen.
Each set of these cards (we have 3 different sets) has a dedicated Event cards and Adventure cards that has one very vivid theme that shines both in flavor text and rules. Each set has 110 new cards! For instance Pirate's Map set has all events and adventures somehow connected with old Pirate treasure on the Island. When you use 110 cards from the chosen set you remove from game all standard Event and Adventure cards and you use only this new one. That way the flavor of the game, the theme will shine strong and nice. You can use these sets in every scenario. For Instance, you may play scenario Volcano and run from the Island, and meanwhile, all the events and Adventures will be somehow dedicated to pirates running all around you and looking for treasure because you picked set "Pirate's Map"! Or you can play the same scenario, but chose set called Rotten Wounds and suddenly everything will change, even though the scenario you play is the same!
These sets are incredible, they add new level of replaybility and fun and increase the story element. As I said, they will be part of the app, but because many of you asked for #physicalcard, we decided to give you the option to get them in physical form as well.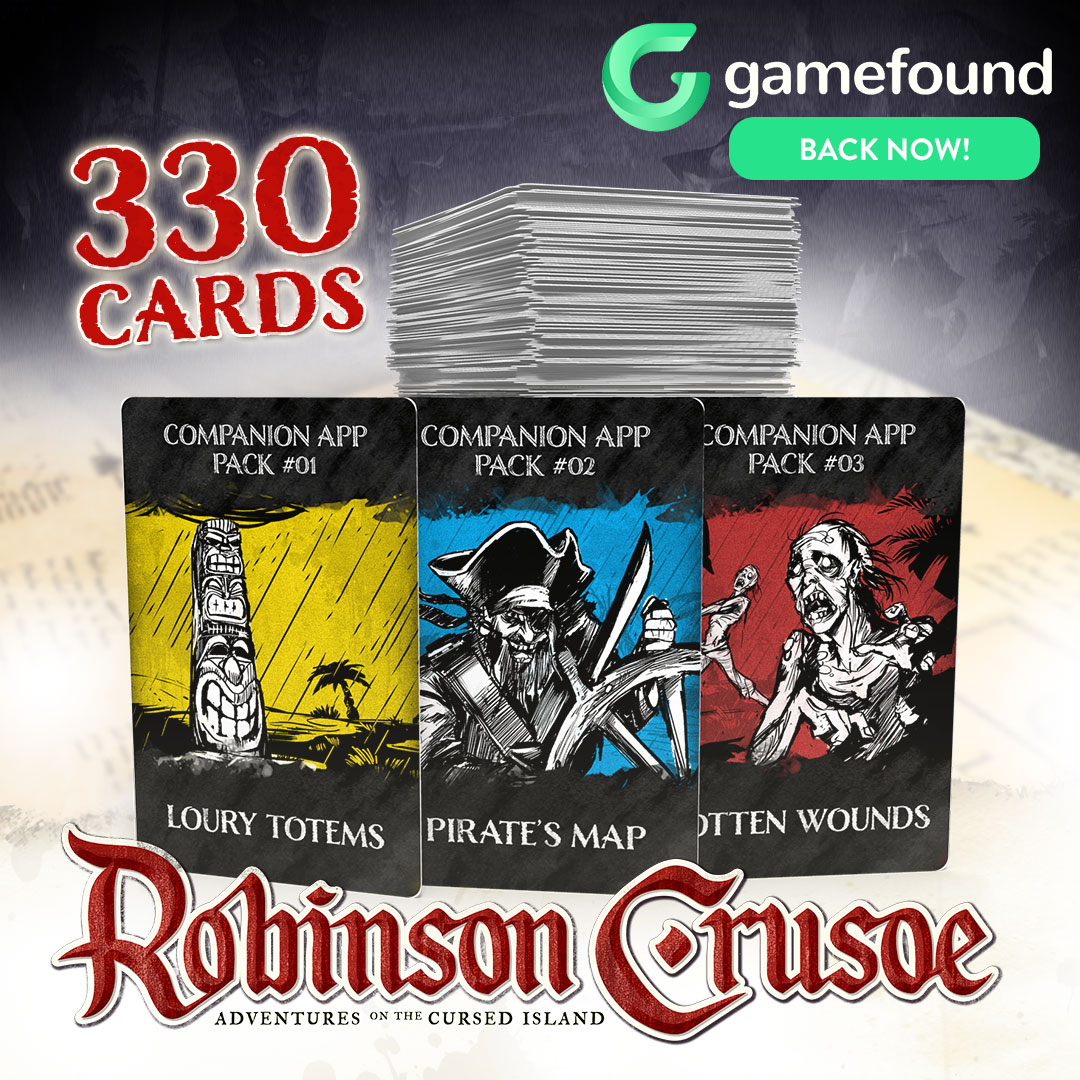 You watch, we stream – Live stream this Saturday.
Thank you for taking part in the Poll. As for now, the results are 485 for gameplay for the new scenario vs. 195 votes for a tutorial. I want to officially invite you this Saturday, April 3rd, at 1 pm EST, for a live stream demo of a brand new scenario from the Book of Adventures!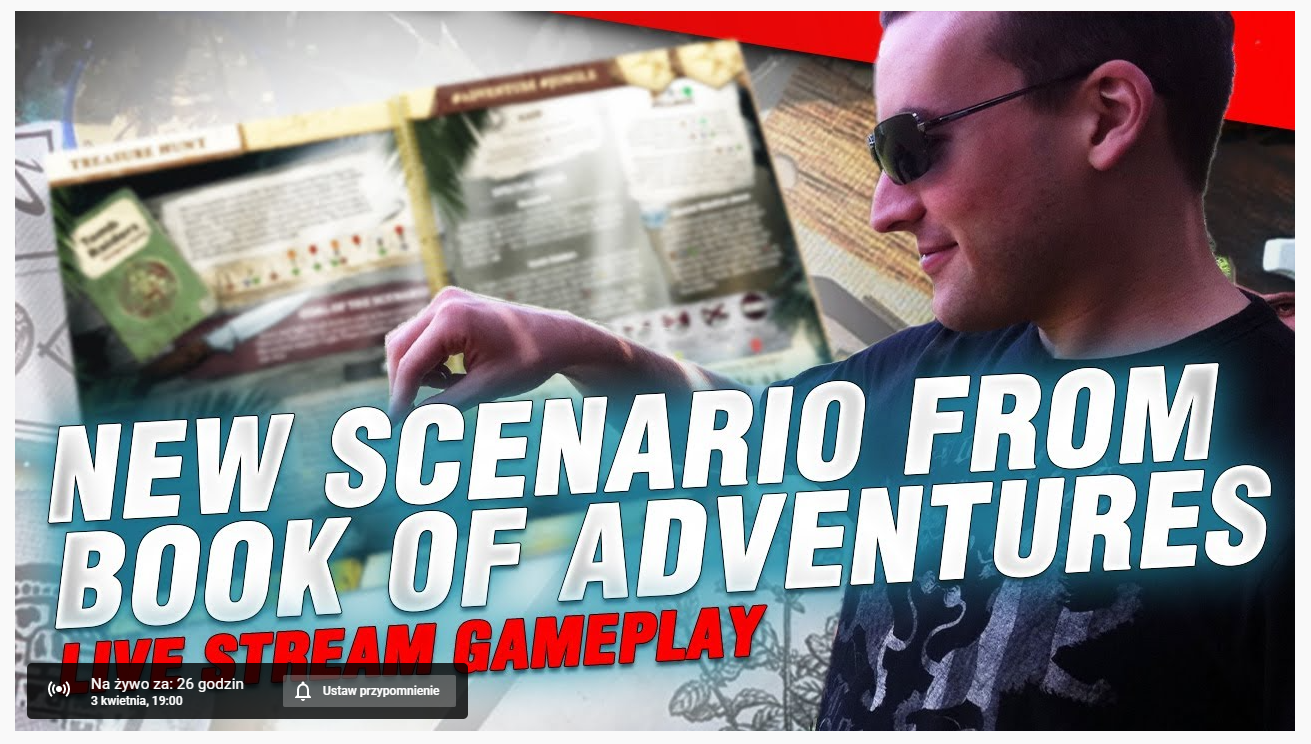 I had this conversation with Ben about the stream.

As you can see, Ben is amazing and he is willing to do another stream for beginners, but before I ask him to do that, I am making a new rule (I am a designer, after all, right?) The rule is – if there are at least 100 people during this Saturday live stream, that means you appreciate Ben's effort, and I will ask him to do another stream for beginners. Fair enough? Will you join the stream?
You support, we thank you
Today we passed half of the campaign. I want to use this small milestone as an opportunity to thank my fantastic team at Portal Games for running the whole operation. Guys and gals, you are amazing, I love you, and I applaud you! You are doing a stunning job here.
Here is a short video of most of the people behind the campaign. Not all sent us a video (hey, don't be shy next time!), but I really want you, backers, to meet them. They are amazing passionate people working at Portal Games.

Man, this Island gets crowded! We found Friday a few days ago, then we found a Horse, and look now, today we have another companion joining our party! Isn't that exciting?
Today we unlock Parrott miniature (along with a dedicated card), another Companion that helps players in the game and, if added to the set, make the game a little bit easier. You can modify the difficulty of the game by adding or removing different companions!
Parrott is good for the party's mood, so each round provides Determination tokes to the first player. It is a mighty Companion and will help you survive! 🙂
But that's not all! In this unlock, we give an additional 10 Explore Adventure cards! You can shuffle them to the base set of the game to increase the replayability of the game.
IMPORTANT: These items will be added for free to Robinson Collectors Edition of the game and won't be part of the retail version of the game. Both items will fit into the box.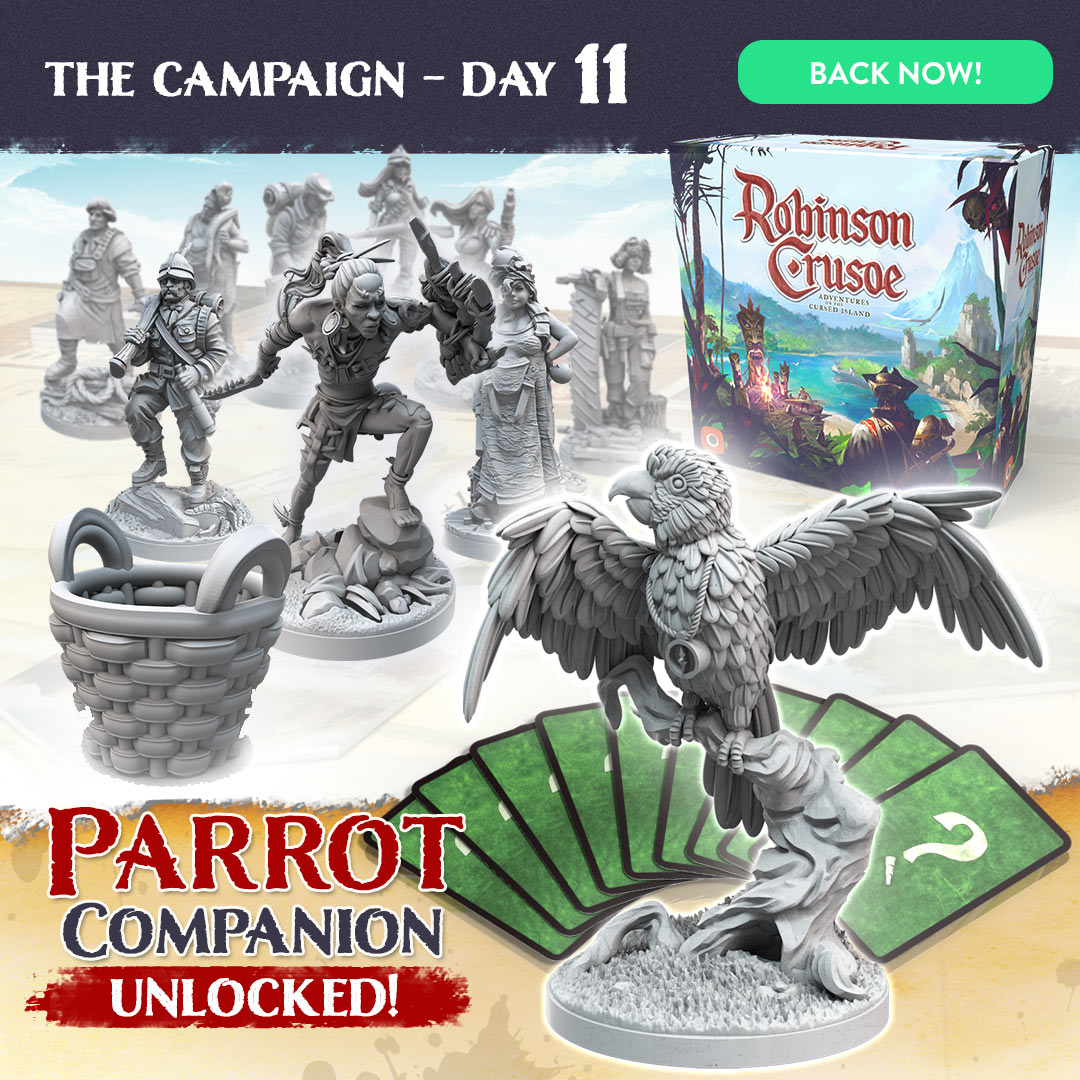 Friends, I think the Holidays are really close because I am in a sentimental mood today. I see all the comments from players who own Robinson. I see so many pledges from players who have the game and decided for Upgrade. I see so many veterans being active in the comments section, either explaining concerns new players have or just sharing their stories and experiences with Robinson. I read it all. It makes me so happy. Today I want to dedicate to you, veterans, my article I wrote in February 2016 when one Monday my employee Aga shared with me… You will see:
***
At some point, she – out of nowhere actually – says something like: 'This weekend we played Robinson, my family and me. We had a great time. My mom was so excited that she was standing next to the table because she just couldn't sit still. And you know, she is not a gamer, she never plays board games. We won. I know, I know, we played a few rules wrong, I double-checked the rulebook after we finished the game. We had an amazing time together, though. It was great.'
This is my oxygen. This is why I work. This is why I stay up till 1AM cutting out prototype pieces and trying to playtest the shit out of this mess. This is why I have the strength to struggle with a prototype that is not working the way I want it to work. This is why I will trash bad ideas and look for good ones over and over again. This is why I am ready for sleepless nights and for long weeks of a bad mood when I can't find a solution and the prototype is not working.
I am ready for all this mess.
Because at the end of this struggle, there is a family somewhere out there that will have a great time together.
And this is my oxygen.