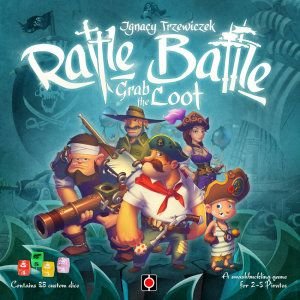 ---
Portal Games announces Rattle, Battle, Grab the Loot board game
The newest board game from Portal and designer Ignacy Trzewiczek
Gliwice, Poland – April 27th, 2015. Today, Portal Games announced Rattle, Battle, Grab the Loot, a new board game from Ignacy Trzewiczek set in on the high seas as pirates battle for the favor of the Pirate King.
Rattle, Battle, Grab the Loot takes the fun of rolling dice and combines it with a rich scenario deck to make each game play differently. Each round, the players battle it out with merchant vessels and other ships, trying to grab as much loot as possible. One player takes dice from all the players, rattles them in their hand, and then tosses them into the game box to resolve the battle. Where your dice land in the box, as well as the symbols rolled determines the results of the battle and loot is claimed. Players may now return to port to upgrade their ship, hire new crew, or give their goods to the Pirate King for his favor. At the end of the game, the player who earned the most favor from the Pirate King is the winner!
When upgrading your ship, players will use physical pieces to assemble their vessel making each ship look different. In the box are dozens of punchboard pieces to customize your ship. In addition to common items and crew members, there will be unique item upgrades and crew that can make your ship stand out among the crowd!
This is Portal Game's first dice game in the English market. "This moment of rattling 20 dice in hand and tossing them into the box is just pure fun. Ships shoot, escape, surrender and we just can't wait to resolve another battle! It's just pure essence of gaming. And you know what? No one dies on the deserted, cursed or any other Island that pirates will visit!" said Portal CEO Ignacy Trzewiczek. Unlike the more complex strategy games we are known for, this game should appeal to a broader audience. The theme and mechanics are very accessible and the rules can be taught in just a few minutes.
Rattle, Battle, Grab the Loot is for 2 to 5 players, ages 8 and older, and takes approximately 45 to 90 minutes to play. It includes 38 custom dice, 5 cardboard ships, over 50 ship parts and upgrades, over 20 sailors, 2 scenario decks, 35 gold coins, 64 loot tokens and a rules booklet. Rattle, Battle, Grab the Loot will be released in July at Gen Con 2015 and will be in retail distribution worldwide in August. MSRP will be $60.00 USD. For more information you can visit the Rattle, Battle, Grab the Loot website at https://portalgames.pl/en/all-game-list/rattle-battle-grab-the-loot/
About Portal Games
Portal Games is a publisher of award-winning games such as Imperial Settlers,
Stronghold, Pret-A-Porter, Legacy, and Neuroshima Hex. Founded in Poland in 1999, Portal Games has developed into one of the most renowned European game publishers and design teams. Their commitment is to produce only the highest quality Board Games That Tell Stories.
Europe Contact: Ignacy Trzewiczek
Portal Games
portal@portalgames.pl
Tel: +48 32 334 85 38
North America Contact: Chevee Dodd
Portal Games
chevee@portalgames.pl
Tel: +1 304 657 8930