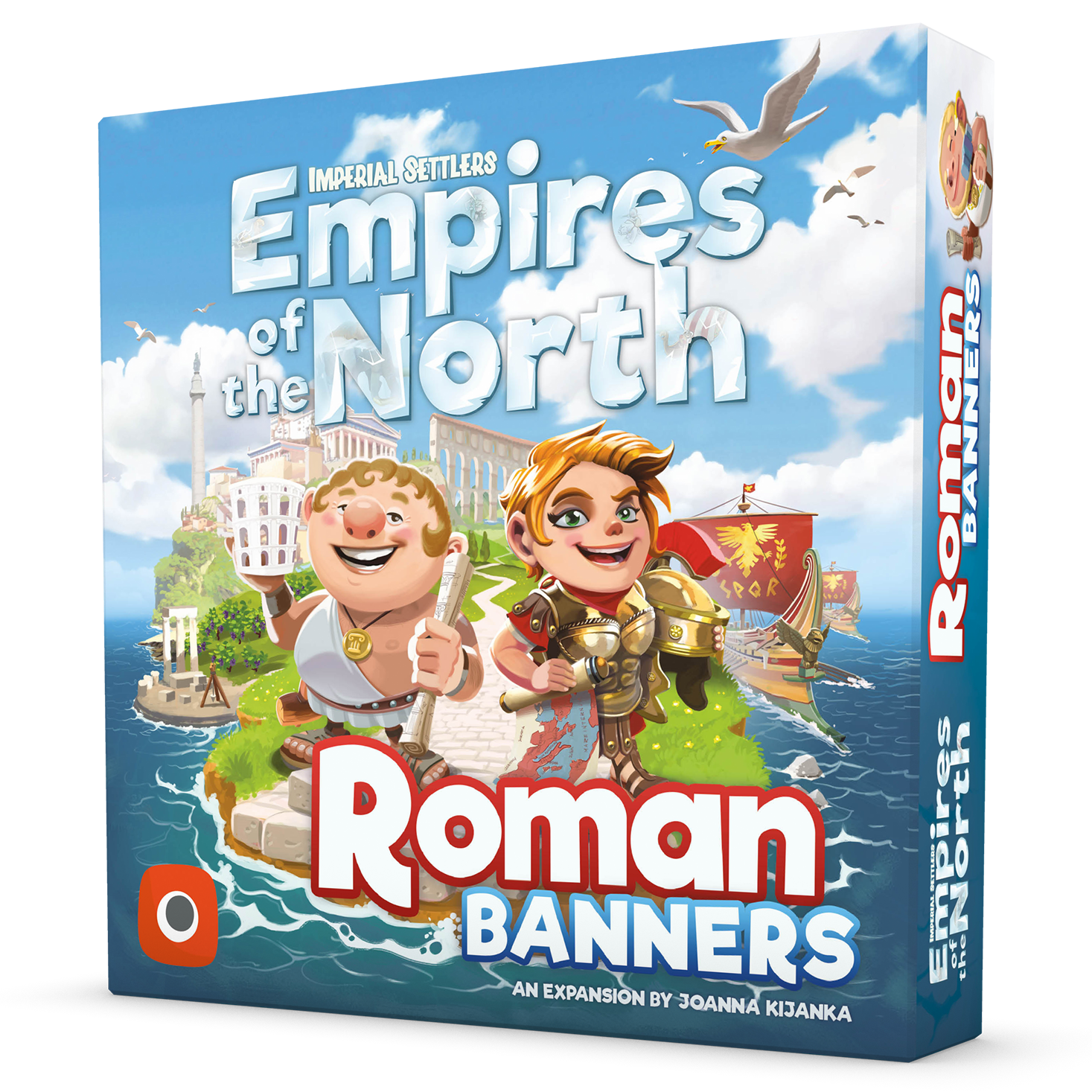 Gliwice, Poland – December 9th, 2019. Portal Games is proud to announce the second expansion for Empires of the North: Roman Banners. The expansion, to be published in 1Q 2020, includes two brand new Roman decks and additional island cards. "The Roman factions will give even greater replayability to players as they bring fresh new mechanics of developing an empire and introduce a fantastic Roman theme", says CEO Ignacy Trzewiczek. Details and pricing information will be announced at a later date.
Empires of the North: Roman Banners follows the first expansion, Japanese Islands, which debuted at Essen Spiel 2019. It came with beautiful, thematically rich artwork inspired by Japanese culture and introduced 14 new islands as well as 2 new Japanese factions adding new mechanics to the game: trading goods with other clans, storage, docking, and transport.
Empires of the North: Roman Banners and Empires of the North: Japanese Islands are both expansions to the critically acclaimed game Empires of the North. The game debuted at GenCon in mid-2019 and has gathered rave reviews in the industry and has already been published in 8 languages: Polish, English, German, Dutch, French, Spanish, Czech and Korean.
Empires of the North is a fast-paced engine-building, resource management civilization game, in which each player leads one of 6 asymmetric clans – coming from Viking, Inuit and Scottish cultures – and builds own empire, conquers new lands, and gathers wealth. The game combines easy to teach rules with a lot of depth and outstanding replayability granted by 6 different playing decks of cards. This combined with beautiful production and stunning artwork makes it ideal not only for hardcore gamers but also for casual gamers as a step up in their board game experience.
About Portal Games
Portal Games is a publisher of award-winning games such as Imperial Settlers, Tides of Time, Robinson Crusoe: Adventures on the Cursed Island, Neuroshima Hex, and Detective: a Modern Crime Board Game. Founded in Poland in 1999, Portal Games has developed into one of the most renowned European game publishers and design teams. Their commitment is to produce only the highest quality Board Games That Tell Stories.
Europe Contact:
Ignacy Trzewiczek
Portal Games
portal@portalgames.pl
Tel: +48 32 334 85 38
North America Contact:
Luke Otfinowski
Portal Games
luke@portalgamesus.com
Tel: +1 654 249 5928