How Keyforge inspired roll and write game
We have new hotness. It is called Roll and Write and every publisher on planet Earth is jumping into the hype train. It's a new deckbuilding. It's a new legacy. It's a new story-driven game. Every publisher is now telling great stories and he rolls and he also writes.
Anyway, this fascinating genre of games was present in the market over many years. I fell in love with Rolling Japan back then in Spring 2015, Dice Stars in 2016, and even earlier, some around 2013 I played and loved Qwixx. The genre was growing on me and obviously on my fellow geeks all around the globe. It was 2018 when two titles finally made a difference and started the whole phenomenon – it was German game Ganz Schon Clever and it was French title Welcome To.
At some point, I decided I want to do my own roll and write. It was in Autumn 2018.
***
The basic idea behind Imperial Settlers: Roll and Write is very simple. Most games in that genre offer players a ton of options at the beginning and then, with each round there is less and less empty spaces to write in and choices are gone. The base game of Imperial Settlers is engine building game, so I wanted its roll and write variant to keep the identity of the precursor. I wanted to shake things a little bit. In my game, you start the game with only a few possible options, but as your Empire grows and you build new buildings and get new abilities, you have more and more new choices. It's engine building roll and write.
The first draft worked nice and smooth. Each player had a Village section on their sheet where they could construct buildings to get unique abilities and also an Empire section where they could build walls, cottages, and granaries to gain Victory Points. As with every good engine building game, it is always the fundamental choice – when to stop building new buildings for abilities and start spending resources to score, score and score more! The sheet was a bit crowded with all these options, but I knew we have here something. It was a natural port from the card game into the roll and write genre. You got resources from dice, you got apples, wood, stone and it was up to you to decide how to spend them. Playing the game was natural for anybody who ever played Imperial Settlers.
***
Imperial Settlers is a strong seller for Portal Games since 2014. The game won dozen of international awards, got 13 different language editions and 6 expansions. This beloved IP combined with cute cartoonish artwork sounded like a perfect choice for a roll and write game. It looked like publishing it is a safe bet.
And then Keyforge happened. Fantasy Flight Games revolutionary concept of each copy of the game being unique blew my mind. The fact that each player has their own unique set of abilities and powers in Keyforge or Discovery was something never seen before. And my brain began to work. I asked myself a question – can I do a game like that? My production department began to cry when I said something like "I have this idea…"
What if each game that we print has a different set of buildings to build? Can I design 50 or 100 different abilities and then mix them on a single sheet to get thousands of unique sets?
How the market reacts for that? We were debating it in the office and my production department was already checking possible option with the manufacturer when I got another idea – what if every sheet in the game is unique? What if instead of the block with 50 the same pages like in every roll & write on the market, I could have a block with every single page being different? Every single time you play, you play with different abilities. Every time you play, the game is different.
This is it. I knew it. Instead of producing 10k boxes that differ between each other, I will print 10k boxes that are the same, but in each box they have 48 different sheets.
I challenged myself and my dev team. I challenged my production department. I challenged the artwork team. I challenged the whole company.
I asked for a unique experience each time you play this roll & write.
***
After a few months of work, I can say I am proud of my team. The final box of the game comes up with a block of 48 standard pages like in every good roll and write game. These standard pages can be played in the basic, family oriented variant or an advanced variant with one small change in the rules that add the whole new level of decisions. It's a regular good roll and write game.
Besides that, I have more. We put in the box one more block. We designed and produced an additional 48 pages with every page being different. 48 different sets of buildings, unique abilities, and challenges for players. Weeks of work of dev and artwork team. We called this block adventure mode, as each time you play, you have a new set of buildings to construct, new challenge and strategies to discover. Every time you play, it's a new adventure.
And that's how Keyforge inspired roll and write game.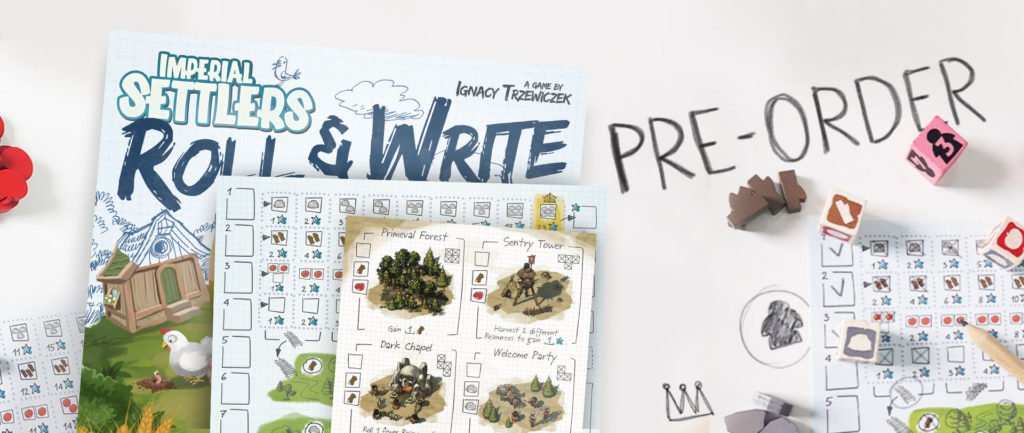 Pre-orders for Imperial Settlers: Roll & Write are open! If you want to learn more about the game, check rules or find about about components quality click on banner above!