Hi! Today let's focus on the Stadium. We are making it even more versatile and thematic with today's new Stretch Goal. Learn more about it and the designer's take on this part of the game in this brief update!

Let's start with a thank you! Unique looking Stadium boards was such an awesome idea from you, the fans, that we had to incorporate it into the game as a Gamefound Exclusive Stretch Goal.
Today's Stretch Goal has also 5 new Infrastructure tiles, which we will pick from the best ideas the fans send us in this campaign. So – what Infrastructure would you like to add to your Stadium? What benefits should it bring? Write your ideas in the comment below. It's time to get creative and start dreaming about your perfect football club!
We are tirelessly working on new content for the Eleven campaign which will be revealed in the days to come. No details yet – we don't want to spoil the fun.
Thank you for all the wonderful comments about the Grassy Team boards that got unlocked yesterday. We, the Portal Games team are gamers as well, and we fully understand the magic of having board games in excellent quality and beautiful to look at!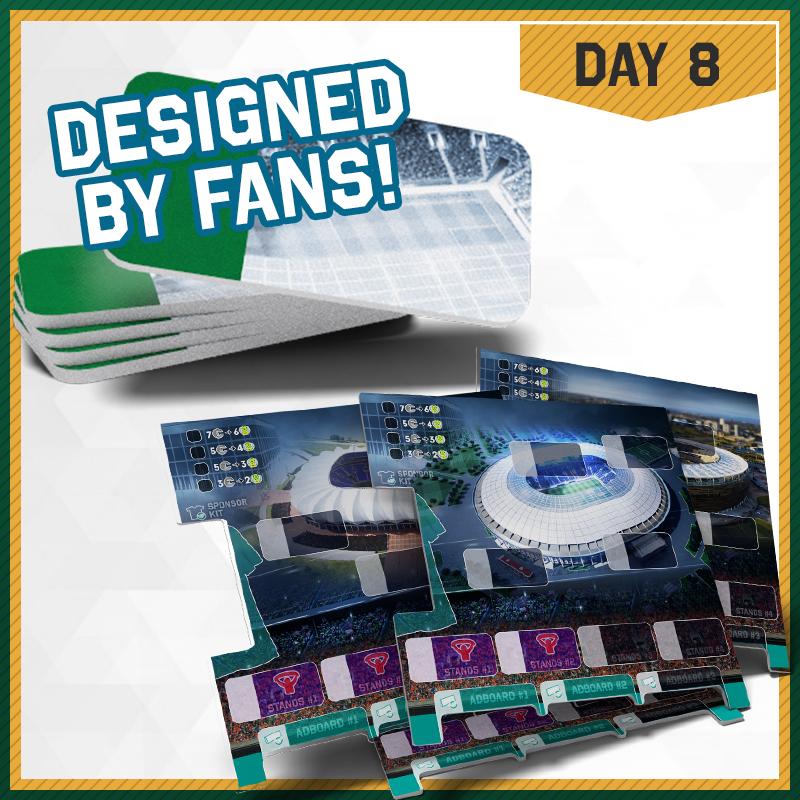 Today's new Daily Unlock is:
5 new infrastructure tiles and Stadium boards with individual artwork!
Add bells and whistles to your Stadium with differently looking Stadium boards and 5 additional Infrastructure tiles!
Every Stadium board comes with a picture of a different stadium, so each player has an individual looking Club premises, making the game more thematic and immersive.
New infrastructure tiles will be chosen from the best ideas from fans in this campaign. We really want you to build the Stadium of your dreams!
This gameplay bonus and component upgrade is a Gamefound Exclusive Stretch Goal for Eleven. It won't be a part of the retail version of the game. All Stretch Goals will fit into the box.
Now, let's turn to the designer of Eleven, Thomas Jansen, to see his take on the role of Infrastructure in the game:

Infrastructure
I like stadiums as much as I like football itself. I love old classic stadiums, but also the new ones which have been built with thought. As a neutral football fan, I especially support clubs with nice stadiums. I can't help it.
Before we visit your stadium in Eleven, let's visit London for some examples, shall we?
The most beautiful stadium in London is Craven Cottage, home of Fulham. It isn't big, but it's beautiful. A perfect example of a classic football stadium. Built by the famous architect Archibald Leitch. Everyone recognizes the beautiful letters on its side: The Fulham Football Club. I'm a fan.
North London. Once there was… Highbury. A masterpiece. My all-time favorite player played for Arsenal at the time: Dennis Bergkamp. I was a fan. Then, they moved to The Emirates. I can't see any beauty in it. Not a fan anymore.
Then rivals Tottenham Hotspur. They played at beautiful White Hart Lane. Unfortunately, they had to leave. But the brand new stadium was built with a lot of respect to its predecessor. I absolutely love it.
Tottenham Hotspur Stadium has everything. If it was in Eleven, it would have taken up all the infrastructure tiles, including the ones of the expansion, to build it.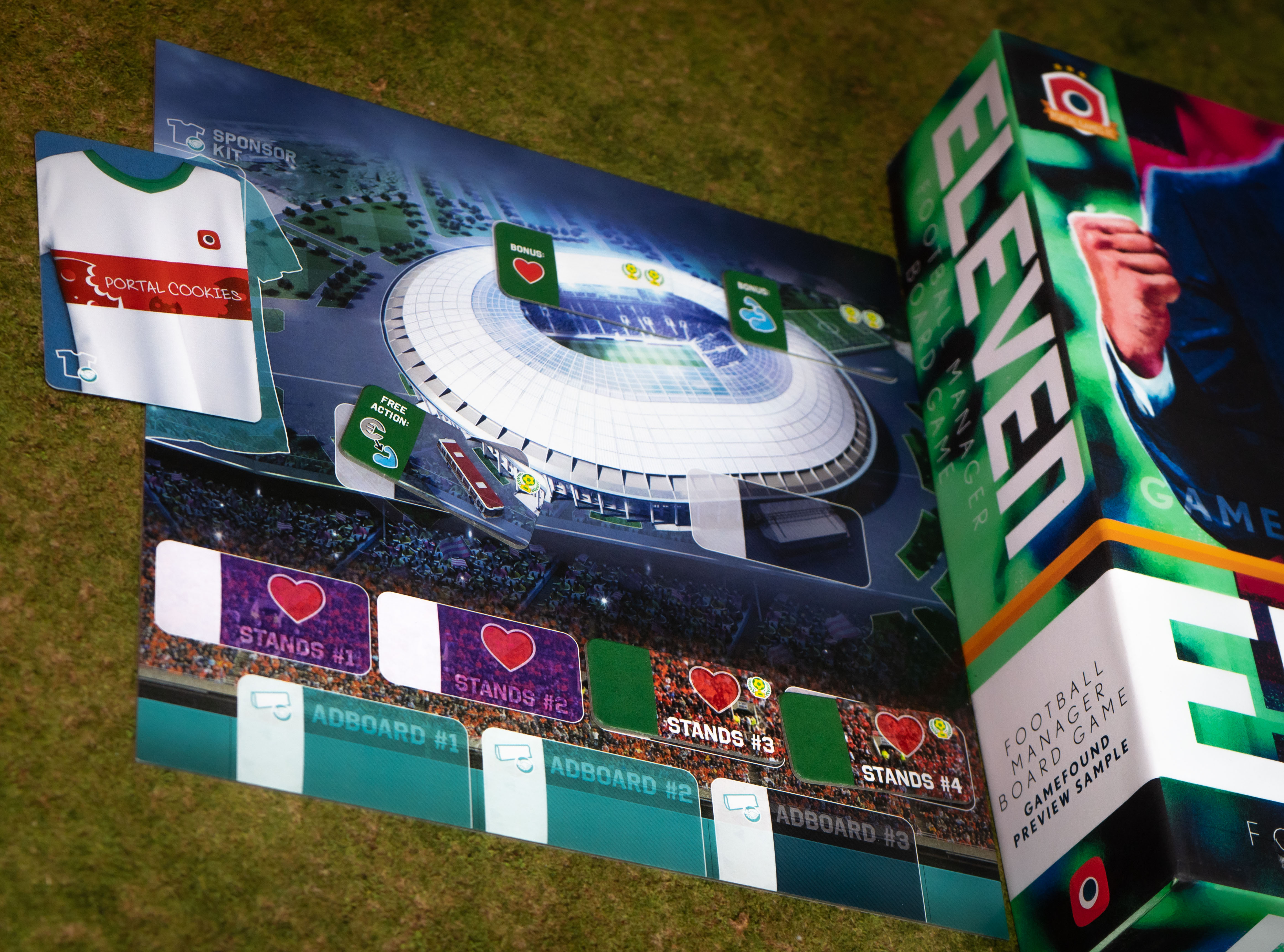 In Eleven you are able to expand your stadium. Every infrastructure token will cost you 3 euros. What would you do to make your stadium just as great as your favourite stadium? Let's start building.
Your stadium has 2 spaces for the crowd, but of course, you want more. You are able to double the capacity. Of course, you want that! Although the timing is everything. Your friends would probably have a laugh if almost all of your beautiful new chairs are empty. Maybe you need a couple of fans first.
Or maybe you want new training grounds. Close to the stadium. They will bring you some bonus fitness for your team. Or go for some beautiful lighting, so the fans can see their players in the evenings just as well as during daytime.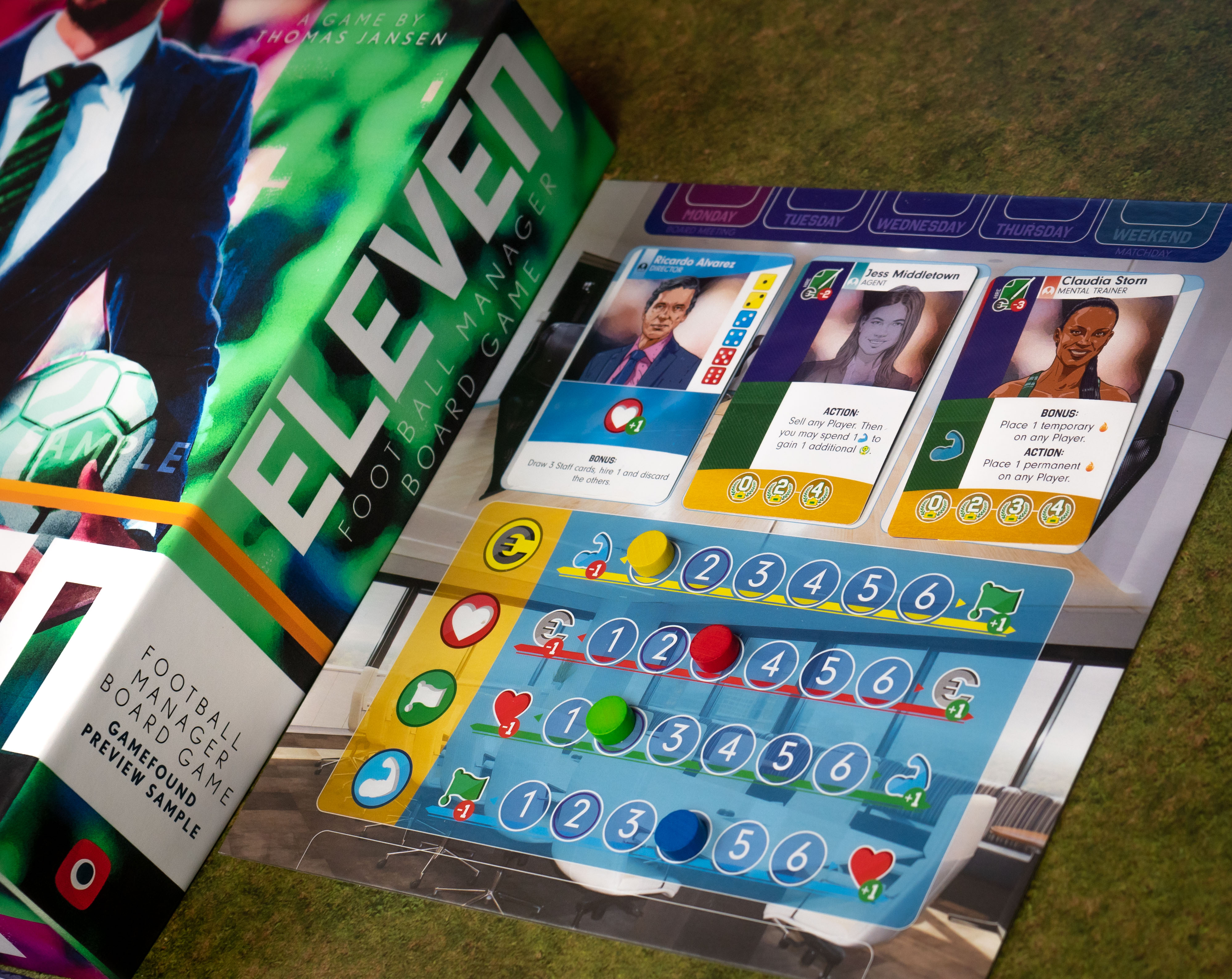 Of course, the fans would love to have a fan shop. Here you can use your fan resources to gain income.
But don't spend too much money on all these nice stadium expansions! At the end of each week, you pay for maintenance.
Infrastructure tokens will give you resources, as well as victory points, which I think is totally justified. The stadium is your home. It's something to be proud of.

Champions League Corner (by Greg from Portal Games):
In todays CL matches there is one gathering the most attention – Bayern vs Barcelona. Football fans in our company are divided, some are long-time Barcelona supporters, others root for Bayern (the presence of Lewandowski being one of the obvious reasons). But my question is directed towards Real and Borussia fans out there – who do you root for in such a game :)?
——
One week into the campaign and we unlocked so many awesome Stretch Goals already! Stay tuned, because there's much more to come 🙂
Till tomorrow!
Joanna Wareluk from Portal Games team