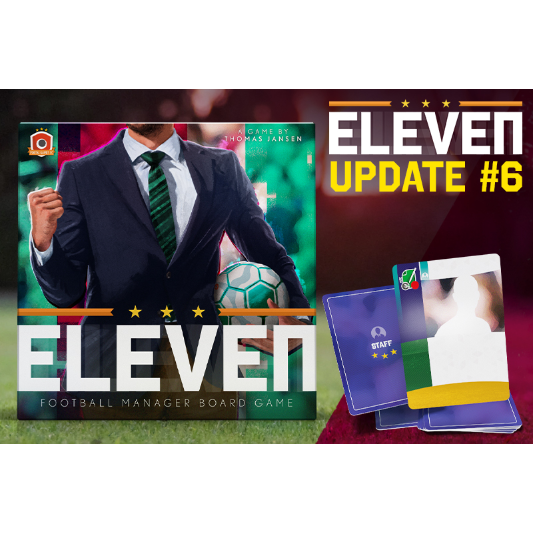 Even more employees to choose from!
Hello,
Ronaldo is back and scores two goals, my beloved Borussia is playing as always a crazy entertaining match ending 4:3 against Leverkusen, and Lewandowski obviously scored a goal…
Ah, update!
As I promised yesterday, today we have a slow update, but still, very interesting stuff! Let's go!

I was saying it over and over again. We are playing in the same team. We have a common goal. We are doing the best Football Manager game there is. That is why the game is available through TTS and has an open Google Doc for you to send us feedback and suggestion. That is why I asked you to come up with ideas for companies we should reach as a sponsor card.
And today, we go further.
Today's unlock is all about your ideas. Please, put in the comments below your ideas for a Staff card. Please, use hashtag #staff
If you have great ideas, we will use them.
If you don't have an idea, we still count on you – read other users' ideas and Thumb Up the ones you like.
From those which have the most Thumbs Up, our team will choose 8 best, and they will make it to the game, and contributors will be listed in the rulebook, and maybe we will even have a small surprise for them! 🙂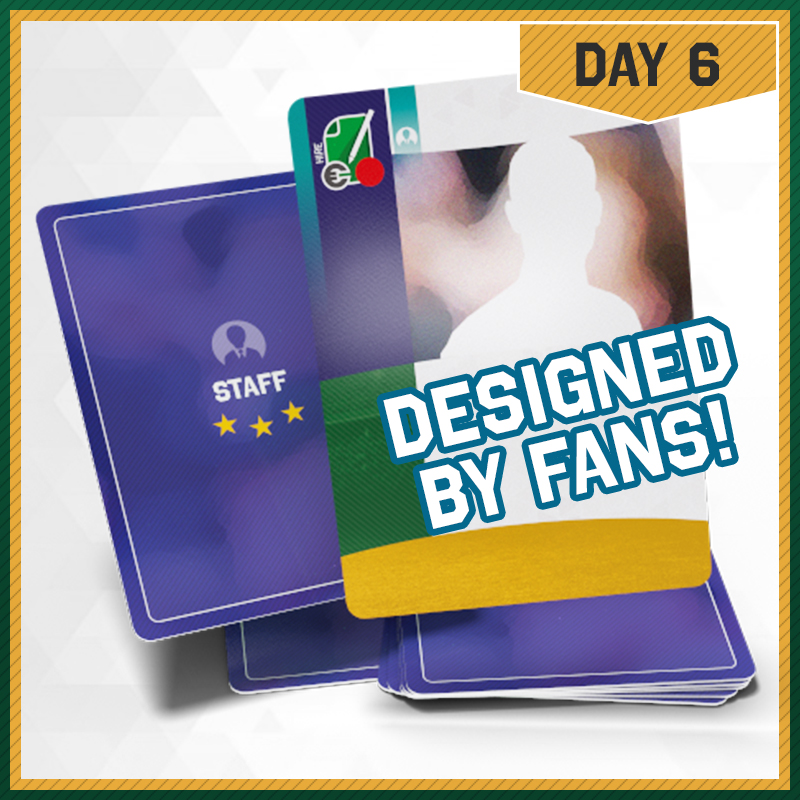 8 new Staff member cards that you design!
Add even more variability to your games with 8 additional cards introducing Staff members suggested by the fans of this campaign. You want more? We listen!
This gameplay bonus is a Gamefound Exclusive Stretch Goal for Eleven. It won't be a part of the retail version of the game. All Stretch Goals will fit into the box.
And now, it is time for Thomas!
Staff
How often have you cursed your favorite football club? How often did you tell your friends you would have done so much better? In Eleven you get the chance to prove yourself.
But you would be wrong if you thought it was all about the players. There are so many more important people at the club. It isn't any different in Eleven.
Staff cards are a very powerful element in the game. They help you in many different ways. They make your club more efficient, your team stronger and provide you with victory points if you play it right. You can hire them for a couple of Euros. Most of the time they provide you with new actions, bonuses, and abilities.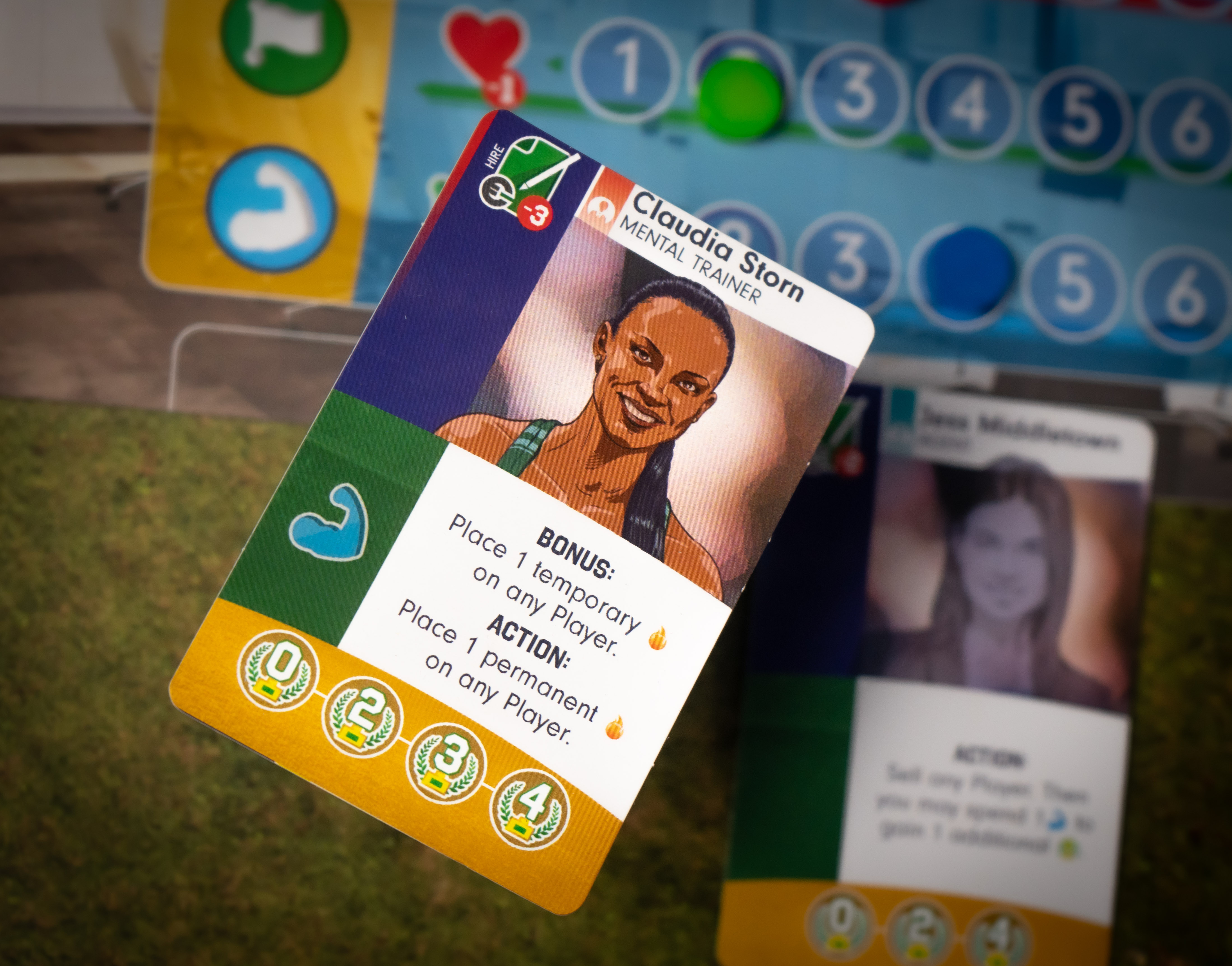 Let's take a look at some of the cards.
We have different trainers. They are able to train a player. Normally you would pay one fitness resource and you may flip a player card, which makes the player stronger, or opens up new abilities. There are stewards, who increase your crowd. Fitness trainers provide you with extra fitness resources. You need them to select your players. (They need to be fit to start). Resource managers will increase your operations, which will give you more actions. Scouts will help you get better players for less, and many more. Most staff cards of the same type have different abilities.
You can also try to get the best staff in the league. This will earn you victory points. Staff cards are color coded. The more cards you have of a certain color, the more points you earn. For example, if you have 2 first trainers, a tactician, and a youngster trainer, you earn 5 victory points! You bet they will make a good team.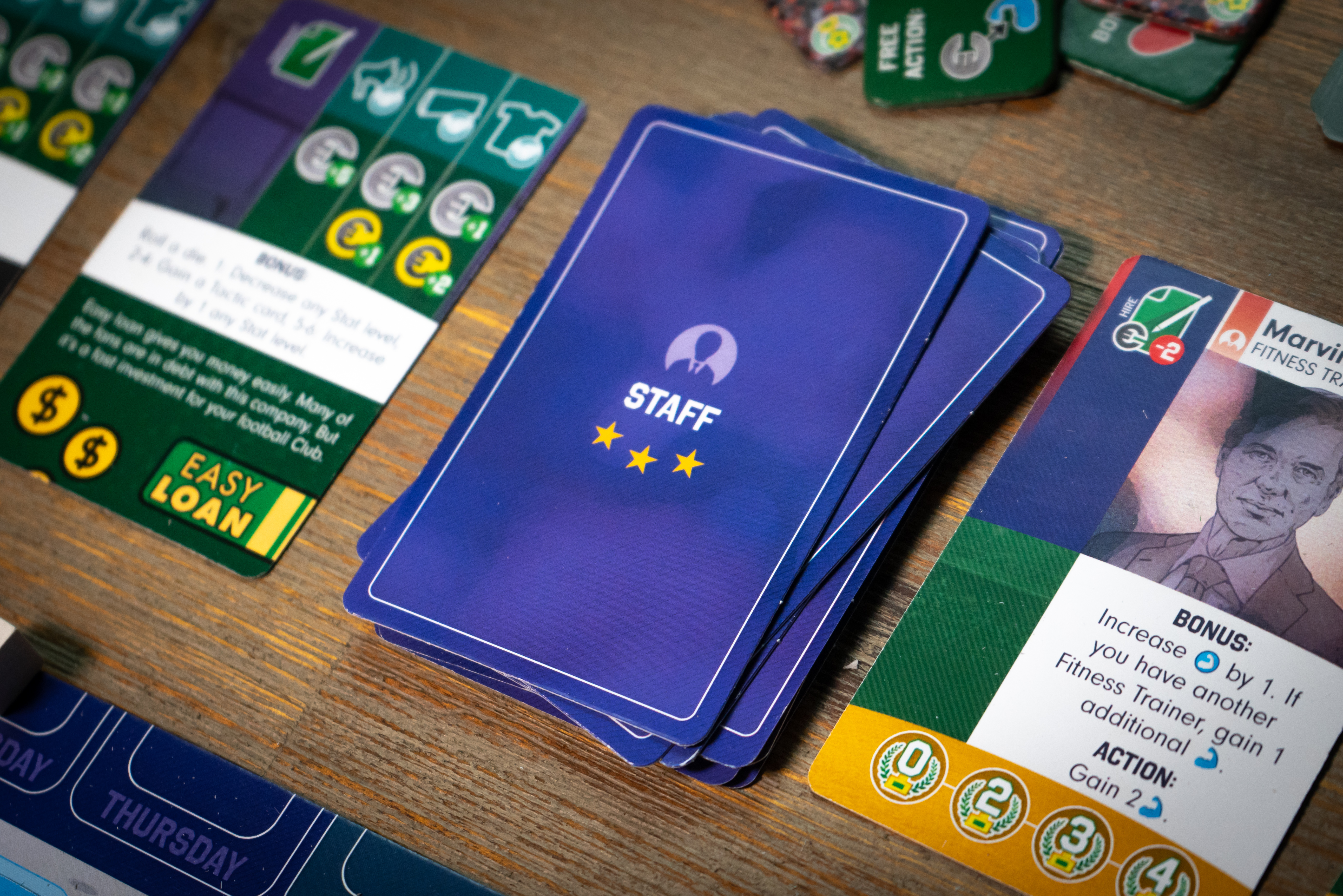 But just like for the stadium and the players, you pay maintenance costs for them, at the end of each round. The more staff you have the more you pay. But you don't mind. You don't need that expensive player anyway. You want your staff to be happy, right?
Thank you for today,
Talk to you tomorrow!
Thomas and Ignacy