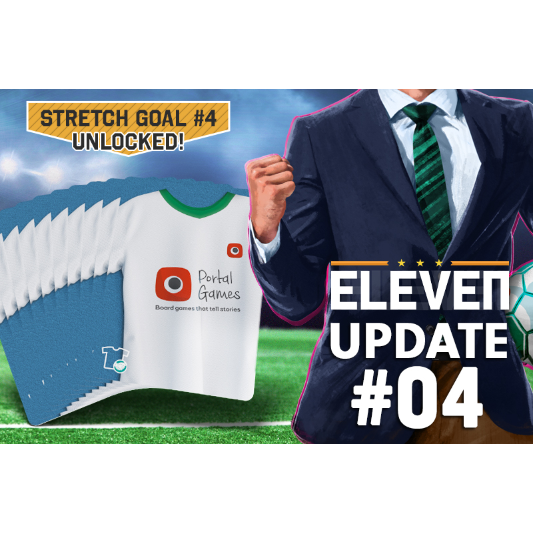 10 new geeky Sponsor cards
Hello, hello
This is Ignacy Trzewiczek, and this is another day in our campaign. Once again, I have a couple of interesting updates and clarifications, so let's jump in!

Another review!
Luke Hector from Broken Meeple did a review of Eleven! We added the video to the project page, and you can also watch it here:
Partners revealed
We are happy to reveal our partners for different languages. We are working with IELLO for the French market, with Pendragon Game Studio for the Italian market, and with Maldito Games for the Spanish market. These are companies we work on many projects, and we have a strong trust in the quality they provide in translating the games.
And I will mention them again today, so stay tuned! 🙂
Google doc
In the Table Top Simulator, you'll find a link to the Google Docs in which you can share with us your feedback about the game. We are looking both for your score (to get stats for balancing) and for your overall feedback on different elements.
Our dev team, along with Thomas, reads and discusses the forms you sent through Google Docs, and they told me it is great feedback. They told me to thank you. So here I am – Thank you, we appreciate you.
So yes, please, keep playing and sending us your ideas.
Group pledge
Our logistics team is calculating the possible Group Pledge. We hope we will be able to provide you information next week. We appreciate your patience here.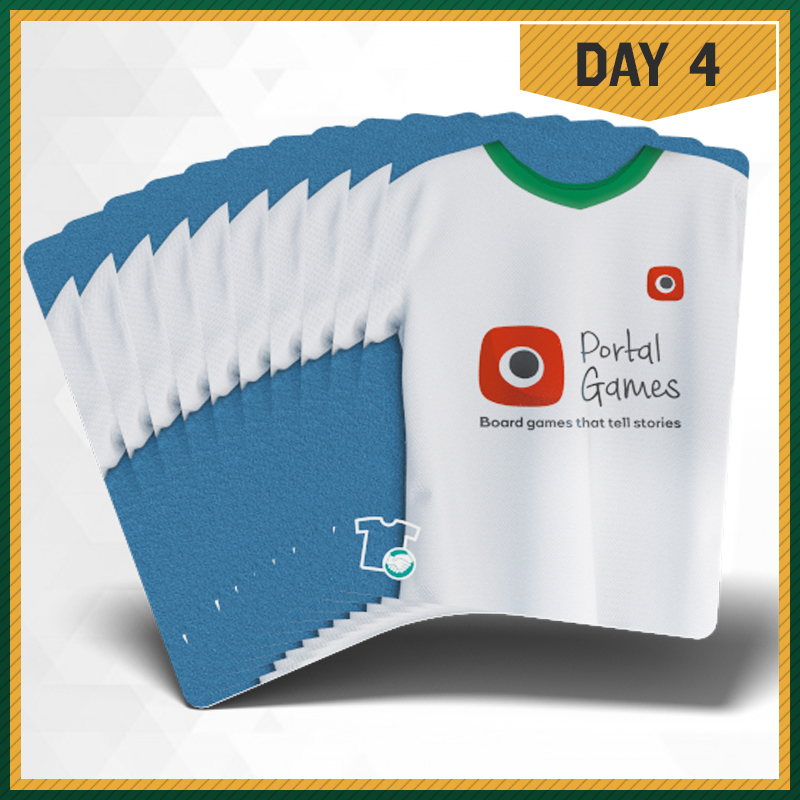 Today we are adding 10 new Sponsor cards with companies from the board game industry!
Have the board game industry represented among the main Sponsors of your matches. 10 new Sponsor cards allow you to choose from your favorite board game companies to Sponsor your club. Suddenly the game is not only about you winning against other players, but also about having your favorite board game brand receiving the recognition they deserve.
There will be obviously our partners – Iello, Pendragon and Maldito on the cards. But who else?
You tell us!
Should we reach WatchItPlayed?
Should we reach BoardGameGeek?
Should we reach CMON or Awaken Realms?
Put in the comments – company you want in the game and an idea for the bonus it provides. For instance, considering the quality and the clarity of WatchItPlayed videos, I'd argue that if they are sponsor of the club, the green statistic – would go up by 1, due to the improvement of the whole organization! 🙂
This gameplay bonus is a Gamefound Exclusive Stretch Goal for Eleven. It won't be a part of the retail version of the game. All Stretch Goals will fit into the box.
And now it is time for Thomas!

Sponsors
On Monday we had a board meeting. Decisions were made by the board. We will get to it in more detail later. Now, Let's get to work.
Today it's Tuesday. Of course, we need money to run our club. So we need sponsors. There is a deck of sponsors with 5 open cards next to it. The outer 3 are available to you right now. Unless you have a staff member with some great connections who can get you in contact with those other 2 companies.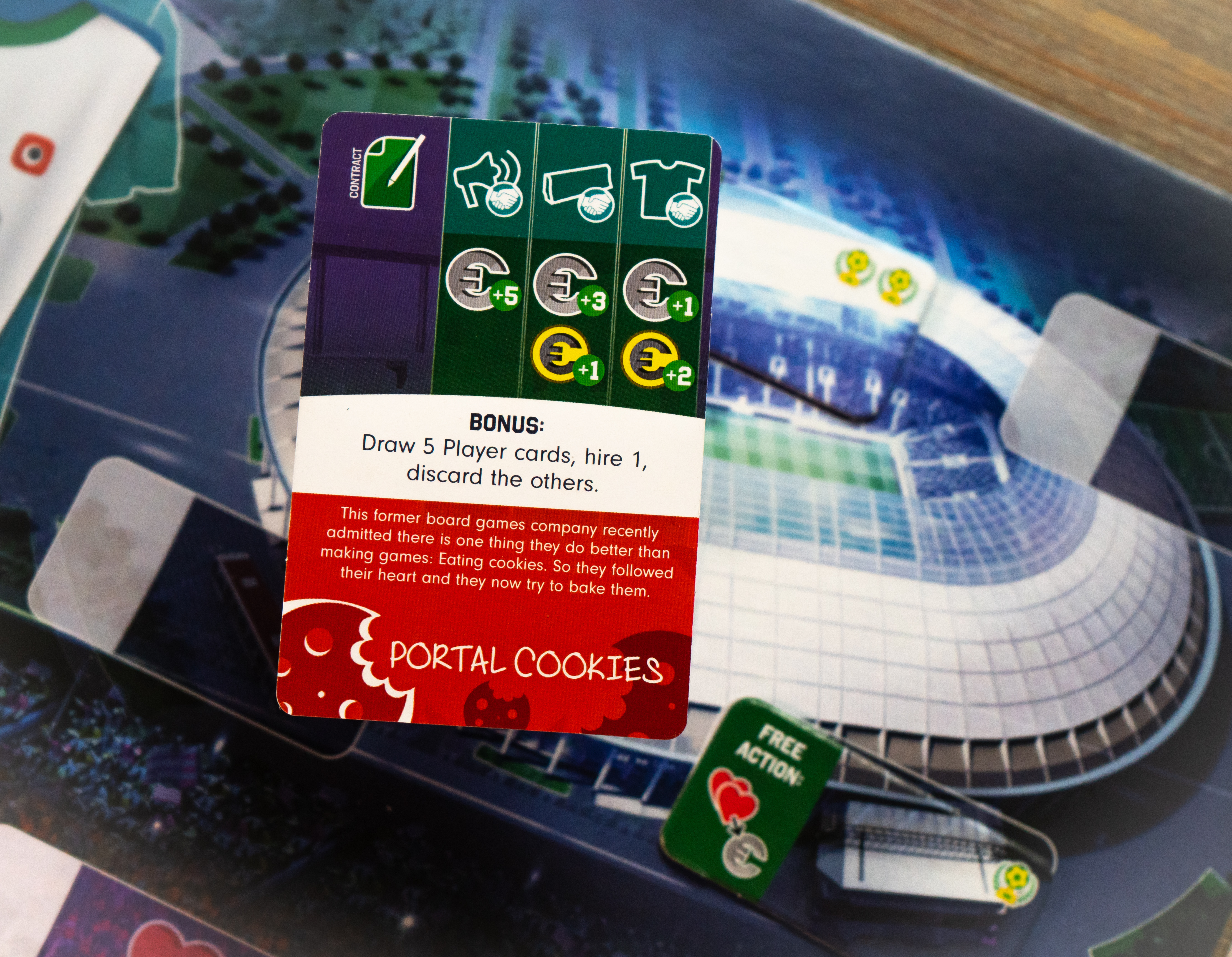 Each sponsor card has a unique story about the company which you can read if you like. It really adds to the experience. It also has a very nicely designed company logo. I myself especially like the 'Basis Bratwurst' logo. Every time I see it, I get hungry. You can spend an action to contract a sponsor. You just take the card and decide which of the 3 options you like. You can choose between a small sponsor, adboard sponsor, or kit sponsor.
If you choose to have it as a small sponsor, you earn a smaller amount of money. There is no limit to the number of small sponsors you can have. Discard the card afterwards.
If you choose to have it as an adboard sponsor. It will be a better deal. But you can only have 3 of them. Put the card in the adboard space of your stadium board. It fits in like a real adboard! How cool is that?
If you choose to have it as a kit sponsor, you have the best deal. Just flip the card and the sponsor appears on your shirt. Very nice! Unless your sponsor is 'the Diaper Den' maybe. Of course, you can only have one kit sponsor.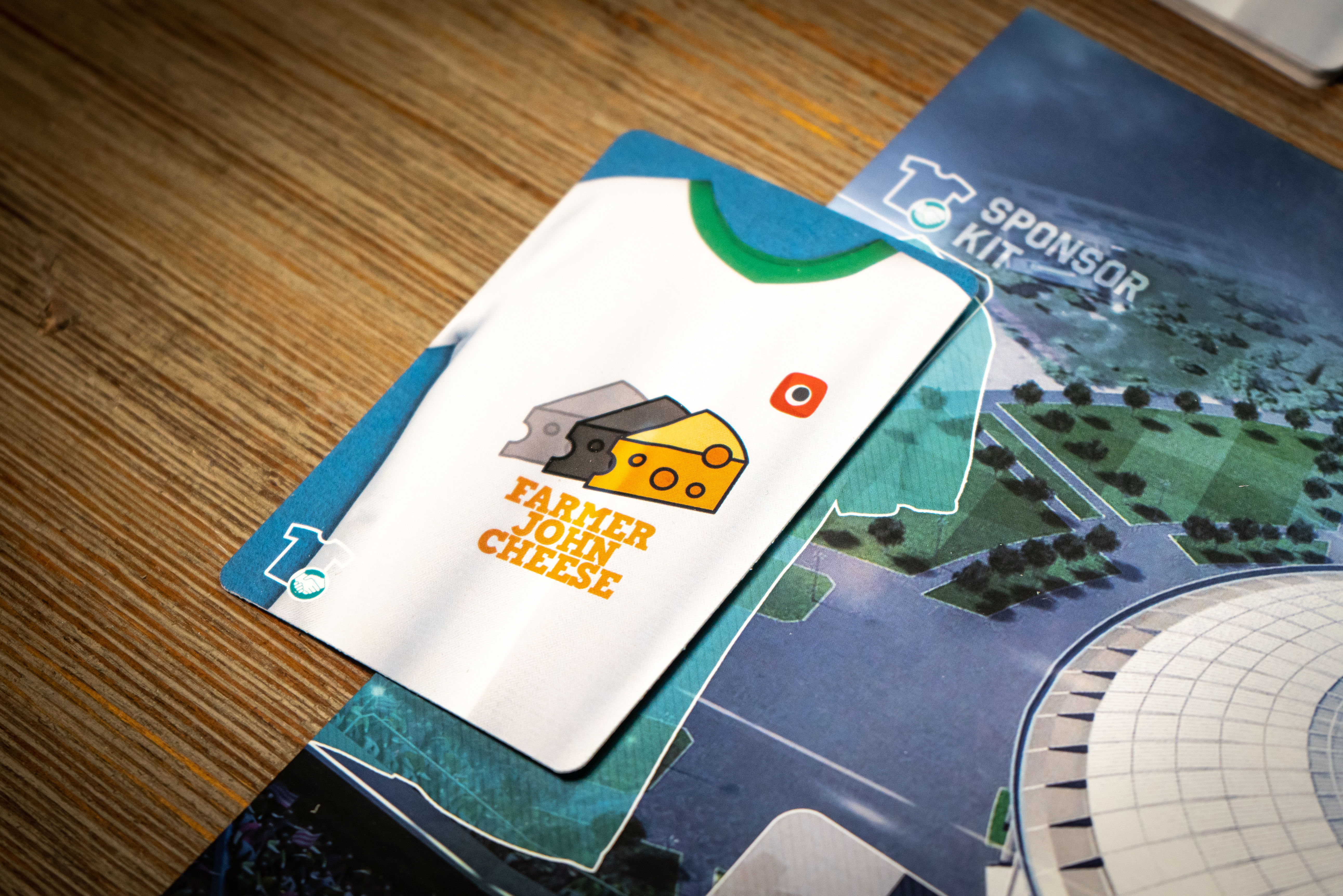 On every sponsor card there is a special bonus. It is very powerful. When you hire a kit sponsor, you additionally gain a bonus. When you go for the adboard sponsor, you must choose to have the budget or the powerful bonus. Choices, choices.
I love sponsor cards. They bring in a lot of money, which opens up many possibilities. They can provide you with cool bonuses. Besides that, they look so great as an adboard or team shirt.

Besides game designers and boardgamers, we are football fans too! To give you a little insight, we will tell you about our favourite teams with every new update.
Name: Grzegorz Polewka
Favourite club: Wisła Kraków
League: Polish
Why: Grzegorz became loyal fan of Wisła Kraków on August , 8th, 2001. Yes, he knows the precise date. It was the day when this Polish team faced the famous F.C. Barcelona. It was a super tense match in which Polish team played very offensive and showed the brave approach to the well known opponent. Since then Wisła Kraków had it's ups and downs, there were very different and weird moments, but Grzegorz is loyal and is with Wisła for good or worse!
If you want to smile and remind yourself how Champions League looked like in 2001, here is your chance…