Hi there!
A very quick update for today. We're asking again for your feedback for the new Board Meeting cards, and Thomas Jansen, the designer of Eleven, discusses the topic of tactics in the game. Let's jump straight in!

Check out Eleven at Gen Con
If you are attending Gen Con, we'll be happy if you come by and visit us at Portal Games' booth #1407. You can check out not only Eleven, but also other brand new titles: a fun party game Million Dollar Script, and a Cold War spy-themed deduction game Vienna Connection.
What are your ideas for new Board Meeting cards?
Once again we are turning to you for ideas for our Stretch Goal – 8 new Board Meeting cards. Time and again this community proved an amazing creativity when suggesting new features for Eleven. So today we are super excited to see your new ideas for the Board Meeting cards. Please write them down in the Comments section under this update. This is your chance to influence how the game will play out.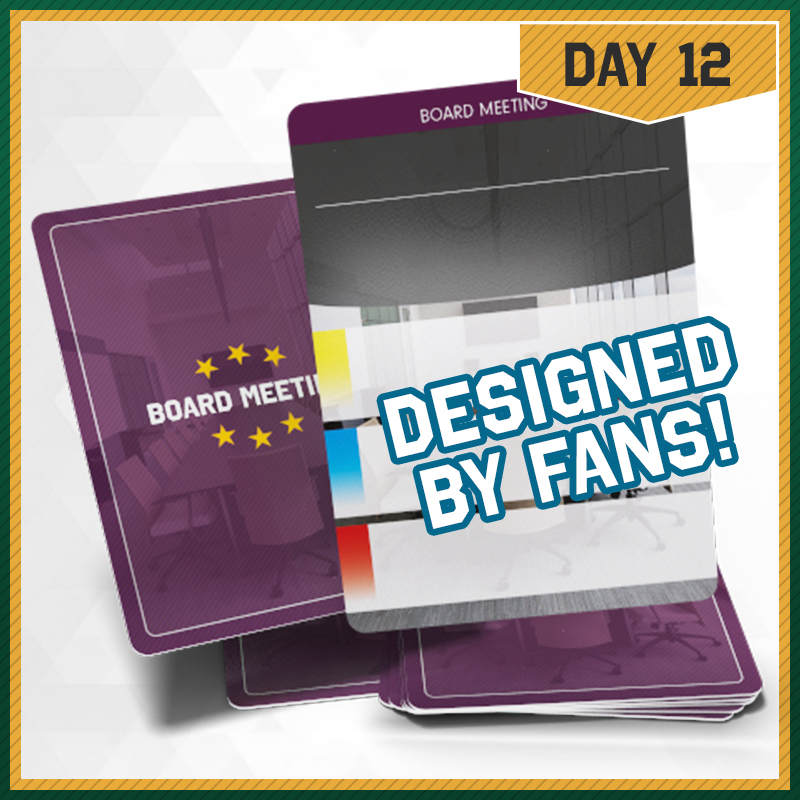 Today's new Daily Unlock is 8 extra Board Meeting cards with new twists
Make your games even more unique with 8 additional Board Meeting cards suggested by the fans during this campaign. These 8 extra cards increase the number of Board Meeting cards in the base game to 44.
This gameplay bonus is a Gamefound Exclusive Stretch Goal for Eleven. It won't be a part of the retail version of the game. All Stretch Goals will fit into the box.

Tactics
Yesterday we talked about the first expansion. Tomorrow we will discuss a new one. But now, let's talk about tactics.
But let me tell you this first. If you like football manager games, you are definitely gonna love Eleven. But if you're not a football fan, but you like very thematic resource management games, you'll probably love this game too. Actually, most of my friends don't like football. Some of them didn't even watch the World Cup final of 2010 with the Netherlands (my home country) being one of the finalists! And they liked Eleven. Of course, it doesn't mean you will love it. I'm just saying, give it a try. You don't have to be a football tactician to play this game. Just like you don't have to like history to play a medieval-themed game.
Tactics cards are great. You can activate them after your opponent reveals their starting eleven. There are many different tactics. If you are into football, the titles of the cards will definitely speak for themselves. But if you don't, the ability itself speaks volumes as well. A couple of examples.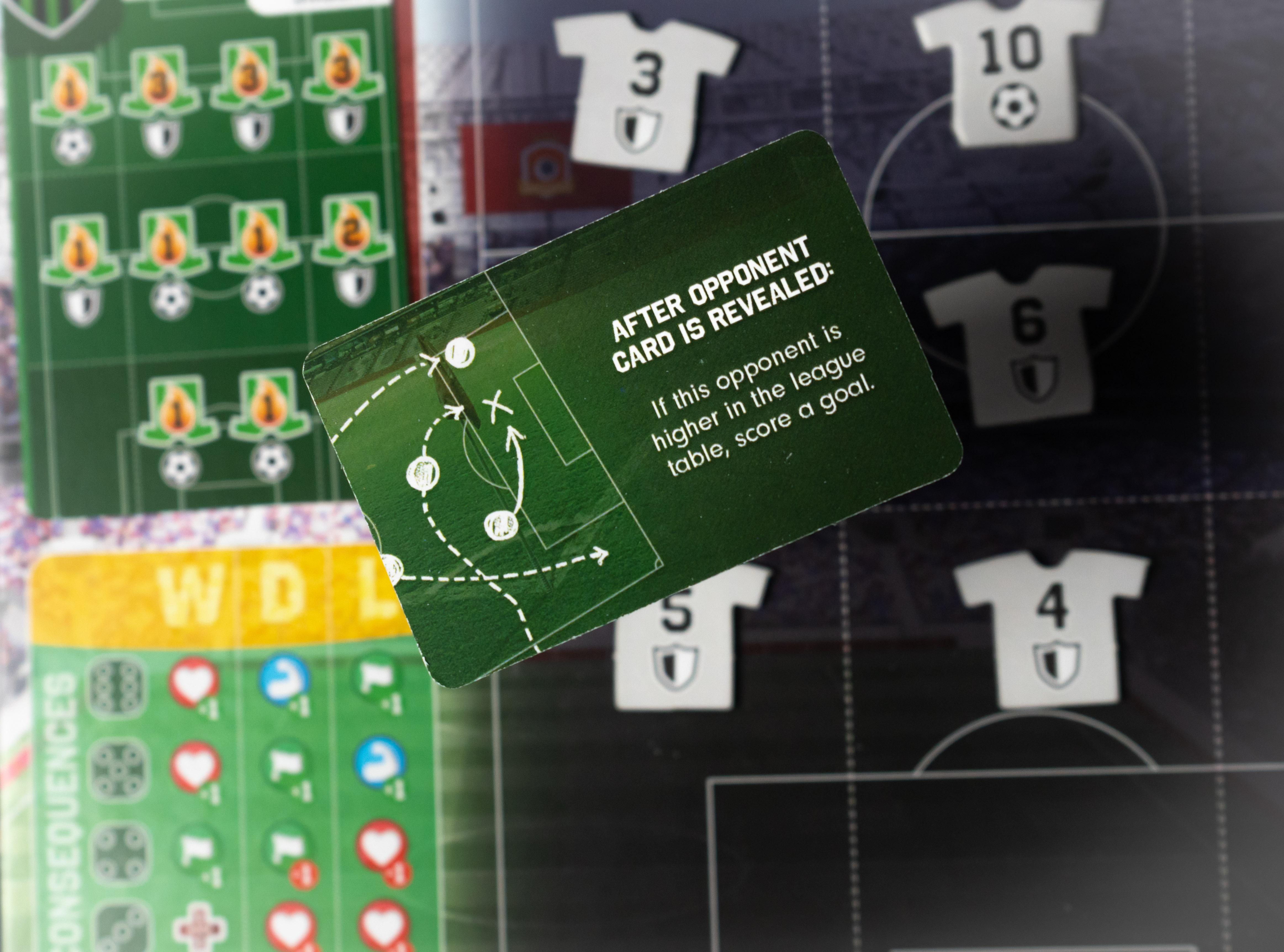 We all hate the 'offside trap'. If your defenders are of the same strength, they can cancel a goal. Admit it. There must have been a moment when you jumped up in the stadium for a goal, screaming in joy. Then, come to your senses and hear your friend say: "Offside." Of course, you were the last one to notice.
And what about 'play for a draw'. Very useful when you play strong opponents. Give your defenders a +1 strength bonus, and your attackers -1 strength. Put all the energy on defense. O, yes. I remember when my team played Ajax Amsterdam and gave everything to get that draw. The result was a 1-1. Ajax didn't become the champions because of this. We cheered as if wè became the champions. The reality was, we were relegated after the playoffs. But what a game that was.
'Final minutes' is a great tactic to put everything you got into the game to win it in the 90th minute. If the match is about to end in a draw, roll a die. On a 5+ you win! Luck? Maybe. But remember fans give you rerolls. So, the more fans you have, the more chances you have to win. How thematic is that? Can you hear them screaming?
There are many different ways to learn tactics. Many staff members have access to these powerful cards. You should really make use of them. It feels very satisfying to win that match because of the tactics card you chose. Good luck!
—
Have a lovely Saturday!
Joanna Wareluk from the Portal Games team