During our campaign, we announced that Robinson Crusoe is getting Dized Tutorial and Rules. This content is now live! You can start playing Robinson Crusoe right out of the box by using the
web version for computers here, or if you prefer a mobile device, with the Dized app available for iOS or Android.
Start Playing from the Moment You Open the Game
Dized allows you to have successful game nights even if you're playing games no one is familiar with beforehand. The tutorial walks you through the game setup step by step and proceeds to
teaching the rules while you play. Dized supports different learning styles with the content being fully animated, voiceover, and captioned.
It's good to note that the Dized tutorial is not a video. It's a digital companion and by nature more similar to a video game. The interactive features of Dized allow it to adapt the content to things like player amounts and game events.
These features allow Dized to teach you the rules gradually as the game goes along to give you a smooth and fun first-time playing experience. All this is done while making sure you'll learn the correct publisher-approved rules to the game.
Get Answers For Your Questions
Inevitably, you will have some questions about the rules, but luckily these are also included in Dized! You can access the rules directly from the tutorial by tapping the light bulb on the top
right corner! The Rules are indexed into categories and include a built-in FAQ and a search function. This means you can solve any rule-related issues quickly and fully focus on the game.
And since the Rules is something you might need to check on your future gameplays too, you can also access them directly here: https://rules.dized.com/robinson-crusoe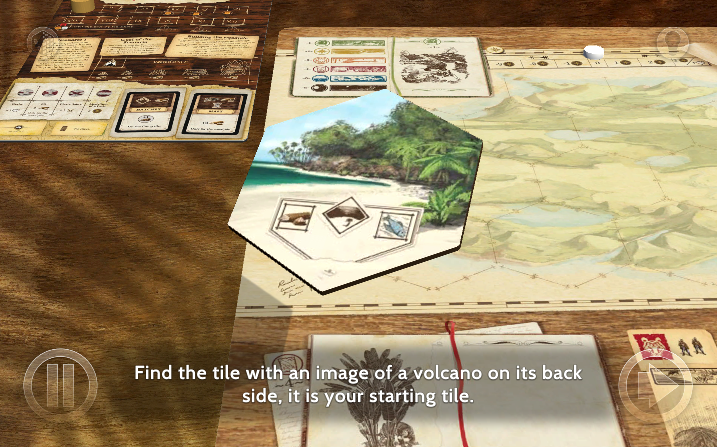 Will There Be Other Dized Contents?
Dized has informed us of the following: "On top of Rules and Tutorials, Dized can host all kinds of digital companion contents for tabletop games starting from score calculators and
soundtracks to full digital game expansions. The Dized platform is scheduled to be growing with over 100 new contents in 2022."
Now that Robinson Crusoe is available, we'd like to hear your opinion: Would you be interested to see additional Dized content for Robinson Crusoe, or maybe content for our other titles?
What would you like to see? Please let us know in the comments below!
Here are the Dized content links again:
● Robinson Crusoe Tutorial on Web (for computers)
● Robinson Crusoe Rules on Web (all devices)
● Dized App for iOS (for Mobile Devices)
● Dized App for Android (for Mobile Devices)