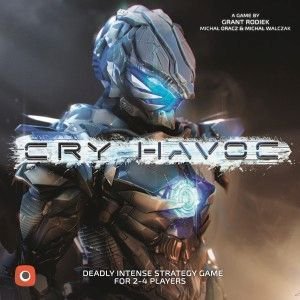 Portal Games opens pre-orders for Cry Havoc
An intense strategy game from designes Grant Rodiek, Michał Walczack and Michal Oracz.
Gliwice, Poland – June 8, 2016. Today, Portal Games opens pre-orders for the summer release, Cry Havoc, from designers Grant Rodiek, Michał Walczak and Michal Oracz. Cry Havoc is an asymmetric, card driven, area control game for 2 to 4 players. Each player controls one of 4 factions battling for resources on a planet full of riches. As the game develops, the players will customize their factions deck of cards, build powerful structures, and leverage their faction's unique skills to emerge victorious.
Cry Havoc is an intense area control game with four unique factions and 48 detailed miniatures. As with all our games the factions in Cry Havoc are unique and offer players different strategies and options to earn victory points. Additionally, Cry Havoc introduces a unique battle resolution system called the Battle Objectives Resolution. Every battle is different as the players must decide how to spread their forces among the three Battle Objectives: Region Control, Capture Prisoners, and Attrition.
Pre-orders are now open for a limited time for fans who wish to receive the game early. Shipping options include free pick-up at Gen Con 2016, free shipping for US and Canadian customers, and reduced shipping worldwide. Customers who pre-order will also receive a set of 8 promotional Objective cards to enhance the game.
Cry Havoc is for 2 to 4 players, ages 10 or older and takes approximately 60-120 minutes to play. The game includes 84 cards, 1 game board, 1 battle board, 4 faction boards, 48 miniatures, over 170 cardboard tokens, 30 plastic crystals, and 1 rulebook. Cry Havoc will be released at Gen Con 2016 in August and will be available worldwide shortly after. MSRP is $75.00. For more information, you can visit the Cry Havoc page on our website at https://portalgames.pl/en/all-game-list/cry-havoc/

About Portal Games
Portal Games is a publisher of award-winning games such as Imperial Settlers,
Stronghold, Tides of Time, Legacy, and Neuroshima Hex. Founded in Poland in 1999, Portal Games has developed into one of the most renowned European game publishers and design teams. Their commitment is to produce only the highest quality Board Games That Tell Stories.
Europe Contact: Ignacy Trzewiczek
Portal Games
portal@portalgames.pl
Tel: +48 32 334 85 38
North America Contact: Chevee Dodd
Portal Games
chevee@portalgames.pl
Tel: +1 304 657 8930