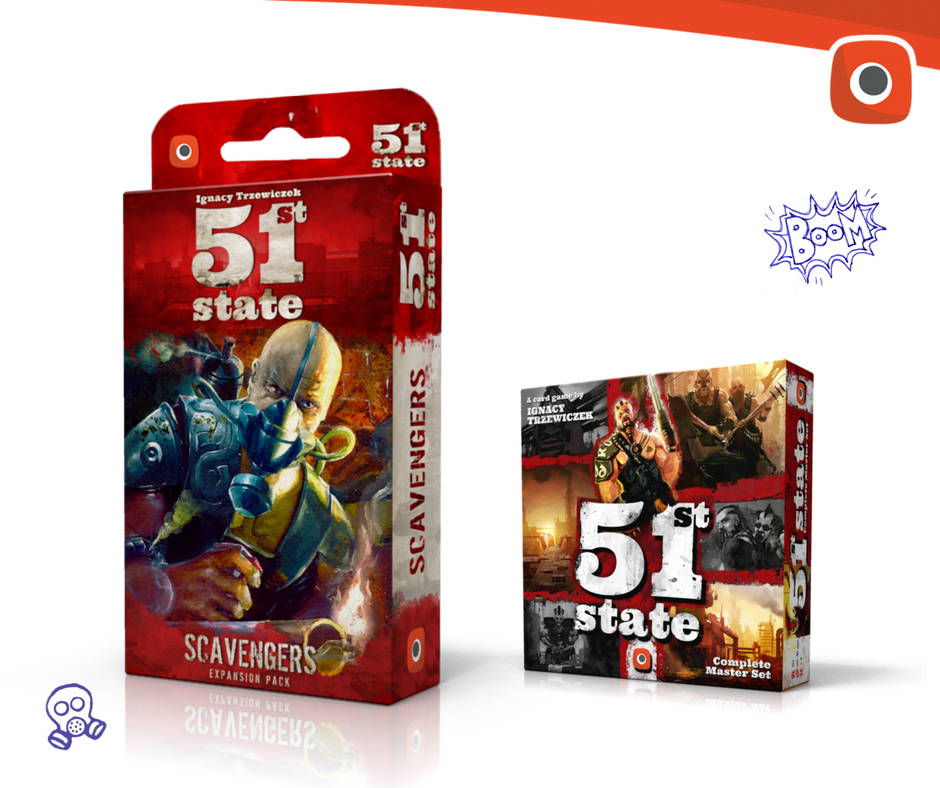 Gliwice, Poland – May 15, 2017. Today, Portal Games announced street dates for SCAVENGERS, the first expansion for the award-winning 51st STATE: MASTER SET. The Polish and German editions of the expansion will be released on 7th of June. The English edition will be released on 14th of June in Europe (with a pre-release at the UK Game Expo) and on 28th of June in North America.
51st State: Scavengers, the first expansion for 51st State: Master Set, is inspired by old expansion called Ruins released in 2012. This new set of 50 cards brings back some favorite cards from the original expansion while introducing new locations to the game, as well as a new mechanism. In 51st State: Scavengers nothing is lost forever — meaning that you can now search the discard pile for valuable locations and leverage them for use in your State. The expansion also introduces many cards that give bonuses for the 'Ruin' cards in your State, making it even more thematic and painting a picture of a destroyed, ruined world.
Portal Games is a publisher of award-winning games such as Imperial Settlers, Robinson Crusoe, Cry Havoc, First Martians, and Neuroshima Hex. Founded in Poland in 1999, Portal Games has developed into one of the most renowned European game publishers and design teams. Their commitment is to produce Board Games That Tell Stories.